Cold returns, then weekend snow
Temperatures drop across Minnesota through the day Thursday
A potent cold front sends temperatures plunging Thursday, then a weekend snowstorm brings plowable snow, especially for southern Minnesota. 
Thursday's forecast
Following the warm temperatures Wednesday, and under westerly winds overnight, Minnesota stayed very mild through the night and most of the state has spent Thursday morning in the 20s and 30s.
The one exception is northwestern Minnesota, where a strong cold font has already passed through, sending temperatures plunging into the single digits and teens.
That front continues south across the state through the day and is expected to clear entirely through southern Minnesota by early evening.
Here is an example of that falling trend expected in Brainerd Thursday (temperatures in red), and with continued gusty winds, how that brings wind chills (in blue) below zero by evening:
For the Twin Cities, temperatures start to fall by early afternoon. 
Here are the statewide temperatures expected at 4 p.m., which would normally be our warmer time of day. You can see how much cooler it is expected to be versus Thursday morning:
As mentioned, winds stay gusty Thursday, adding a wind chill, and the front is bringing a light dusting of snow as it passes.
Friday's cold
With that cold air continuing to filter in, overnight temperatures will drop below zero for much of Minnesota by Friday morning. 
For most of the state this will match or beat our coldest temperatures so far this January, which is more of a testament to how mild this month has been versus it being exceptional cold for this time of year.
Daytime highs also remain below average, with most of the state in the low teens and single digits. However, there will be noticeably less wind and more sunshine to help take the edge off the cold.
Friday night into Saturday morning will also be cold, although fewer spots are expected to dip below zero.
Weekend snow
A winter storm forecast to track south of Minnesota over the weekend will bring snow to the state over the weekend.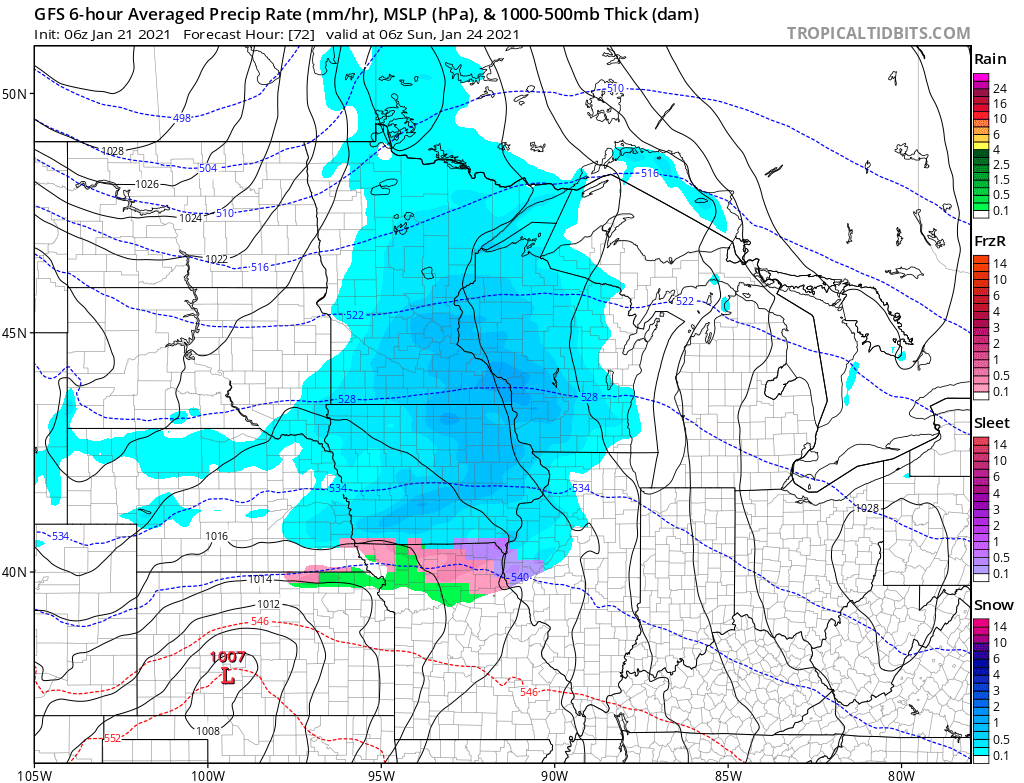 The expected timing is for snow to begin in southwestern Minnesota Saturday morning, spreading north and east across most of the state by afternoon. It clears out west to east overnight Saturday, clearing the state by Sunday morning.
Because the center of the storm stays south of Minnesota, the heavier snow is expected south, with less snow as you head north. 
It currently looks like this could average 3 to 5 inches for the southern edge of the state, then diminishing to only 1 or 2 inches in northern Minnesota.
High winds are not expected with this weather system, which means blowing snow is unlikely to cause problems. 
It also brings in slightly milder air, putting more of our highs over the weekend back in the teens and low 20s.
Programming note
You can hear my live weather updates on Minnesota Public Radio at 7:48 a.m. Monday through Friday morning.
Your support matters.
You make MPR News possible. Individual donations are behind the clarity in coverage from our reporters across the state, stories that connect us, and conversations that provide perspectives. Help ensure MPR remains a resource that brings Minnesotans together.