Cooler weather for much of the week
Light snow showers and flurries linger Monday
Colder weather has settled across Minnesota and will linger through the middle of the week. The second half of the week turns milder, but also brings another chance for rain and snow.
A strong cold front swept through the state Sunday, starting in the northwest corner of the state late Sunday morning and exiting southeastern Minnesota late Sunday night.
As it passed through it brought predominantly light rain showers, and snow mixed in for a few areas. Winds also turned gusty. 
Monday's forecast
Under a colder pattern, Monday morning temperatures were below average, with 20s north and 30s south. 
Plus, the winds are still strong, gusting over 20 and sometimes over 30 mph.
This keeps the wind chill well below the air temperature, and especially Monday morning, that "feels like" temperature is dipping into the teens for much of the state.
Temperatures rise little by the afternoon, with most of the state in the 30s, and parts of central and southeastern Minnesota struggling to get into the low 40s.
There is still enough instability to also produce a few flurries around the state Monday, and a couple areas could see light snow showers. No significant accumulation is expected. 
Skies stay predominantly cloudy, with a few more sunny breaks north by late morning, and most of the state seeing some peaks of sunshine by the afternoon. 
Tuesday and Wednesday
Below average temperatures continue through Wednesday, and both mornings are likely to start in the 20s, meaning widespread frost. 
While this is not uncommon in northern Minnesota, southern Minnesota has not had many frosty mornings in April. The Twin Cities, for example, has only had temperatures below freezing three days all of April as of Monday.
High also stay 10 to 20 degrees below average with 30s north and 40s south on Tuesday, and more widespread 40s Wednesday.
Both days bring more sunshine, although there could be a few sprinkles or light snow showers again Tuesday, especially in the afternoon.
Extended forecast
Thursday should bring the warmest weather through the rest of the week, as temperatures shoot back to seasonable warmth in the 50s and low 60s thanks to southwesterly winds. Along with the milder weather, plenty of sunshine is expected, making for a pleasant day.
Another weather system brings more changes by late week. While the timing is still somewhat uncertain, a storm and associated cold front are expected to move through the state sometime between Friday and early Saturday.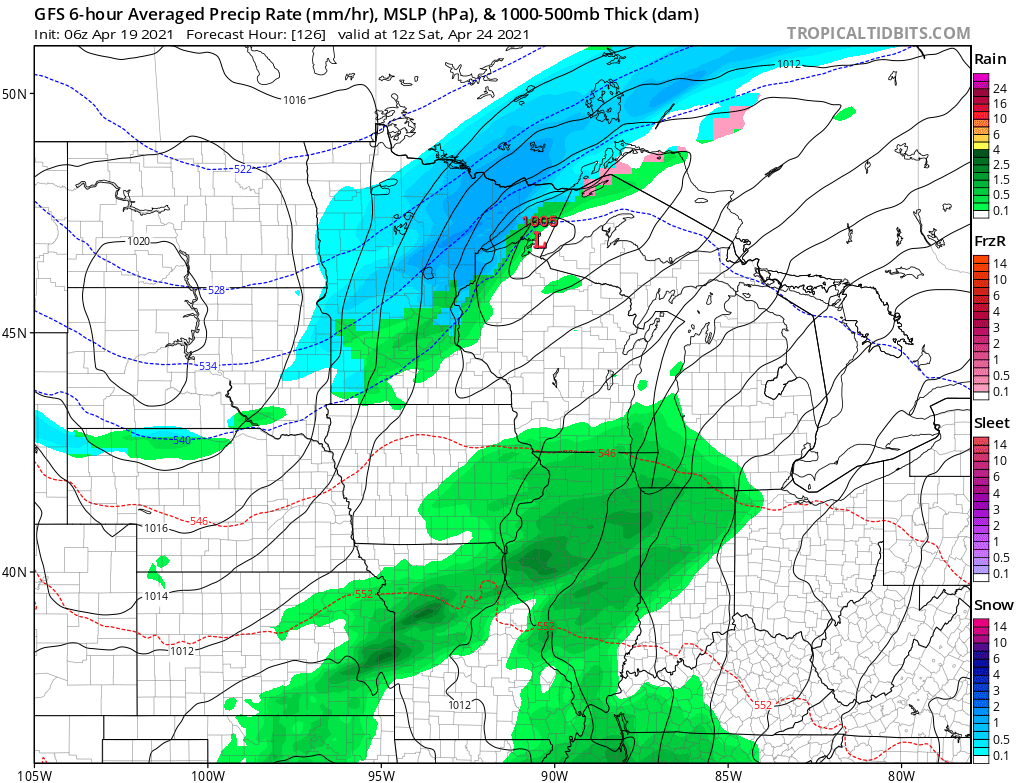 This brings another round of rain with possible snow mixing in and drops temperatures back below average again for the weekend.
Here is the Twin Cities temperature forecast through Saturday, with forecast highs and lows compared to our normal temperature range for late April, showing the cooler trend most of the week:
Programming note
You can hear my live weather updates on Minnesota Public Radio at 7:49 a.m. Monday through Friday morning.
Your support matters.
You make MPR News possible. Individual donations are behind the clarity in coverage from our reporters across the state, stories that connect us, and conversations that provide perspectives. Help ensure MPR remains a resource that brings Minnesotans together.