Winston Smith killing: Passenger says Smith did not have a gun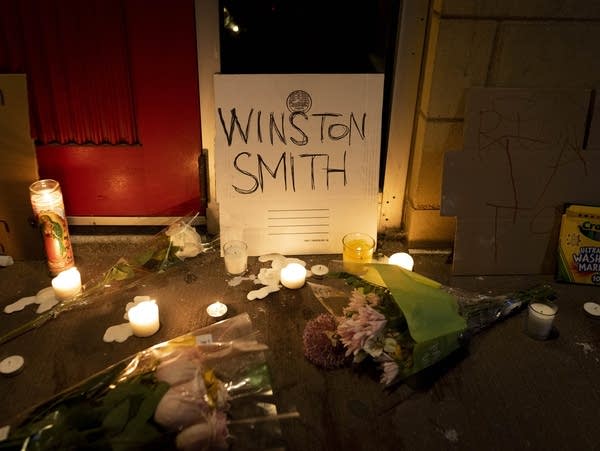 Updated: 7:20 p.m.
A woman who says she was with Winston Smith when he was killed by police said Thursday through her attorneys that she never saw a gun on Smith and never saw one in his vehicle, contradicting the initial law enforcement report.
Attorneys for the George Floyd and Daunte Wright families also said they are now representing Smith's family.
Minneapolis attorney Christopher Nguyen represents the woman, whom he did not name.
"We are hopeful claims of commitment to progress, and transparency and accountability by the BCA and other law enforcement agencies since the murder of George Floyd will be borne out through their actions as we work to shine light on on why Winston Smith lost his life last Thursday while on a lunch date," Nguyen said.
Grow the Future of Public Media
MPR News is Member supported public media. Show your support today, donate, and ensure access to local news and in-depth conversations for everyone.
Members of a U.S. Marshals task force were attempting to arrest Smith on June 3 in a parking garage in the Uptown area of Minneapolis, when he was shot multiple times by Ramsey and Hennepin County sheriff's deputies who were part of the unit and working undercover, authorities said.
Note: Audio in the above video cuts out at 0:32 and resumes at 4:58.
The Minnesota Bureau of Criminal Apprehension, which is investigating the killing, responded to a request for comment Thursday that it stands by an initial finding that investigators recovered a handgun and spent cartridges from inside Smith's vehicle, and that "evidence at the scene indicates that the man fired his weapon from inside the vehicle."
There is no known video of what happened.
"She never saw a gun on Winston Smith, and she never saw a gun inside the vehicle at any time," said Racey Rodne, an attorney for the unnamed woman told reporters Thursday.
Jeff Storms, part of the George Floyd legal team led by attorney Ben Crump, told reporters that he and Crump are representing the Smith family. Without video evidence "there is a lack of transparency," he said.
The lack of body camera footage of the shooting has raised questions in Minnesota, as Smith's family members and activists continue to demand transparency. Activists also called for the removal of Minnesota officers from federal task forces, and they said the BCA should not be investigating, alleging there is a conflict of interest when police investigate police.
Angela Rose Myers, president of the Minneapolis NAACP, was among those demanding transparency and accountability.
"Just because a video didn't go viral of Winston Smith's murder, doesn't mean his life didn't matter," she said.
Local officials say the deputies on the task force were assigned body cameras, but were told by the U.S. Marshals Service that they could not use them, despite an October change in Justice Department policy that would have allowed them to be used. The Ramsey County Sheriff's Office and the Hennepin County Sheriff's Office have said they will not participate in the task force until the cameras are allowed.
This week, Deputy U.S. Attorney General Lisa Monaco ordered Justice Department law enforcement officers to wear body cameras when making planned arrests or serving search warrants. The directive orders the heads of the Marshals Service, FBI, Drug Enforcement Administration and the Bureau of Alcohol, Tobacco, Firearms and Explosives to develop body-worn camera policies within 30 days.
Separately, Smith's family said a funeral service for the 32-year-old will take place Saturday at Shiloh Temple in north Minneapolis.
MPR News Reporters Nina Moini and Matt Sepic contributed to this story.