Legislature debates public safety, policing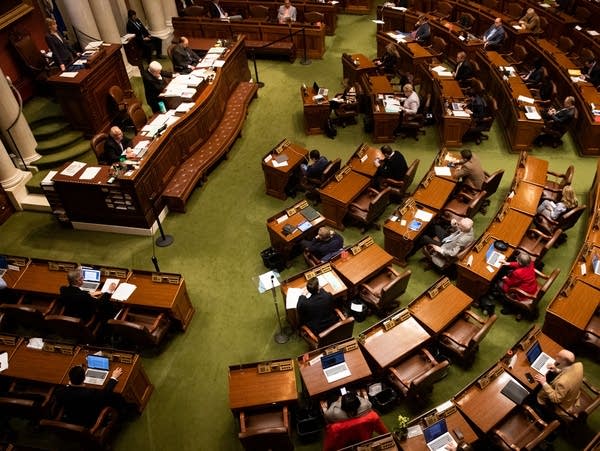 Updated 4:12 p.m.
The Minnesota Senate and House began debating a public safety and judiciary funding bill Tuesday with many Democrats dissatisfied with what they see as not enough in the bill about how to hold police officers more accountable.
Sen. Warren Limmer, R-Maple Grove, the chair of the Senate Judiciary and Public Safety Committee, acknowledged that negotiations to reach a compromise were tough.
"It's been a rather difficult process to arrive at a common point. I believe we have as far as we can go," Limmer said. "And some of the issues that the House wants will have to continue to be discussed."
A group of 16 Democrats known as the People of Color and Indigenous (POCI) Caucus said Monday they would push to add measures to increase police accountability that did not survive negotiations with the Republican-controlled Senate.
Grow the Future of Public Media
MPR News is supported by Members. Gifts from individuals power everything you find here. Make a gift of any amount today to become a Member!
In particular the POCI caucus wanted new restrictions on pretextual stops — where police pull someone over for a relatively minor violation. They say the stops can lead to an escalation of force, as happened in the police killing of Daunte Wright in Brooklyn Center earlier this year and in the death of Philando Castile in 2016. 
Caucus members said they also want to change the way arrest warrants work and increase the statute of limitations for wrongful death lawsuits against police.
"We've seen officers be able to focus more on serious crimes when you implement these type of common sense reforms. We've seen more accountability when you implement these types of common sense reforms," said Rep. Cedrick Fazier, DFL-New Hope, at a news conference with other POCI caucus members Monday. "We're going to do our due diligence. We're going to do our hard work. We're going to keep pushing for the rest of this special session in the hours we have left to make sure that we continue to fight for police reform and accountability." 
Frazier and other members of the POCI caucus stopped short of saying they would vote against the bill on the House floor and blamed Senate Republicans, not their own leadership, for the lack of accountability measures in the bill. 
Sen. Ron Latz, DFL-St. Louis Park, said there are many deficiencies in the bill. He said it fails to rise to a historic opportunity, following the killing of George Floyd.
"I think we need to be willing and able to step forward, to step up to the plate and fix our legacy before it's too late," Latz said, adding that he was especially disappointed that a proposal to allow an alternative to arrests for missed court dates and other low-level offenses was excluded. He also noted that a prohibition on law enforcement officers affiliated with white supremacy groups was not part of the compromise.
"How can we not include a provision like that in this bill?" Latz asked.
Limmer responded that white supremacy groups was too narrow of a term, and attempts to expand it to include other extremist organizations were blocked by House negotiators.
Limmer strongly defended the bill and its provisions aimed at reducing crime, protecting citizens and putting criminals in jail.
"I'll go out and campaign on that any day of the week," he said.
But the bill has other critics. 
Minnesotans who lost loved ones in deadly encounters with police gathered in the Capitol Rotunda before the debate began. Courteney Ross, the girlfriend of George Floyd, was among those calling for lawmakers to act on police accountability.
"If you're not going to listen today, I guarantee you we will be here tomorrow and the day after and the day after," Ross said. "And I will get louder and louder and louder until these walls start to crack."
The Senate session, as well as the House session, began with recognition of Arik Matson, a Waseca police officer shot and severely wounded in the line of duty in January 2020.
Sen. John Jasinski, R-Faribault, praised Matson for his recovery and his support for a provision in the bill to increase the penalty for assaulting and inflicting great bodily harm on a law enforcement officer.
"I know this is a bill I will be very proud to vote yes on, and I hope you do as well," Jasinski said.
Republican Senate Majority Leader Paul Gazelka defended the bill, saying it is first and foremost a budget measure that funds the courts and state law enforcement. He said Senate Republicans simply were not interested in some of the measures supported by House Democrats. 
"We said we're not going to do any anti-police provisions in this bill, and I think we were successful at that," Gazelka said. "And we also didn't want to take any of the tools away that our police need as far as when they're trying to keep the streets safe."
Gov. Tim Walz took action on his own Monday that he said would increase transparency and accountability in policing. 
Specifically, Walz ordered $15 million in COVID-19 relief money to be spent on community violence prevention efforts. He ordered law enforcement agencies at the state level to share body camera footage of deadly force incidents with family members within five days. And he ordered the Police Officer Standards and Training Board to share more data. 
"These policy changes and increased investments in safety — together with the Minnesota Police Accountability Act signed into law last summer and the bipartisan public safety plan this legislative session — get us closer to a system of public safety that truly protects all Minnesotans," Walz said.
The governor has already signed several budget bills and others — including a massive health and human services bill — are headed his way.
Legislative leaders have been saying all along that they do not expect a shutdown or even a partial shutdown, which would happen if budget bills aren't enacted by Thursday. The original deadline to finish work on the budget was May 17.