Air quality alert continues to Tuesday; passing shower possible Saturday
Temps near normal
The smoke from Canadian wildfires will remain over Minnesota this weekend and beyond. The Minnesota Pollution Control Agency has extended the air quality alert for Minnesota through the weekend and on into Tuesday:
Here are details of the alert, from the MPCA:
The Minnesota Pollution Control Agency (MPCA) has issued an air quality alert for all of Minnesota. This is an unprecedented significant air quality event for Minnesota, extending over many days. The alert takes effect Friday, July 30, beginning at 12 p.m. and runs until Tuesday, Aug. 3, at 12 p.m. The affected area includes all of Minnesota, and the tribal nations of Grand Portage, Fond du Lac, Upper Sioux, Leech Lake, Red Lake, Mille Lacs, and Prairie Island.

Smoke from Canadian wildfires lingers over most of Minnesota. There will be some slight improvement in air quality throughout Friday and Friday night. However, on Saturday northerly winds behind a cold front will bring more smoke from wildfires located north of the Canadian border in Ontario and Manitoba into Minnesota. This reinforcing batch of heavy smoke is expected to arrive starting Saturday morning. Smoke will continue pouring into the state throughout Saturday and into Sunday. High pressure will build over the area for Sunday and remain over the area for Monday into Tuesday morning. Smoke will recirculate under the high pressure, leading to prolonged period of heavy smoke. Fine particle levels will begin to improve Tuesday as southerly winds start moving the smoke out of the state.

Fine particle levels are expected to reach the Purple AQI category, a level considered very unhealthy for everyone, across north central and south central Minnesota. This area includes Roseau, Baudette, Hibbing, Brainerd, St Cloud, the Twin Cities, and the tribal nations of Red Lake, Leech Lake, and Mille Lacs. Fine particle levels are expected to reach the Red AQI category, a level considered unhealthy for everyone, across northern, central, and southeast Minnesota. This area includes East Grand Forks, Moorhead, Ely, Detroit Lakes, Alexandria, Ortonville, Mankato, Albert Lea, Rochester, and the tribal nations of Upper Sioux, Fond du Lac, and Prairie Island. Fine particle levels are expected to reach the Orange AQI category, a level that is considered unhealthy for sensitive groups, for far southwestern and northeastern Minnesota. This area includes Marshall, Duluth, Two Harbors, and the tribal nation of Grand Portage.

People whose health is affected by unhealthy air quality

People who are more likely to be affected when fine particle pollution reaches an unhealthy level include:

Those with asthma or other breathing conditions, such as chronic obstructive pulmonary disease (COPD)

People who have heart disease or high blood pressure

Children and older adults

Those doing heavy, physical activity outdoors, such playing sports or working, especially for extended periods

Health effects

Air pollution can aggravate heart and cardiovascular disease as well as lung diseases like asthma and COPD. When the air quality is unhealthy, people with these conditions may experience symptoms like chest pain, shortness of breath, wheezing, coughing, or fatigue. If you are experiencing any of these symptoms, use your inhalers as directed and contact your health care provider.

Take precautions

Take it easy and listen to your body.

Limit, change, or postpone your physical activity.

If possible, stay away from local sources of air pollution like busy roads and wood fires.

If you have asthma, or other breathing conditions like COPD, make sure you have your relief/rescue inhaler with you.

People with asthma should review and follow guidance in their written asthma action plan. Make an appointment to see your health provider if you don't have an asthma action plan.
Current air quality readings can be found here.
An air quality alert has also been issued for Wisconsin this weekend:

Air Quality Advisory Wisconsin Department of Natural Resources Madison WI Relayed by National Weather Service Twin Cities/Chanhassen MN 730 PM CDT Fri Jul 30 2021 ...AIR QUALITY ADVISORY ISSUED FOR ALL WISCONSIN COUNTIES... The Wisconsin Department of Natural Resources has issued an Air Quality Advisory for Particle Pollution which will remain in effect until 12:00 PM CDT Sunday, August 1. This advisory affects people in all Wisconsin counties. Smoke from wildfire activity in Canada currently located in Minnesota will move into Wisconsin overnight Friday into Saturday morning. This smoke plume is expected to mostly impact the northern half of the state. A secondary smoke plume will then transport behind a cold front which is expected to move north to south across the state Saturday afternoon into early Sunday morning. Elevated fine particulate matter (PM2.5) concentrations are anticipated to result in air quality index (AQI) values in the UNHEALTHY FOR SENSITIVE GROUPS level over this period. Sensitive groups include children, elderly people, individuals with respiratory and cardiac problems, and anyone engaged in strenuous outdoor activities for a prolonged period of time.
Saturday temps
Our average Twin Cities high temperature is 83 degrees on July 31. Highs in the mid 80s are expected in the metro area Saturday, and most of Minnesota and western Wisconsin will reach the 80s:
Dew points will be in the comfortable 50s to the north, with stickier 60s in the south: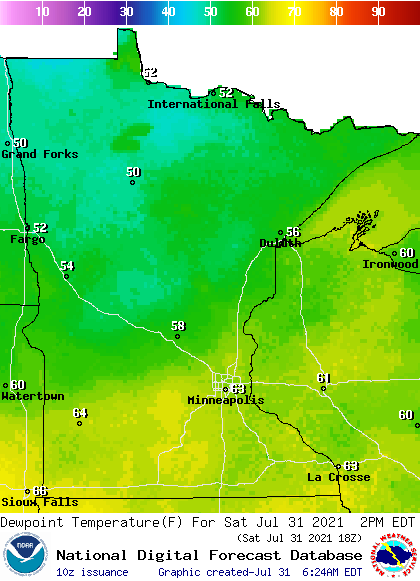 Rain chances?
A few very spotty showers are possible in Minnesota and western Wisconsin this morning. A shower and an isolated thunderstorm are possible in southeastern Minnesota and western Wisconsin Saturday afternoon/evening.
You can hear updated weather information for Minnesota and western Wisconsin on the Minnesota Public Radio network, and you can see updated weather info on the MPR News live weather blog.
This Updraft blog will be updated around 10:20 a.m. with details on our Sunday forecast and a look at the week ahead.
Programming note
You can hear my live weather updates on MPR News at 7:35 a.m., 9:35 a.m. and 4:39 p.m. each Saturday and Sunday.
Your support matters.
You make MPR News possible. Individual donations are behind the clarity in coverage from our reporters across the state, stories that connect us, and conversations that provide perspectives. Help ensure MPR remains a resource that brings Minnesotans together.