Delightful Saturday weather; 80s return on Sunday as winds ramp up
Rain in many areas on Monday
Nearby high pressure delivered light winds to Minnesota Friday night and early Saturday. The light winds, combined with clear skies, allowed radiational cooling into the 30s across much of northeastern Minnesota and portions of northwestern Wisconsin:
The official Twin Cities low (measured at MSP airport) was 50 degrees Saturday morning, but many spots in the metro area dropped into the 40s. Metro area highs are forecast to reach the mid 70s Saturday afternoon, with upper 70s possible in a few locations. Our average Twin Cities high is 72 degrees on Sept. 18. Most of Minnesota and western Wisconsin will top out in the 70s this Saturday, with some 60s in northeastern Minnesota.
Temperature trends
Sunday highs reach the summery 80s in most areas:
Sunday afternoon dew points will be in the sticky 60s:
Sunday will be breezy, with the strongest winds in western Minnesota.
Back to forecast highs, Twin Cities metro area highs are projected to reach the mid 70s on Monday. Highs retreat to the lower 60s Tuesday, followed by mid 60s Wednesday and around 70 for Thursday and Friday.
Rain chances?
The weekend looks dry across most of Minnesota and western Wisconsin. Scattered showers and thunderstorms could develop in parts of northwestern and north-central Minnesota Sunday evening, then spread to the south and east Sunday night. Many areas will see periods of showers and thunderstorms Monday and Monday evening.
The National Oceanic and Atmospheric Administration's North American Mesoscale (NAM) forecast model shows the potential rain pattern Sunday evening through Monday afternoon:
You can hear updated weather information for Minnesota and western Wisconsin on the Minnesota Public Radio News network, and you can see updated weather info on the MPR News live weather blog.
Friday morning tornado recap
A storm survey team from the National Weather Service confirmed that there were three tornadoes early Friday morning in the southern part of the Twin Cities metro area; one tornado in Scott County and two tornadoes in Dakota County. The NWS confirmed that there was also a tornado in Sibley County early Friday morning. All four tornadoes were EF0, which is at the low end of the tornado strength scale, with winds around 85 mph.
Here are the tornado details (the time of the most recent storm survey report is in the upper left, the time of the tornado is in the body of the report):
Here's a breakdown of the details of the NWS storm survey: The Sibley County tornado touched down at 2:34 a.m. Friday in the Le Sueur area. It tracked through a corn field and also knocked down large branches in a grove of trees. The Scott County tornado touched down at 3 a.m. Friday in Savage near Highway 13 and Connelly Parkway, then traveled eastward for 2.1 miles. The two Dakota County tornados were at 3:08 Friday morning. One touchdown was near Cedar Avenue and 145th Street West in Apple Valley and the other tornado touched down on the northeastern side of Burnsville, near Highway 13 and Cliff Road. Those Dakota County tornadoes had path lengths of one mile or less. Most of the damage from the three south metro tornadoes was due to trees falling on houses and vehicles, but the NWS also notes that roof damage occurred at Savage public works and a light standard was bent at a baseball field.  
Additional information on the Thursday night/Friday storms in Minnesota and western Wisconsin can be found here.
Fall color update
Our peak fall colors don't typically arrive in the Twin Cities metro area until sometime in October.
Impressive fall colors are already popping in parts of northern Minnesota. Here's the Friday fall color report from the Minnesota Department of Natural Resources: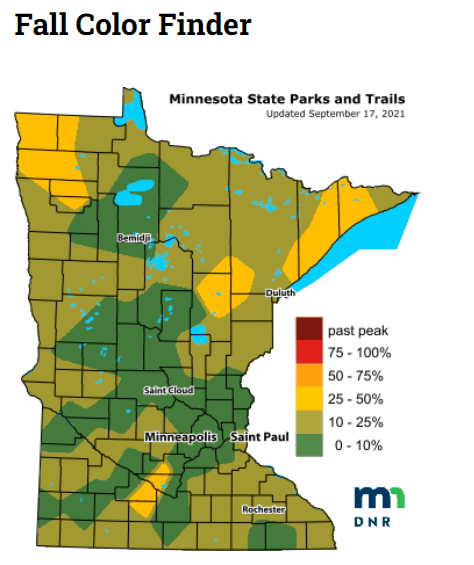 The areas that are shaded yellow are showing the most changeover to fall colors at this point. Keep in mind that all deciduous trees are included in the fall color report, not just maples.
Most of the 25-50 percent fall color coverage is in northern Minnesota, but there is an area of significant fall color from south-central Sibley County through parts of Nicollet, Brown and Watonwan counties.
It'll be interesting to watch how our fall colors spread across Minnesota over next two to three weeks! Find more details on parks to visit here.
Wisconsin fall color info can be found here.
Programming note
You can hear my live weather updates on MPR News at 7:35 a.m., 9:35 a.m. and 4:39 p.m. each Saturday and Sunday.
Your support matters.
You make MPR News possible. Individual donations are behind the clarity in coverage from our reporters across the state, stories that connect us, and conversations that provide perspectives. Help ensure MPR remains a resource that brings Minnesotans together.