Colder, more seasonable temperatures spread across Minnesota
Wednesday brings showers and a few storms
Most of Minnesota sees another warm day Tuesday, but colder weather is already spreading in north, bringing highs only in the 40s and 50s by late week.
Tuesday's forecast
In the wake of exceptionally warm weather Monday, where most of Minnesota was at least 20 degrees above average highs, Tuesday started mild for late October with almost the entire state in the 40s and 50s.
Warm southerly winds and plentiful sunshine contributed to Monday's warmth. Similar conditions Tuesday means another warm day in southern and eastern Minnesota, with highs in the 60s and 70s.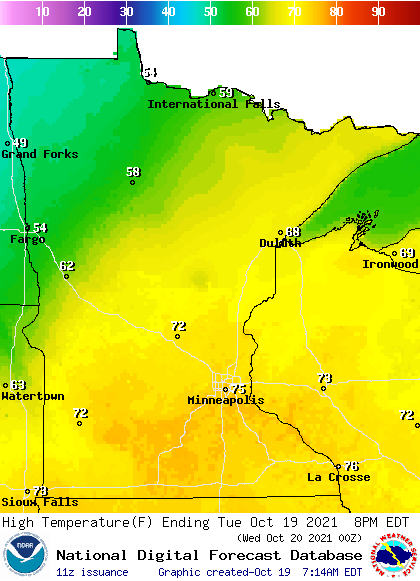 However, northwestern Minnesota will already start to see some of the colder air filter in ahead of a storm that moves through Minnesota Wednesday. Because of this, there will be a large temperature contrast across the state, with northwestern Minnesota stuck in only the 40s and 50s, which is actually more seasonable for this time of year.

Here are the forecast winds by late Tuesday afternoon, showing southern Minnesota still in a warmer, southerly flow, while northern Minnesota sees the winds shift and gets a colder pattern of northerly winds.
As the cooler weather moves in, winds will also be gusty in the northwest corner of the state, with gusts over 30 mph at times.
Turning colder
The colder air that begins moving across Minnesota Tuesday spreads throughout the state by Wednesday, putting highs in the 40s north and 50s south, which is near-average for mid-October. 
The low pressure of that storm then tracks across southern Minnesota during the day Wednesday, moving rain in from the south by early Wednesday, and expanding quickly across southern and central Minnesota by late morning.
Due to the path of the storm, the northern edge of the state is unlikely to see much precipitation. However, if any moisture makes it north early Wednesday, when temperatures are at their coldest for the day, a couple isolated snowflakes could mix in.
The rest of the state is projected to see about one-quarter to one-half inch of rain.
There may be a couple isolated thunderstorms in southwestern Minnesota, which could mean a few localized higher rainfall amounts over an inch.

The rain moves out quickly, clearing out of most of Minnesota overnight Wednesday.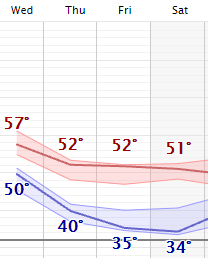 That storm continues to pull in much colder air behind it, with almost the entire state seeing highs in the 40s Thursday and Friday, and only a couple of isolated 50s south. 
Here is that forecast for the Twin Cities showing the chillier weather, which lingers through the weekend:
Although this will be the coldest air so far this October, it is actually very close to normal temperatures for this time of year.
For the final spots, predominantly around the Twin Cities, that have yet to see frost, morning lows Friday and Saturday morning will bring widespread frost and finally end the growing season everywhere.
Programming note
You can hear my live weather updates on Minnesota Public Radio at 7:48 a.m. Monday through Friday morning.
Your support matters.
You make MPR News possible. Individual donations are behind the clarity in coverage from our reporters across the state, stories that connect us, and conversations that provide perspectives. Help ensure MPR remains a resource that brings Minnesotans together.