A bright Saturday; rain chances highest to the south on Sunday
Fall color update for leaf-peepers
It was a chilly morning!
The Saturday morning low temperature at Minneapolis-St. Paul International Airport was 31 degrees. It was our first official dip below 32 degrees this autumn at MSP airport. Many Twin Cities suburbs had morning lows in the upper 20s.
Most of Minnesota and western Wisconsin saw Saturday morning lows in the 20s to lower 30s. Saturday high temps will be mainly in the 40s, with a few spots in far southern Minnesota and western Wisconsin topping 50. Some metro area locations could touch 50 degrees Saturday afternoon. Our average Twin Cities high temperature is 54 degrees this time of year.
Temperature trends
Sunday highs will be mainly in the 40s, with a few spots in the southeast topping 50.
Sunday will be breezy, with afternoon gusts of 20 mph or higher in many locations.
Plotted wind forecasts are in knots, with 18 knots equal to 20.7 mph.
Back to forecast highs, Twin Cities metro area highs are projected to reach the lower 50s Monday, followed by mid 50s Tuesday. Then we're back to highs in the lower 50s for Wednesday and Thursday, followed by mid 50s on Friday.
Next weekend and the start of November may feature near-normal or slightly above-normal temps. The NWS Climate Prediction Center shows a slight tendency for above-normal temps in Minnesota and Wisconsin from Oct. 30 through Nov. 5:
Sunday rain chances highest south
A low-pressure system passes to our south on Sunday, spinning rain over far southern Minnesota. The National Oceanic and Atmospheric Administration's North American Mesoscale (NAM) forecast model model shows the potential rain pattern Sunday and Sunday night: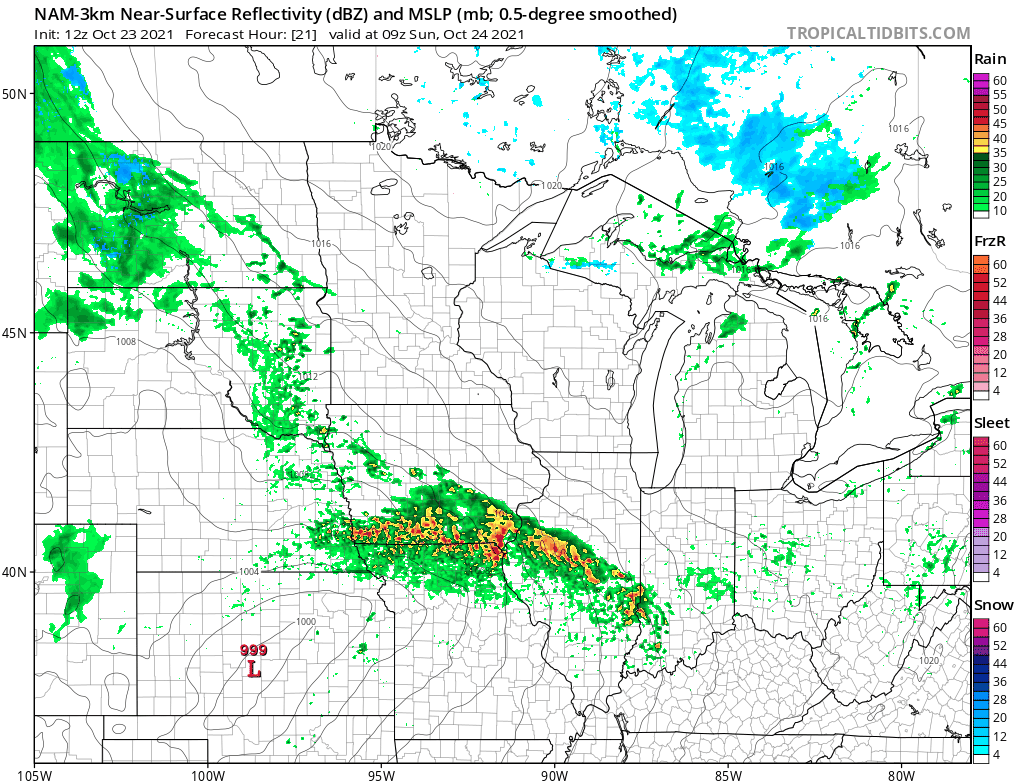 The southern edge of the Twin Cities metro area could get clipped by a shower Sunday afternoon/evening.
NOAA's High-Resolution Rapid-Refresh (HRRR) model shows a similar rain pattern Sunday and Sunday night:
You can hear updated weather information for Minnesota and western Wisconsin on the Minnesota Public Radio News network, and you can see updated weather info on the MPR News live weather blog.
Wednesday looks like the rainiest day of the coming work-week.
Fall colors
The latest fall color report from the Minnesota Department of Natural Resources shows colors past peak in the dark-red shaded areas of Minnesota:
The percentage of changeover to fall colors is between 75 percent and 100 percent in the medium-red shaded areas, including much of the Twin Cities metro area and portions of southeastern Minnesota.
Keep in mind that all deciduous trees are included in the fall color report, not just maples.
Wisconsin fall color info can be found here.
Weather nugget
Despite cool weather the past few days, our average Twin Cities temperature is running 7.9 degrees warmer than normal this October. We've seen 13 days with highs in the 70s this month. Our Twin Cities rainfall is almost one inch below normal so far this October.
Programming note
You can hear my live weather updates on MPR News at 7:35 a.m., 9:35 a.m. and 4:39 p.m. each Saturday and Sunday.
Your support matters.
You make MPR News possible. Individual donations are behind the clarity in coverage from our reporters across the state, stories that connect us, and conversations that provide perspectives. Help ensure MPR remains a resource that brings Minnesotans together.