Wintry mix possible Sunday night; very mild temps this coming week
A look at snowiest months over the past 10 years
Travel weather still looks good in Minnesota and western Wisconsin Sunday afternoon. Road conditions could deteriorate in some areas Sunday evening and overnight Sunday night into Monday morning.
Northwestern and west-central Minnesota will have a chance of rain/snow showers Sunday evening. A bit of light freezing rain is also possible. A mix of light snow, sleet, light rain/drizzle (and possibly light freezing rain/freezing drizzle) moves across much of Minnesota and parts of Wisconsin overnight Sunday night. In the Twin Cities metro area, that light snow or wintry mix should end before sunrise on Monday. Snow continues Monday morning and early Monday afternoon in northeastern Minnesota and parts of northwestern Wisconsin, with a few inches of accumulation possible in parts of those areas.
The National Oceanic and Atmospheric Administration's High-Resolution Rapid-Refresh (HRRR) forecast model shows the potential precipitation pattern from 5 p.m. Sunday though noon on Monday: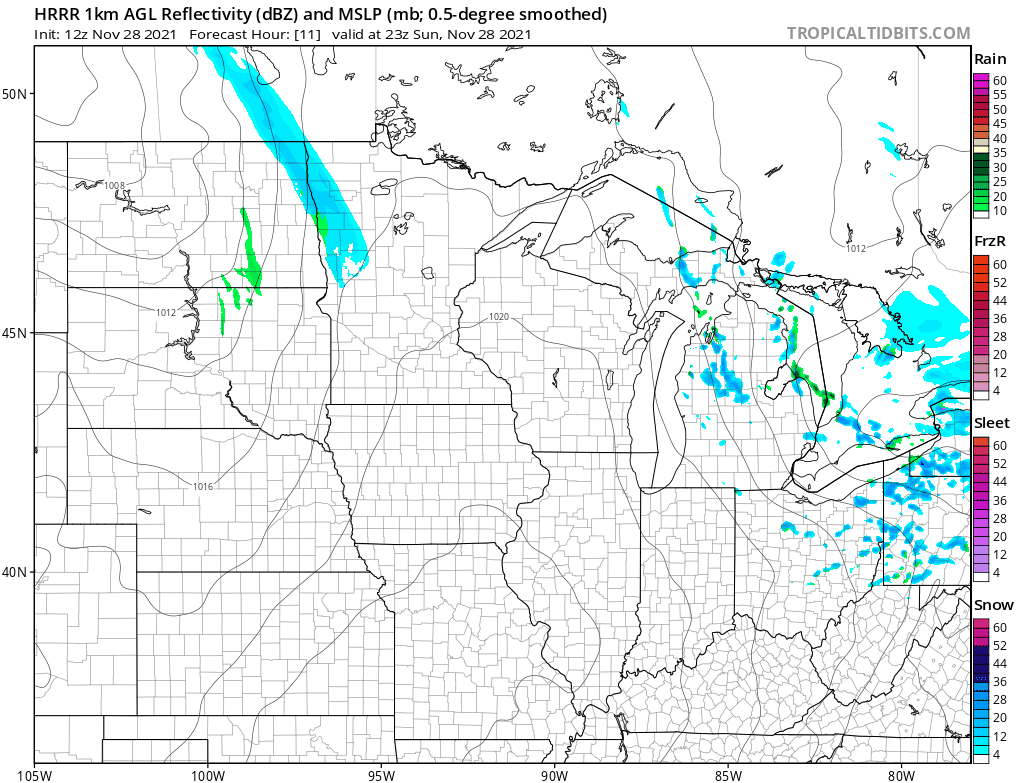 The latest run of NOAA's North American Mesoscale (NAM) forecast model starts the precipitation a bit later and doesn't spread is as far to the south:
We'll see if the model runs later today are in better agreement.
Here's the NWS forecast of snow amounts by late Monday:
You can hear updated weather information for Minnesota and western Wisconsin on the Minnesota Public Radio News network, and you can see updated weather info on the MPR News live weather blog.
Temperature trends
Sunday highs will be mainly in the 30s, with some 40s in southwestern Minnesota. Many spots in the metro area will reach the upper 30s.
Monday highs range from 50s in parts of southern Minnesota, to 30s in the far north:
Most of the Twin Cities metro area will reach the upper 40s on Monday, but a stray 50 cannot be ruled out.
Monday wind gusts could approach 30 mph in western Minnesota, with gusts closer to 20 mph in the east:
Forecast gusts are in knots, with 18 knots equal to 20.7 mph.
Back to temperatures, Twin Cities metro area highs are projected to reach the lower 40s on Tuesday, then upper 40s Wednesday. We'll probably see a high in the mid 40s Thursday, followed by around 40 degrees on Friday.    
No big snowstorms are in sight this week. Some models are showing a plowable snow in parts of Minnesota and Wisconsin next Sunday. Check those forecast updates this week.
Snowiest month in the Twin Cities
The new 30-year averages show that December is the snowiest month of the year in the Twin Cities.
I looked at monthly snow totals for the past 10 snow seasons in the Twin Cities and I've highlighted the snowiest month of each snow season:
December was our snowiest month in 3 of the past 10 snow seasons in the Twin Cities. November, February and April were each our snowiest month twice, and January was the snowiest month in just 1 of the past 10 snow seasons in the Twin Cities. 
It's probably a good thing that April snows melt quickly…many of us are ready for golf, bike rides and other outdoor fun by that time.
Programming note
You can hear my live weather updates on MPR News at 7:35 a.m., 9:35 a.m. and 4:39 p.m. each Saturday and Sunday.
Your support matters.
You make MPR News possible. Individual donations are behind the clarity in coverage from our reporters across the state, stories that connect us, and conversations that provide perspectives. Help ensure MPR remains a resource that brings Minnesotans together.