Minnesota flirts with record warmth again Wednesday
Wintry weather moves back across the state overnight Tuesday
A warm front headed toward Minnesota brings a mix of rain, snow and possibly ice, plus another warm day, before temperatures turn seasonably cool by the weekend.
Tuesday and Wednesday
Following a mild Monday that brought record warmth in the 60s to a few spots in southwestern Minnesota, the state had a cooler start Tuesday. 
A cold front that passed through on Monday returned a northwest flow across the state. Combined with clear skies, Minnesota began the day in the 20s north and 30s south.
Highs will also be cooler compared to Monday, but still above average, in the 30s north and 40s south.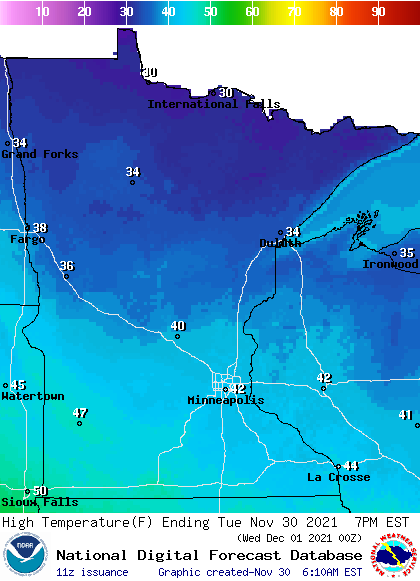 Tuesday morning stays mostly sunny, but clouds increase as another warm front approaches the state.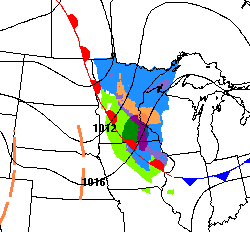 That front moves a mix of wintry precipitation into much of Minnesota by late Tuesday and through the overnight.
Northern Minnesota will be cold enough overnight for the precipitation to stay snow.
However, central and southern Minnesota will spend at least part of the night with temperatures above freezing, meaning more of the precipitation comes as light rain or drizzle south, including for the Twin Cities.
In central Minnesota, there is a chance for light freezing rain (shown in orange).
Although a few sprinkles or flurries could linger in northern Minnesota, most of the precipitation should clear out by the Wednesday morning commute. Everything stays very light, and most snow totals are expected to remain under 1 inch.
Even though the precipitation ends early, the warm impacts of the front continue through the day Wednesday.

Highs will be similar to Monday, ranging from the upper 30s north to 60s southwest; 50s and 60s spread farther north up the western border, making more record highs possible.
Fargo-Moorhead, for example, hit 44 degrees on Monday, but is forecast to be in the mid-50s Wednesday, which is 25 degrees above average and may set a record.
Extended forecast
By Thursday, Minnesota is on the cooler side of the same storm bringing the warm front.
High drop 5 to 10 degrees by Thursday and continue to fall slightly Friday and Saturday. Through Friday, this still puts the state above average, but by Saturday, with highs in the 20s north and 30s south, it returns Minnesota to more seasonably cold temperatures for December.
Here is the forecast temperature trend for the Twin Cities showing that colder plunge toward the weekend:
Programming note
You can hear my live weather updates on Minnesota Public Radio at 7:49 a.m. Monday through Friday morning.
Your support matters.
You make MPR News possible. Individual donations are behind the clarity in coverage from our reporters across the state, stories that connect us, and conversations that provide perspectives. Help ensure MPR remains a resource that brings Minnesotans together.