Latest on COVID-19 in MN: Tangled trends keep surge path clouded
3 things to know:
Wastewater, sample data suggest Minnesota might have peaked mid-January

25 percent positive test rate, trending at highest point in pandemic

1,502 hospitalized, 213 in ICU, lowest since October
Minnesota's latest COVID-19 data remains an enigmatic jumble, making it hard to know whether to cheer or curse as the pandemic stumbles toward February.
The percentage of tests coming back positive is trending at a pandemic high. Yet wastewater data shows COVID dropping dramatically in the Twin Cities and sample-date data still implies Minnesota might have peaked statewide in mid-January.
The surge is being driven almost entirely by COVID's omicron mutation. Friday's report shows more than 63,000 active, confirmed COVID-19 cases in Minnesota, near a record daily high.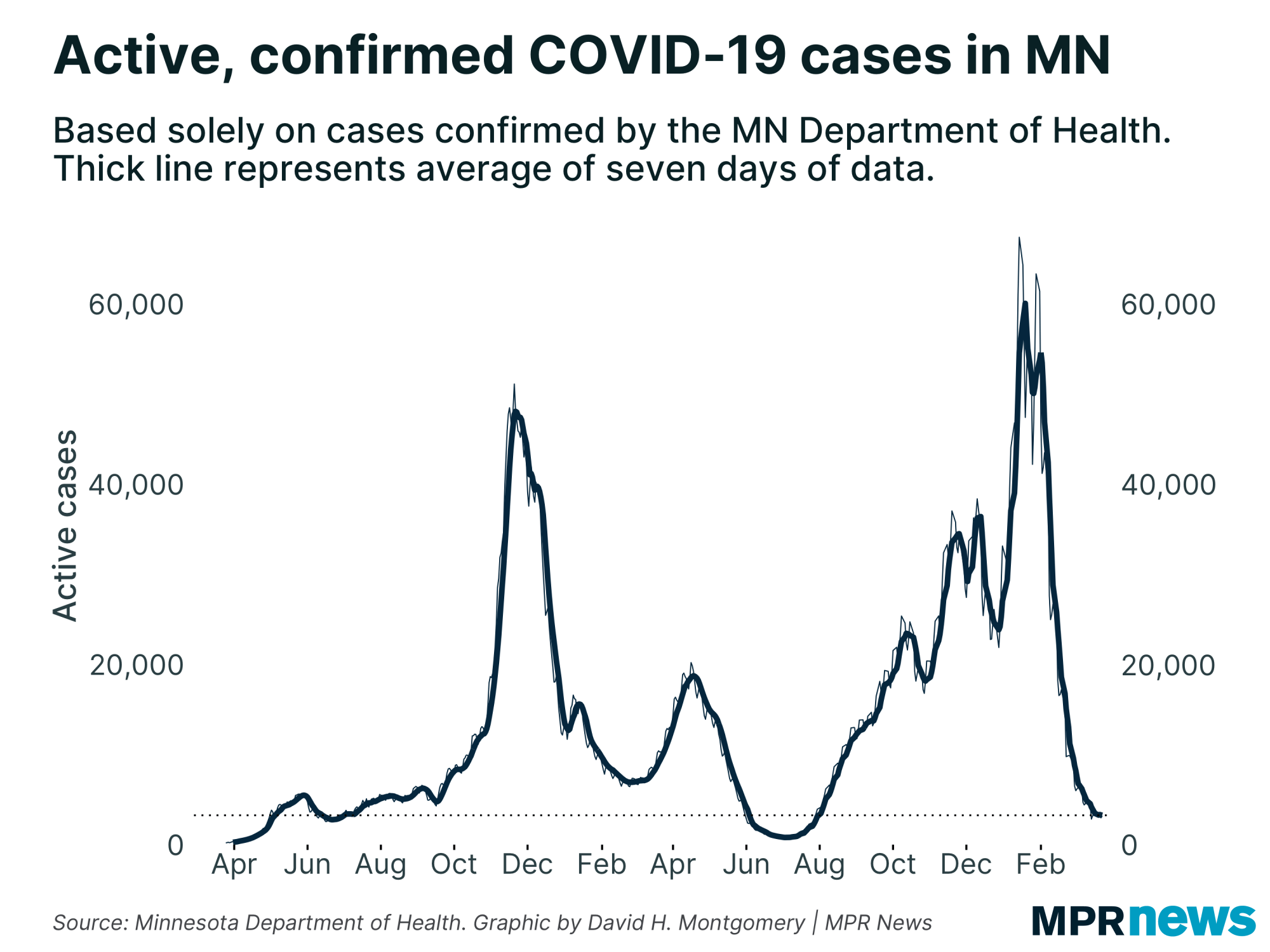 Hospitalizations are still high — 1,502 — but trending down. Intensive care demands are at their lowest point since October, with 213 currently needing an ICU bed.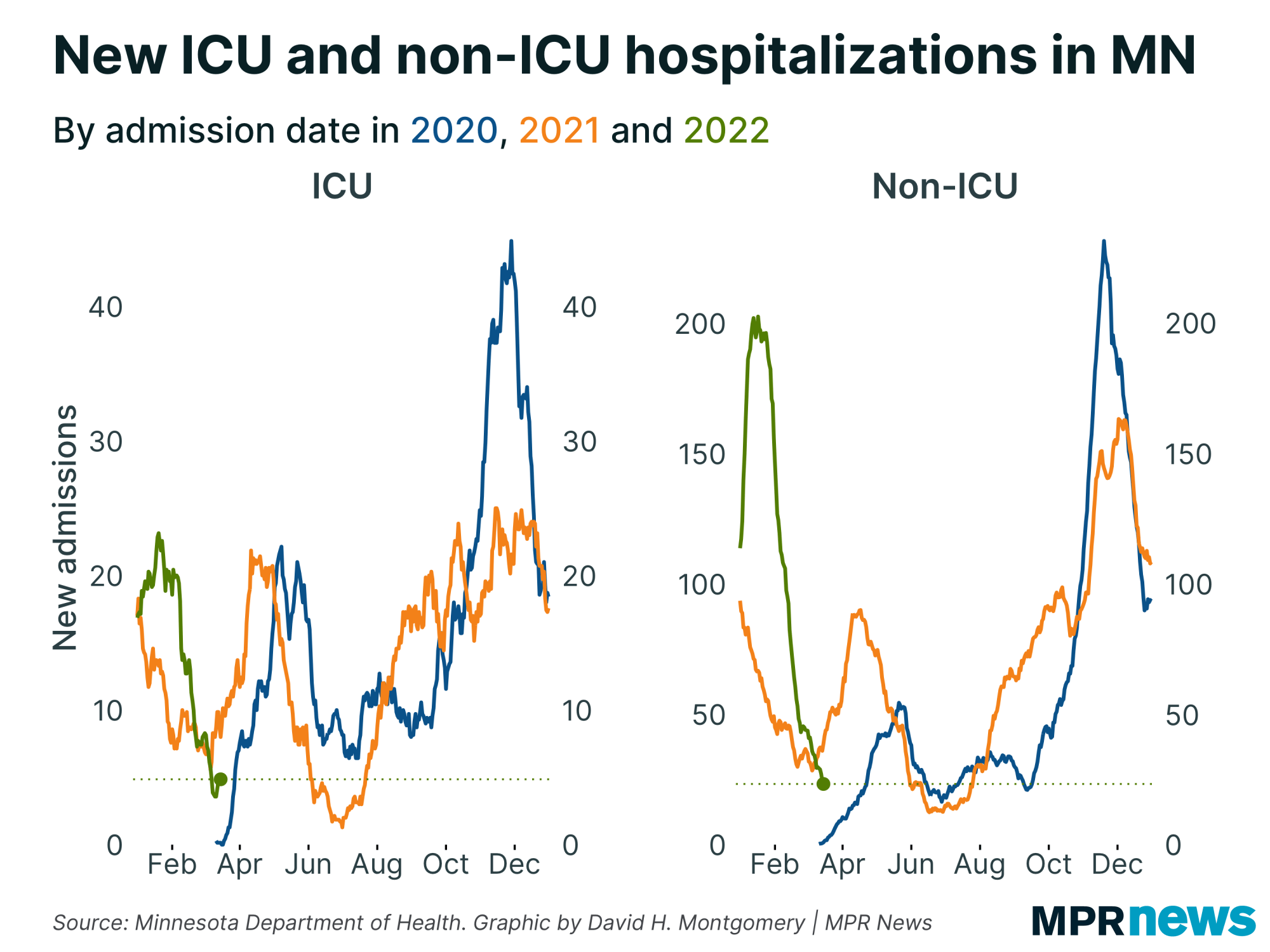 Hospital CEOs in recent weeks have pleaded with people to stay vigilant against the disease, warning care centers are filled with patients with COVID and other needs.
On Friday, Gov. Tim Walz said a fourth federal medical team will help support Abbott Northwestern Hospital in the Twin Cities, and that more than 200 nurses and respiratory therapists are arriving to provide stopgap care at 32 other short-staffed Minnesota hospitals.
Meanwhile, the federal military team assigned to St. Cloud Hospital is leaving Friday after a two-month stay. The hospital's vice president of population health Kathy Parsons said the team brought much-needed help. CentraCare requested the team stay another 30 days, but Parsons said they knew it was unlikely to get approved.
Walz also announced Thursday that the state will distribute 2.1 million KN95 masks through community groups, local public health agencies, clinics, schools, child care centers and other programs in coming weeks.
Minnesota Department of Health officials say they will focus on clinics with high proportions of Medicaid and Medicare patients.
The mayors of Minneapolis and St. Paul are temporarily requiring either a proof of vaccine or a recent negative COVID test for customers at all businesses where people are eating and drinking.
Several Minnesota cities have adopted mask mandates, including Minneapolis, St. Paul, Duluth, Hopkins, Golden Valley, Rochester and Minnetonka. St. Cloud and Moorhead recently rejected enacting mask mandates.
The percentage of COVID tests coming back positive is trending at about 25 percent, according to MPR News calculations — five times more than the 5 percent officials find concerning.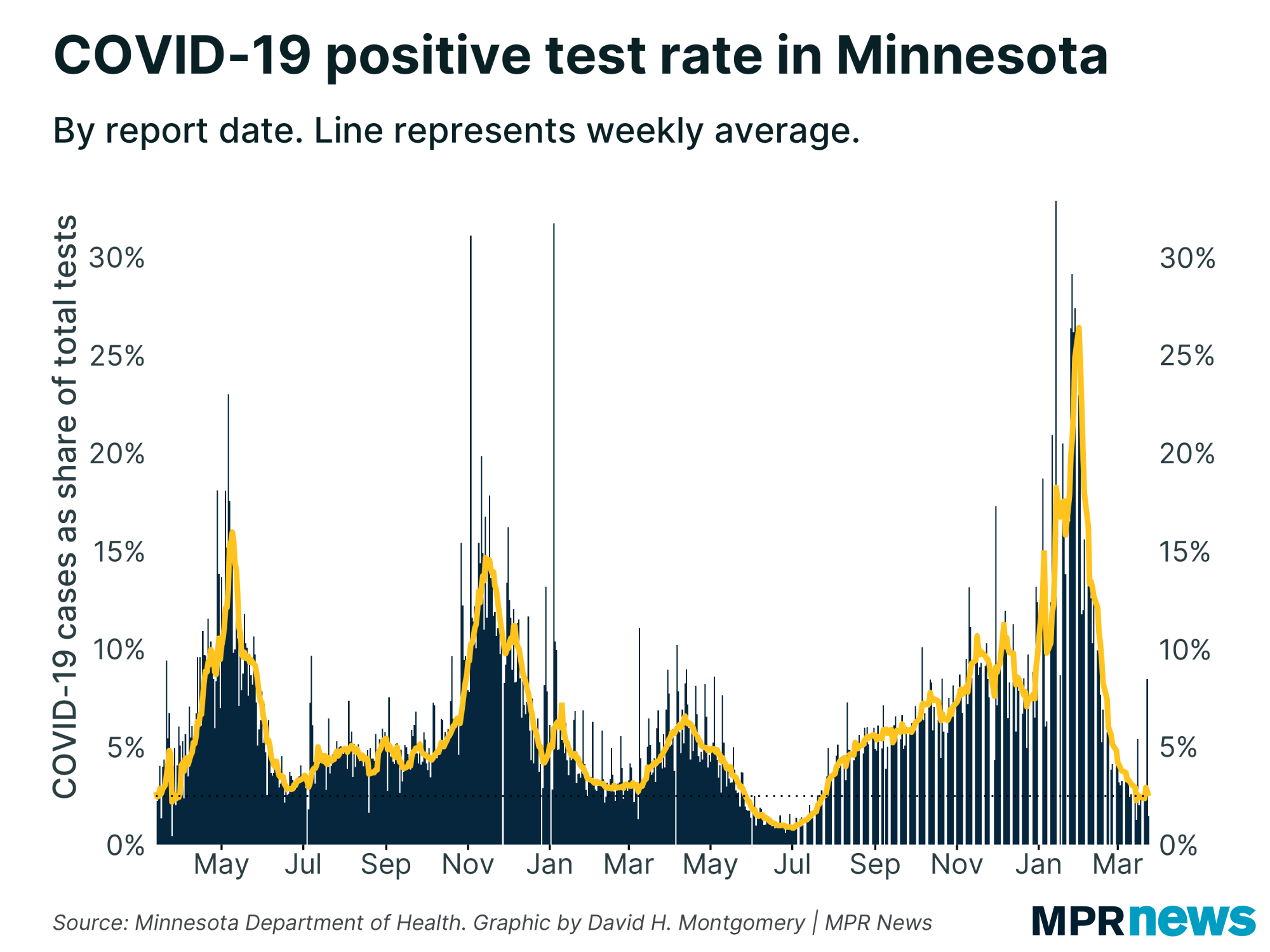 Data collected by the federal Centers for Disease Control and Prevention shows all Minnesota counties currently with a high level of viral spread.
The state's death toll stands at 11,382 including 43 newly reported deaths. Deaths typically follow a surge in cases and hospitalizations. In past COVID-19 waves, it's been the last of the key metrics to improve.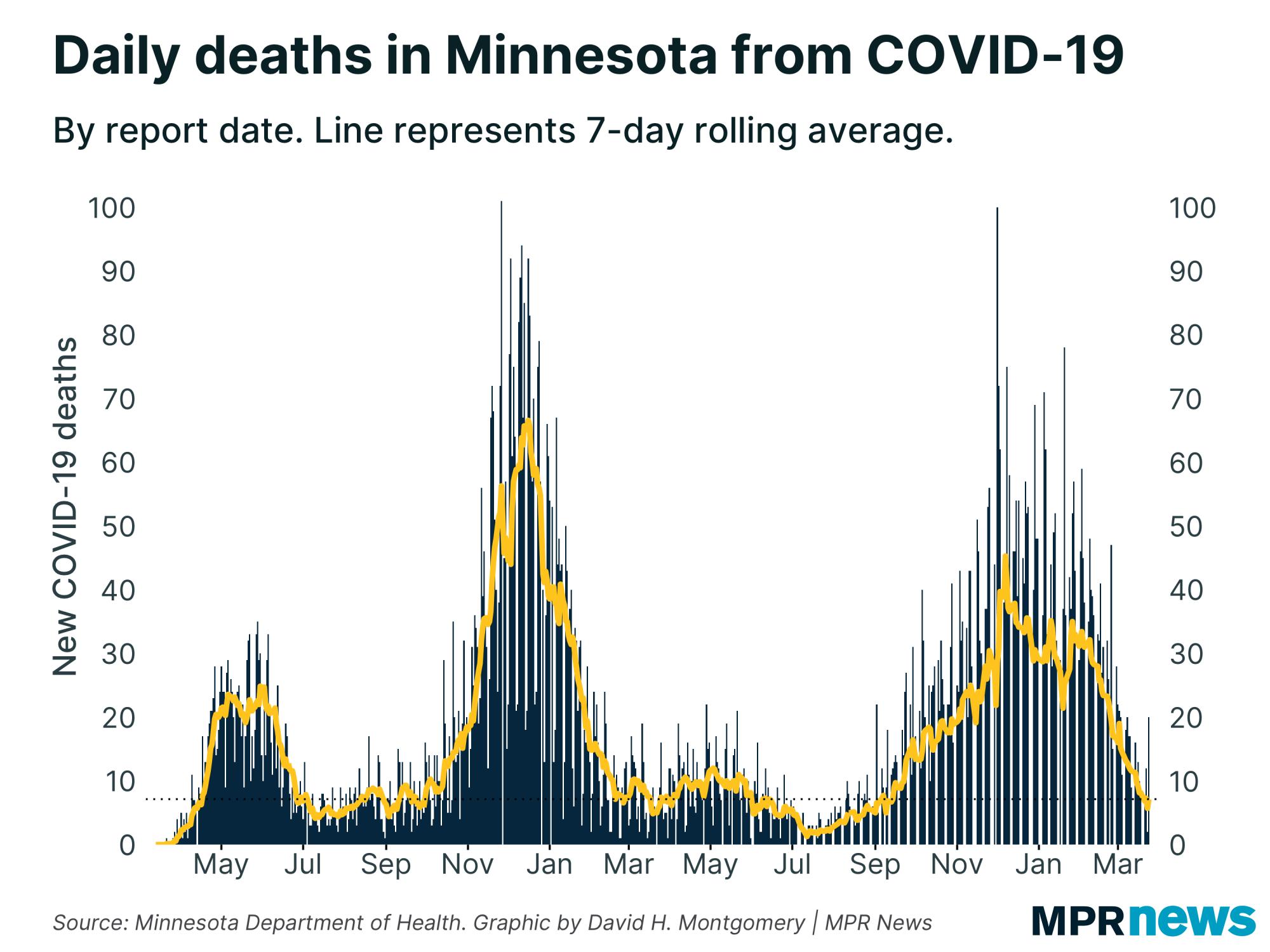 Thanks to vaccinations, Minnesota is better positioned now than during its fall 2020 and spring 2021 spikes: More than 77 percent of state residents age 12 and older have received at least one vaccination shot, with more than 73 percent now completely vaccinated.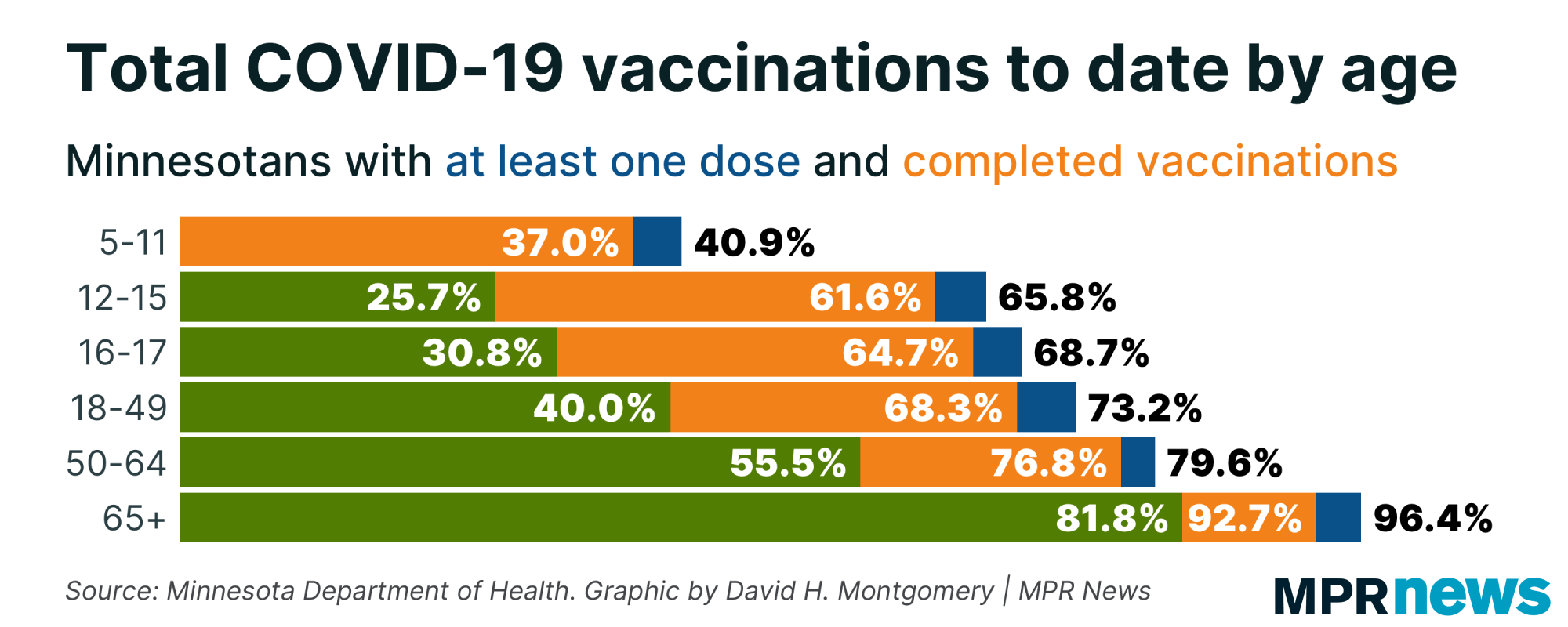 However, the struggle continues to get first shots into more Minnesotans, especially in central Minnesota. Wide gaps remain in the vaccination rates among regions and counties.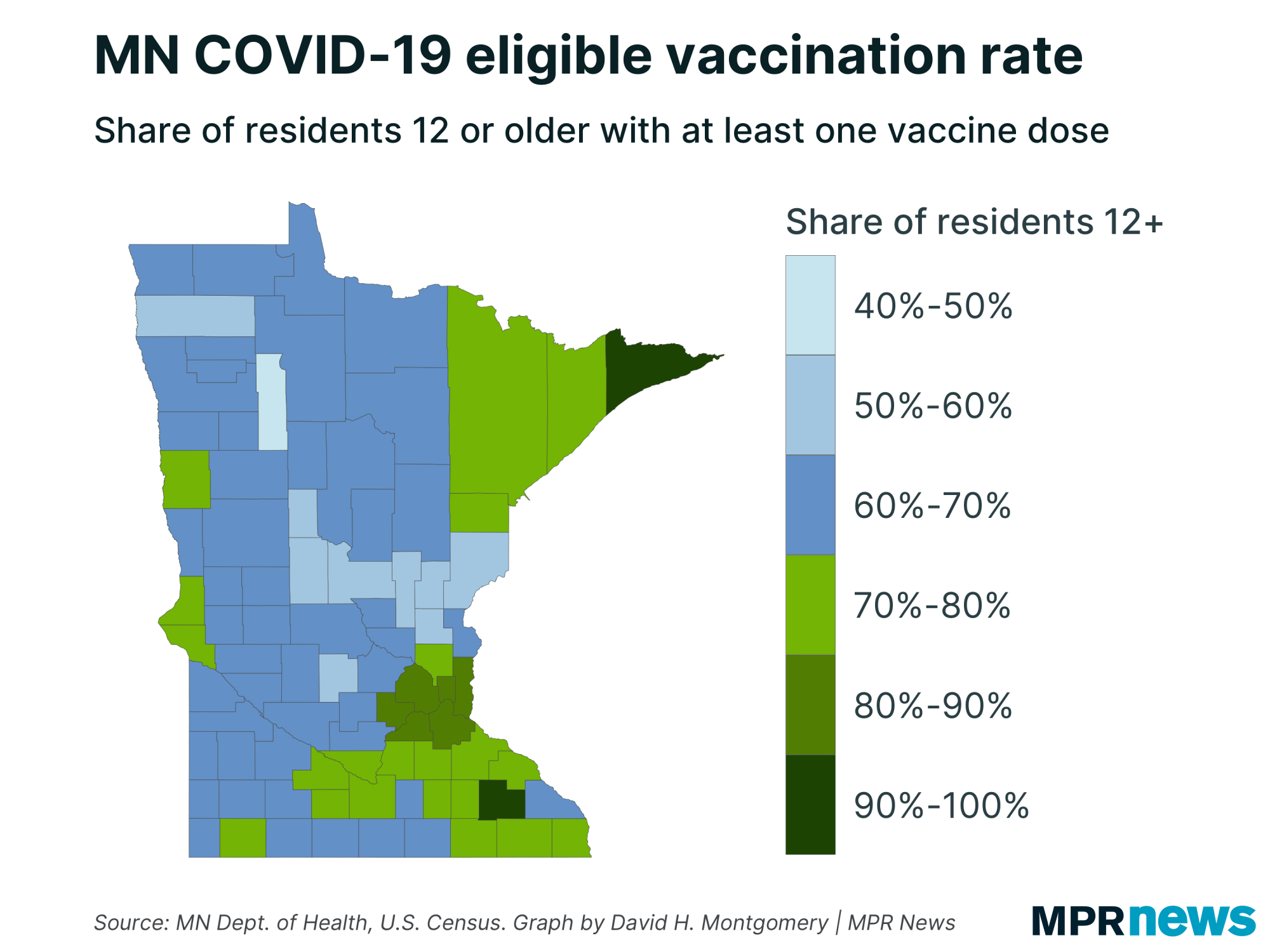 Reporters Kirsti Marohn and Tim Nelson contributed to this report.
Your support matters.
You make MPR News possible. Individual donations are behind the clarity in coverage from our reporters across the state, stories that connect us, and conversations that provide perspectives. Help ensure MPR remains a resource that brings Minnesotans together.