Minnesota airports, transit systems drop mask mandates in wake of federal court ruling
Updated 12:50 p.m.
Metro Transit and several other public transit agencies around Minnesota have stopped requiring riders to wear face coverings, in the wake of Monday's federal court ruling striking down a national mask mandate.
Travelers passing through Minneapolis-St. Paul International Airport terminals and other airports around the state also are no longer required to wear masks — though some agencies are still recommending that passengers wear face coverings while traveling.
Workers at the airport began removing mask requirement signs early Tuesday morning. 
The change caught some travelers by surprise, including Rich Cunningham of Glencoe.
"I only found out about it on my ride in that I didn't have to," said Cunningham, 49.
Cunningham, who was on his way to New York to visit relatives, said he was not sure lifting the mandate was the right move. He had one around his neck but not covering his nose and mouth. He said he worries that with no mandate, those who are not protected against COVID-19 will be more likely to get sick.
Gain a Better Understanding of Today
MPR News is not just a listener supported source of information, it's a resource where listeners are supported. We take you beyond the headlines to the world we share in Minnesota. Become a sustainer today to fuel MPR News all year long.
"If I'm in the area where there's somebody who is at high risk I will put it on for them, because this isn't just about me," he said. "This whole thing — it's about us."
Another traveler, Roxanne Roseen was wearing a mask. She said she didn't like the way the mandate was lifted.  
"I think the CDC should decide. I don't think a federal judge should decide it because I think they know more about it than a federal judge, Roseen, 65, said. "I think they're more capable of deciding if we should or should not."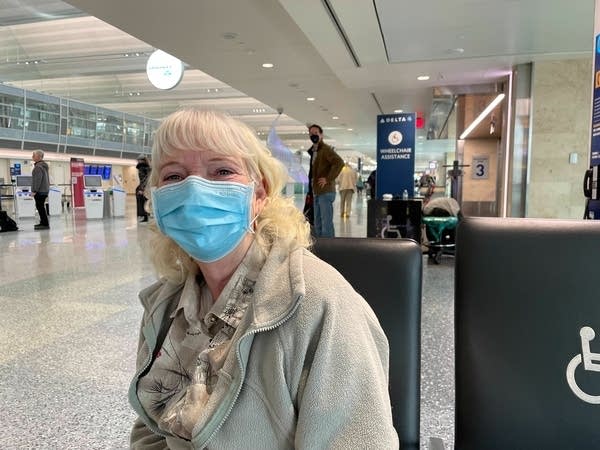 But plenty of travelers welcomed the decision including Jordan Hardin of Kentucky.
"I think the pandemic is under control somewhat, I think it should be the people's choice if they want to wear it or not," Hardin said, adding that he thinks the mandates went too far from the beginning but that he always complied when required.
As for transit, the largest Twin Cities system offered a reminder.
"The Centers for Disease Control and Prevention continues to remind and recommend that masks be worn in indoor transportation settings — but at the same time the order requiring masks on transit, the TSA order, is not in effect, and there are no local mask requirements that are in effect at this time," Metro Transit spokesperson Drew Kerr told MPR News Tuesday morning.
At an LRT stop in St. Paul's Midway neighborhood Tuesday, 18-year-old Jamarion Selmon was wearing a face mask despite the judge's decision.
He said he thinks removing the mandate could prove dangerous for some people like him, as he hasn't gotten around to getting vaccinated. 
On the other hand, Selmon said so many people have ignored mask mandates throughout the pandemic that everyone's essentially been on their own anyway.
"I feel like if you're not vaccinated at all, you should keep your mask on, you know what I'm saying? But some people don't care about that type of stuff. They'll take it off anyway," Selmon said. "I guess it doesn't really matter what you say or not, because way before this even happened, people already had their mask off."
Also on the platform was Bill Wittenbreer. The 70-year-old St. Paul resident was not wearing a mask because the requirement is no longer in place. Even so, he said he's not happy about the court decision.
"If they've negated this authority, what happens again if we need to reinstate them for either a flare up of COVID or some other pandemic that comes our way?" Wittenbreer asked. "We've carried diseases since we walked this planet."
The Minnesota Valley Transit Authority, Rochester Public Transit and Duluth Transit Authority also are no longer requiring riders to wear masks on their buses.
Without a federal mandate in effect, Rochester transit officials said Tuesday, "RPT will now follow the official city of Rochester policy which does not require the wearing of masks in city-owned facilities, including transit vehicles. The City and RPT still welcome the use of masks on board buses for whoever wishes to wear them and encourage unvaccinated and immunocompromised individuals to consider wearing facial coverings."
Officials with the Metropolitan Airports Commission, which oversees MSP, said Monday night that "wearing masks will be optional after the Transportation Security Administration issued guidance that it will no longer enforce mask-related regulations and will be withdrawing security directives that required face masks at airports, on aircraft and other forms of public transportation."
Officials at the Duluth airport posted a similar statement.
Airlines quickly dropped their mask requirements after Monday's court ruling — including Delta, which posted a statement saying it was "relieved to see the U.S. mask mandate lift to facilitate global travel as COVID-19 transitions to a more manageable respiratory virus — with better treatments, vaccines and other scientific measures to prevent serious illness."
Delta said its passengers and staff were welcome to continue wearing masks if they choose, and asked travelers for patience with possible "inconsistent enforcement" this week "given the unexpected nature of this announcement."
Sun Country Airlines issued a statement saying "we look forward to seeing your smiles on board and encourage kindness and respect for those who continue to mask."
In an email to customers Tuesday morning, ride-sharing company Uber said masks were recommended but no longer required, the Associated Press reported.
In a 59-page lawsuit ruling Monday, U.S. District Judge Kathryn Kimball Mizelle in Tampa said the U.S. Centers for Disease Control and Prevention overstepped its authority in issuing the original health order on which the TSA directive was based. She also said the order was fatally flawed because the CDC didn't follow proper rulemaking procedures.
The CDC had recently extended its mask mandate, which was set to expire Monday, until May 3 to allow more time to study the BA.2 omicron subvariant of the coronavirus now responsible for the vast majority of cases in the U.S. The court ruling puts that decision on hold.
The Associated Press contributed to this report.