Showers linger into Sunday afternoon in some areas; dry Monday
Update on flood warnings in northwestern Minnesota
I know, our weekend weather has been less than ideal.
A pesky low pressure system over western Wisconsin has been bringing rain to much of Minnesota and Wisconsin Sunday morning. The low pressure system will move slowly away Sunday afternoon, so the rain will gradually lift off to the northeast as we go through the afternoon hours.
Parts of the Twin Cities metro area could see periods of showers linger into early afternoon. There will be periods of showers through much of Sunday afternoon in north-central and northeastern Minnesota as well as northwestern and west-central Wisconsin.
You can hear updated weather information for Minnesota and western Wisconsin on the Minnesota Public Radio News network, and you can see updated weather info on the MPR News live weather blog.
Flooding update
Flood warnings continue along the Red River and along some smaller rivers in northwestern Minnesota for several more days. Additional portions of northwestern Minnesota are also in flood warnings through Sunday evening. Flood warnings are shaded light green in the following graphic:
Before you keep reading ...
MPR News is made by Members. Gifts from individuals fuel the programs that you and your neighbors rely on. Donate today to power news, analysis, and community conversations for all.
You can get flood warning details by clicking on any location at the NWS site.
The NWS has posted these flood safety tips:
A flood watch continues through Sunday evening along and near the North Shore of Lake Superior:
Here are details of the flood watch:
Flood Watch National Weather Service Duluth MN 327 AM CDT Sun May 1 2022 .Rainfall amounts along the North Shore as of 3 AM range from three quarters of an inch to an inch and a half. Additional amounts today will be up to another three quarters of an inch. Also, the snowpack will continue to melt. The runoff and snowmelt may lead to flooding. Rivers have been rising overnight and they will continue to do so. MNZ020-021-012100- /O.CON.KDLH.FA.A.0002.000000T0000Z-220502T0500Z/ /00000.0.RS.000000T0000Z.000000T0000Z.000000T0000Z.OO/ Southern Lake-Southern Cook- Including the cities of Two Harbors, Silver Bay, and Grand Marais 327 AM CDT Sun May 1 2022 ...FLOOD WATCH REMAINS IN EFFECT THROUGH THIS EVENING... * WHAT...Flooding caused by rain and snowmelt continues to be possible. * WHERE...A portion of northeast Minnesota, including the following areas, Southern Cook and Southern Lake. * WHEN...Through this evening. * IMPACTS...Excessive runoff may result in flooding of rivers, creeks, streams, and other low-lying and flood-prone locations. * ADDITIONAL DETAILS... - Runoff from rainfall and continued snowmelt may cause flooding. Gauge reports so far are from three quarters of an inch to an inch and a half as of 3 am with another quarter to three quarters of inch possible today. Runoff from snowmelt will also occur. Rivers were rising and will continue to do so. - http://www.weather.gov/safety/flood PRECAUTIONARY/PREPAREDNESS ACTIONS... You should monitor later forecasts and be alert for possible Flood Warnings. Those living in areas prone to flooding should be prepared to take action should flooding develop.
River levels
NOAA's Advanced Hydrologic Prediction Service site shows river gauges across our region. You can click on any gauge at that site to get recent and current river levels plus the forecast levels over the next few days.
Here's the hydrograph for the Red Lake River at Crookston, Minnesota, which has returned to major flood stage today:
The Red River at Oslo, Minnesota remains at major flood stage: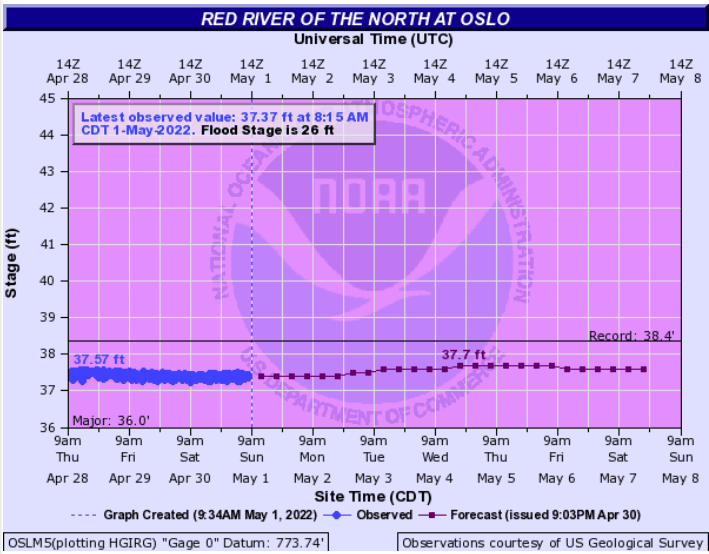 The Red River at Grand Forks is forecast to reach major flood stage late Monday:
The St. Croix River at Stillwater is forecast to rise about one and one-half feet this week, but it will stay below official flood stage over the next seven days:
Temperature trends
Our average Twin Cities high temperature is 64 degrees on May 1. Metro area highs will be mainly in the upper 40s Sunday afternoon, with a shot at 50. Many locations in Minnesota will see Sunday highs in the 40s.
Monday highs will be in the 40s in northern and western Minnesota, with 50s from the Twin Cities into southeastern Minnesota and western Wisconsin:
Monday afternoon wind gusts could reach 15 to 20 mph in northern and western Minnesota:
Forecast gusts are in knots, with 14 knots equal to 16.1 mph.
Back to temperatures, Twin Cities metro area highs are projected to reach the mid 50s Tuesday, then around 60 on Wednesday, followed by lower 60s Thursday and mid 60s on Friday.
April stats
April 2022 was 6.1 degrees cooler than normal. That's based on the average of all the daily high temps and low temps at MSP airport. Precipitation (rain plus the water content of the 1.6 inches of snow) was 1.08 inches above normal in April:
Notice that we had 2 sunny days, 11 cloudy days and 17 partly cloudy days in April.
Programming note
You can hear my live weather updates on MPR News at 7:35 a.m., 9:35 a.m. and 4:39 p.m. each Saturday and Sunday.