Drama-free spring is finally here, with flowers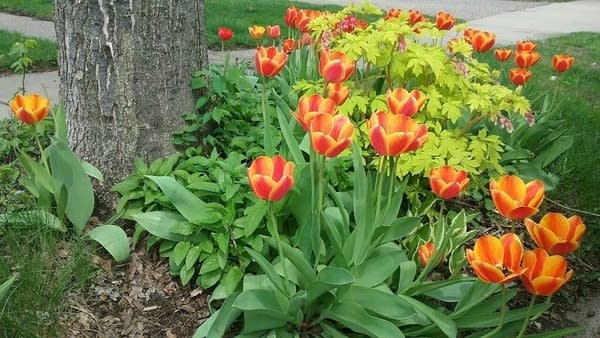 Yes, the past two days of stormy, then steamy, then stormy-again weather are long gone. Temperatures are comfortable and humidities are quite low.
And, at least in the Twin Cities where I have been checking things out, spring flowers are blooming like they are trying to make up for lost time. Daffodils, like the ones in the cover page photo for this Updraft, always look so elegant. And gorgeous tulips have been blooming like crazy the past few days.
Friday afternoon temperatures
Temperatures warmed into the 60s and low 70s across northern Minnesota on Friday while 70s ruled the rest of the state. The exceptions are near Lake Superior where Grand Marais and Duluth Harbor reported just 46 degrees at 4 p.m. Dress accordingly if you will be near the big lake this weekend.
Pleasant weekend
Speaking of fishing opener weekend, expect mostly seasonable temperatures and dry weather. A few showers could pass through northwestern Minnesota Saturday morning, but nothing severe.
High temperatures will be just in the mid to upper 50s and breezy in the northwest corner, including Roseau and Hallock. Temperatures will get progressively warmer to the east and south until the hot spot Saturday afternoon is likely to be around Winona in the southeast corner with a high will get close to 80. The Twin Cities should have a warmer-than-normal high around 77 with a west wind becoming gusty by afternoon.
Sunday could see just a few widely scattered showers or possibly thundershowers across southern parts of the state. For the Twin Cities area, that would be a chance of brief showers or thunderstorms Sunday afternoon or evening.
High temperatures for Sunday should be mainly in the upper 50s to mid 60s up north to upper 60s in the south. I think the Twin Cities will max out in the low 70s.
Lunar eclipse Sunday night
The moon will pass through Earth's shadow for a total lunar eclipse Sunday night. The total eclipse will begin at 10:41 p.m. when the moon goes fully into that shadow and will end at 11:54 p.m. when it begins to brighten. The moon is likely to appear reddish because as the sun's light passes through Earth's atmosphere the blue-green end of the spectrum scatters out and away. Some of the remaining red end of the spectrum bends toward the moon and washes it in that color. Very pretty and, of course, safe to look at.
Seasonable weather continues well into next week
Temperatures should remain close to seasonal normal for most of next week with highs in the 50s across the north, lots of 60s and then some 70s by later in the week.
The coolest day is likely to be Tuesday with lows in the 30s north to 40s south…
…and afternoon highs in the upper 50s to mid 60s.
There will be a chance of showers beginning Tuesday night. A better chance of thunderstorms should arrive for about Thursday through Friday.
Your support matters.
You make MPR News possible. Individual donations are behind the clarity in coverage from our reporters across the state, stories that connect us, and conversations that provide perspectives. Help ensure MPR remains a resource that brings Minnesotans together.