Delightful Labor Day, then warmer and muggier
Areas of low clouds brewed over parts of southern and northeastern Minnesota this Labor Day morning. Daytime heating, lifting and mixing should thin out much of that stratus.
Seasonable Labor Day
Look for seasonable temperatures and rather low dew points to give us an enjoyable Labor Day. Most of Minnesota will be treated to high temperatures in the 70s.
A few hot spots in western Minnesota might touch 80 degrees while cooler sections along the North Shore will have to be satisfied with upper 60s. The average high for the Twin Cities on this date is 77, and I think we should get close to that temperature with a light southeast breeze.
Heating up midweek
Look for quite a warmup through midweek as the oppressive heat wave ongoing in the West nudges eastward. Tuesday will be several degrees warmer than Monday and a bit more humid. Then the heat really builds for Wednesday and Thursday.
While the Dakotas bake, high temperatures could easily reach the 90s in southwestern Minnesota and possibly as far east as the Twin Cities on Thursday.
Canadian cooldown
A cold front from the northwest will then return cooler, more-seasonable temperatures for Friday and next weekend.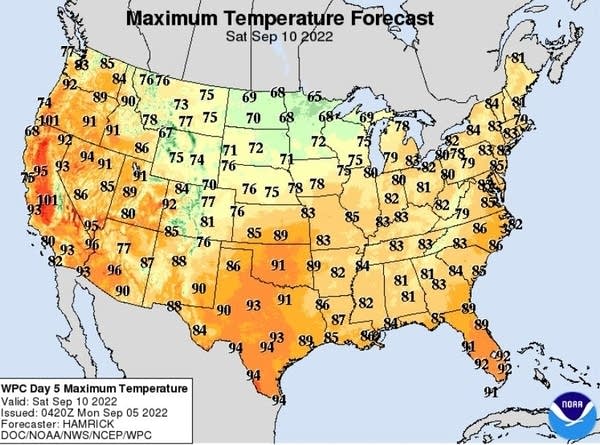 No rain in sight
The rain that we need is not on its way. Most of the upcoming week will be dry statewide. That Canadian cold front might bring a scattering of showers and thunderstorms somewhere in the Friday-Saturday timeframe, but early outlooks indicate that most amounts are likely to be paltry.
Little total rain is forecast over the next week with the best chance of measurable amounts possibly over the Arrowhead. Also, note the soaking that could be on tap for the Southeast thanks to a persistent flow of soggy air from the Gulf of Mexico.
MPR News is Reader Funded
Before you keep reading, take a moment to donate to MPR News. Your financial support ensures that factual and trusted news and context remain accessible to all.