Showers, windy on Friday; weekend looks warmer, brighter
Rainfall amounts will generally be under one-half inch
Scattered rounds of rain showers will keep it cool Friday. Temps will mainly remain in the 50s with a blustery south wind making it feel cooler. Clouds decrease Saturday into Sunday.
Showers Friday; brighter weekend develops
Look for two main rounds of steadier showers Friday. We'll have one round reach the Twin Cities mid to late morning Friday with another late afternoon and evening round of showers. In between, showers will be more widely scattered. One or two thunderstorms is also possible.
Rainfall amounts will generally be under one-half inch, keeping drought stricken portions of south-central and east-central Minnesota parched.
It will be windy through the day Friday as well.
Clouds should gradually decrease through the day Saturday with more sunshine Sunday.
There are still a few pop-up showers or a thunderstorm possible Saturday, mainly in eastern Minnesota into Wisconsin.
MPR News is Reader Funded
Before you keep reading, take a moment to donate to MPR News. Your financial support ensures that factual and trusted news and context remain accessible to all.
High temperatures will be mainly in the upper 60s across southern Minnesota over the weekend with pockets of 50s and low 60s north.
Chilly then warmer next week
Another blast of cool air moves in for early next week. Highs will be back in the low 60s across southern Minnesota with more widespread 50s in central and northern Minnesota. Low temperatures Tuesday night into early Wednesday look to be the coldest yet.
Look for widespread 30s and even low 40s in the Twin Cities.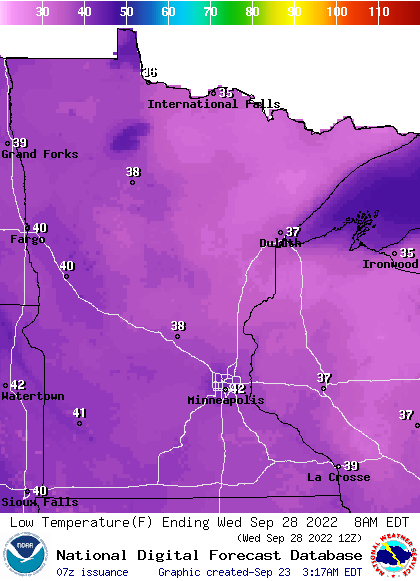 Don't count out warm weather yet, though. By late next week into next weekend we'll see 70s return for many as September ends and October begins.