Warm Tuesday, showers Wednesday then colder Thursday
Frosty and freezing overnights on the way Thursday and Friday nights
Tuesday will yield another day in the 70s with partly cloudy skies east. There will be more clouds west with some showers.
Showers spread east Wednesday with colder air arriving Thursday.
A very mild start to Tuesday
It was an incredibly mild overnight Monday night into early Tuesday. Lows nearly statewide were in the 50s. The normal low temperature this time of year ranges from the mid-30s north to the mid-40s south.
International Falls on the Canadian border saw its second warmest Oct. 4 morning at 55 degrees. Duluth had it's third warmest.
In the Twin Cities, the low was a more modest anomaly, 11 degrees above normal, but enough to put us in the top 8 percent of morning lows for Oct. 4.
Warmer nights are one of the climate change impacts we see frequently. Climate Central's climate shift index shows some fingerprints of climate change on Tuesday morning's lows in Minnesota.
MPR News is Reader Funded
Before you keep reading, take a moment to donate to MPR News. Your financial support ensures that factual and trusted news and context remain accessible to all.
The afternoon will be quite mild again for southeast Minnesota, back well into the 70s, a full 10 degrees above normal. We'll start to see things cool slightly with increased cloud cover in western Minnesota.
Change blows in Wednesday, Thursday
Showers will already spread into parts of western and northwest Minnesota Tuesday as a large upper-level low nudges slowly into the region ahead of much cooler air.
Those showers will try to spread east into Wednesday and early Thursday, although no one is set to receive significant precipitation totals.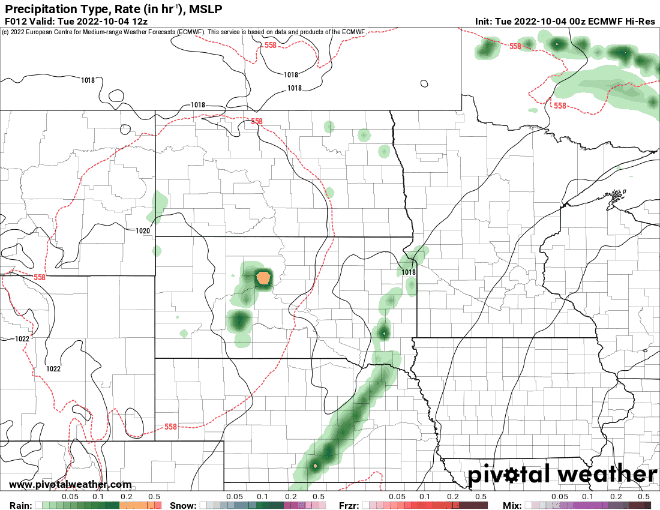 We have two cold fronts pushing through Minnesota. The first will cool temperatures slightly early Wednesday, but a second, more significant blast of cold air comes in late Wednesday into Wednesday night. Winds will pick up behind the front making for a blustery Thursday.
As a cold area of high pressure settles in, winds will lighten up but it will also be quite chilly. High temperatures Friday will be in just the 40s to around 50 south.
Friday night into early Saturday will bring our coldest temperatures yet with widespread freezing temperatures and the next best chance at frost in Minneapolis and St. Paul.