Weekend weather: Frosty start, then temps recover a bit
Fall color update for leaf-peepers
If you've been covering outdoor plants or bringing potted plants indoors during cold weather, it's time to do it again.
Lows temperatures late Friday night into early Saturday morning will be in the upper 20s to lower 30s across much of Minnesota and western Wisconsin: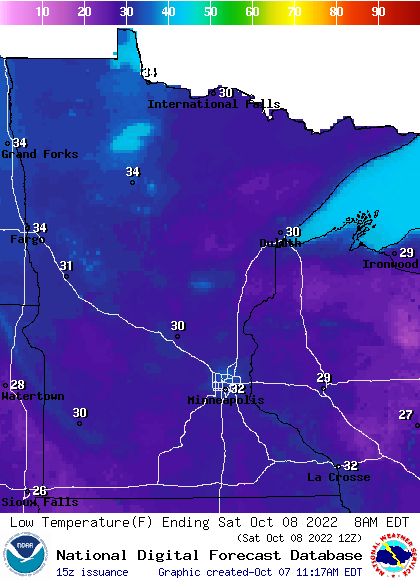 A freeze warning has already been issued for much of southern Minnesota and parts of southwestern Wisconsin for 1 a.m. to 9 a.m. Saturday:
I expect freeze warnings and frost advisories to be issued for additional portions of Minnesota and Wisconsin in the National Weather Service forecast updates later this afternoon. The NWS Twin Cities site will post updated graphics as additional warnings or advisories are issued.
Portions of northern Minnesota and northwestern Wisconsin have already seen the end of their growing season, so additional cold temps won't trigger advisories and warnings in those areas.
Weekend temperature trends
Our average Twin Cities high temperature is 62 degrees on Oct. 8. Saturday highs will be in the lower 60s in the Twin Cities metro area. We'll share highs in the 60s with much of southern and central Minnesota, while many locations in far northern Minnesota and western Wisconsin top out in the 50s:
MPR News is Reader Funded
Before you keep reading, take a moment to donate to MPR News. Your financial support ensures that factual and trusted news and context remain accessible to all.
Low temps late Saturday night into early Sunday morning are expected to dip into the 40s in the Twin Cities metro area and southern Minnesota, with 30s elsewhere:
Sunday afternoon highs range from upper 60s in southwestern Minnesota to 50s in far northern Minnesota:
Parts of the Twin Cities metro area will have Sunday highs in the mid 60s.
Any rain?
It'll be a rain-free weekend in most of Minnesota plus western Wisconsin. One forecast model shows a shower chance Sunday afternoon and evening in far northern Minnesota.
We have updated weather information for Minnesota and western Wisconsin on the Minnesota Public Radio News network, and on the MPR News live weather blog.
Fall color update
I've spotted pockets of excellent fall color in the Twin Cities metro area the past few days. Some trees haven't yet transitioned to autumn hues and a few trees have already dropped most of their leaves.
My wife took a Wednesday picture of fall colors in Mendota Heights, as seen from the Minnesota Highway 13 bridge:
The Minnesota Department of Natural Resources fall color report for Minnesota State Parks and Trails looks like this:
When you look at fall color maps, keep in mind that all deciduous trees are included. The maples can be peaking in a given area when the overall changeover to fall color is 50 percent or less.
The Wisconsin fall color report can be found here.
Programming note
You can hear my live weather updates on MPR News at 7:35 a.m., 9:35 a.m. and 4:39 p.m. Saturday and Sunday.