Friday temps milder, snow late; winter weather advisory northwest
The temperature roller coaster continues
Temperatures will hold pretty steady in the 20s to near 30 degrees overnight Thursday into Friday. Friday will bring highs near 40 in the southeast while cold already starts to slip into northwestern Minnesota with teens there.
Snow showers develop midday in northwestern Minnesota and spread south and east Friday evening and overnight. A winter weather advisory is posted in northwestern Minnesota from 10 a.m. Friday through 4 a.m. Saturday.
Mild into Friday
Low temperatures will initially drop a few degrees Thursday evening but then hold steady and even go up as mild air remains in place. Most of Minnesota will see overnight temperatures hold in the 20s and low 30s.
Friday will be milder across southeastern Minnesota with high temperatures near 40, but colder air already will be moving into northwestern Minnesota pushing highs only into the teens.
Snow showers, wind and colder
A fast-moving system will bring snow showers to northwestern Minnesota by midday Friday and those snow shows will spread east and southeast through the afternoon and evening. There's a winter weather advisory for northwestern Minnesota due to the snow but also blowing snow Friday into Friday night.
There's a possibility of some patchy, light, icy coating in northeastern Minnesota and even a few sprinkles initially in southeastern Minnesota. Most of the snowfall will be in northern Minnesota where a few inches could fall.
The winds pick up behind the snow with gusts of 35 to 45 mph for some places as colder air blows back in.
High temperatures Saturday will be mainly in the teens and single digits but wind chills will be subzero for many most of the day.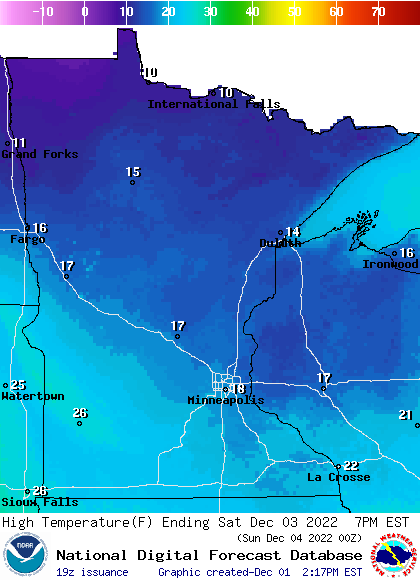 Gain a Better Understanding of Today
MPR News is not just a listener supported source of information, it's a resource where listeners are supported. We take you beyond the headlines to the world we share in Minnesota. Become a sustainer today to fuel MPR News all year long.