Temperature swings, wind, snow; very cold Saturday, milder Sunday
Winter weather advisory Friday across northern Minnesota
Temperatures will range from near 40 degrees in southeastern Minnesota to the teens in northwestern Minnesota Friday afternoon. Snow showers develop midday in the northwest and spread east and southeast.
Snow showers could mix with a few sprinkles southeast with some brief ice possible northeast. Winds increase Friday night with 35 to 45 mph gusts. Saturday will be much colder.
Snow showers, wind, big temperature drop
It'll be a tale of two corners of the state Friday as far as temperatures are concerned. There'll be a nearly 30-degree difference between low 40s in southeastern Minnesota and teens in the northwest.
A winter weather advisory is in effect Friday afternoon into early Saturday for most of northwestern and northeastern Minnesota as snow showers move in. The snow showers reach northwestern Minnesota midday and then spread east and southeast into the evening and overnight Friday night.
The more significant snowfall totals will be in northern Minnesota with 1 to 3 inches, even some isolated 4-inch amounts.
Farther south we can expect a coating in the Twin Cities into western Wisconsin.
Gain a Better Understanding of Today
MPR News is not just a listener supported source of information, it's a resource where listeners are supported. We take you beyond the headlines to the world we share in Minnesota. Become a sustainer today to fuel MPR News all year long.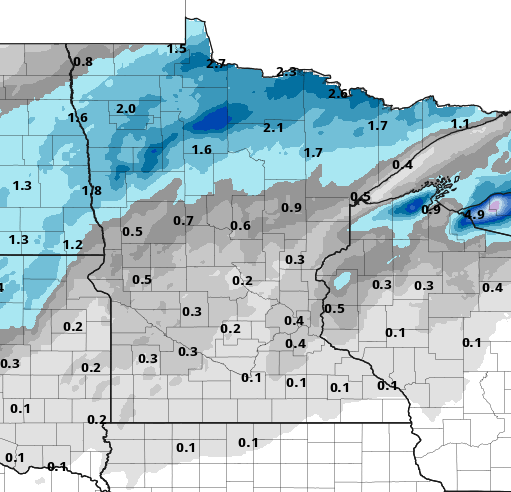 Winds will increase from the northwest behind the snow showers with gusts as high as 35 to 45 mph causing blowing and drifting with reduced visibilities.
Those winds will create wind chill values below zero, statewide early Saturday with even teens to near minus 20 in northern Minnesota as actual air temperatures north drop into the single digits and below zero.
Temperatures rebound to near 30 degrees Sunday afternoon in southern Minnesota with teens and 20s in northern Minnesota.
There are a couple more chance of snow next week to the north Sunday night and statewide Monday and Wednesday. None look like big events at this point.
Nearly half of Minnesota still in drought
The latest U.S. Drought Monitor report is largely unchanged but doesn't yet include the moisture from Tuesday's storm.
Forty-eight percent of Minnesota remains in drought. Nearly 5 percent of Minnesota, including much of the Twin Cities into southwestern Minnesota, remains in extreme drought.
The good news is that November was wetter than normal for most of the state. In fact, the Twin Cities saw five times more precipitation in November than all of September and October combined!
We received 2.4 inches in November compared to 24 one-hundredths of an inch (.24) each in September and October. The other piece of good news is that Tuesday's storm nearly lined up Minnesota's severe and extreme drought areas.
The one drawback is that snowfall in midwinter often evaporates or runs off in the spring melt and therefor isn't adequately absorbed into the ground like rainfall or a wet snow that melts after falling and soaks into an unfrozen ground.