Blizzard conditions continue for many Friday along with dangerous wind chills
Blowing snow and wind chills of 30 to 40 below zero Friday morning
Updated 11:10 a.m. Friday
Sustained high winds of 20 to 30 mph with gusts of 40 to 50 mph will continue to create white-out conditions in many areas along with dangerously cold wind chills in the 20s and 30s to near 40 below zero into Friday.
High winds continue to create blizzard conditions
Wind gusts have been pretty high so far in southwest Minnesota and along the North Shore. Generally, gusts have been between 40 and 50 mph in southwest Minnesota but Grand Marais has seen gusts as high as 74 mph measured at 10 a.m. Friday morning!
The Duluth National Weather Service says that's the second highest recorded wind gust ever at Grand Marais.
Gusty northwest winds will continue to blow snow around Minnesota and western Wisconsin Friday, creating greatly reduced visibilities and treacherous travel conditions.
Grow the Future of Public Media
MPR News is Member supported public media. Show your support today, donate, and ensure access to local news and in-depth conversations for everyone.
Blizzard warnings remain in effect for much of southern and southwest Minnesota into southwest Wisconsin through Friday night. Forecast wind gusts will remain high into early Saturday.
The bitter cold and wind are creating dangerously cold wind chills. Morning wind chills will remain between 25 and 45 degrees below zero. Exposed skin freezes in just minutes.
Temperature remain very cold, well below zero. High temperatures will remain below zero for most of Minnesota Friday afternoon.
Wind gusts should decrease through Saturday and finally be calmer for Sunday across the region.
Northeastern Minnesota will see some additional snowfall Friday into the weekend:
After a cold weekend, a much warmer pattern develops
Low temperatures Friday night will again be bitterly and dangerously cold, well below zero.
Saturday will remain very cold but winds will start to lighten up some.
High temperatures Saturday afternoon will be mainly in the single digits above zero in eastern Minnesota but remain subzero in western Minnesota.
Christmas Day Sunday will still be pretty cold to start but with much lighter winds, generally under 10 mph, with sunshine and highs will be above zero nearly statewide.
A clipper system will bring yet more snow Sunday evening into Sunday night across a swath of Minnesota.
We're likely set to receive more accumulations of anywhere from 1 to 4 inches across central and southern Minnesota Sunday night.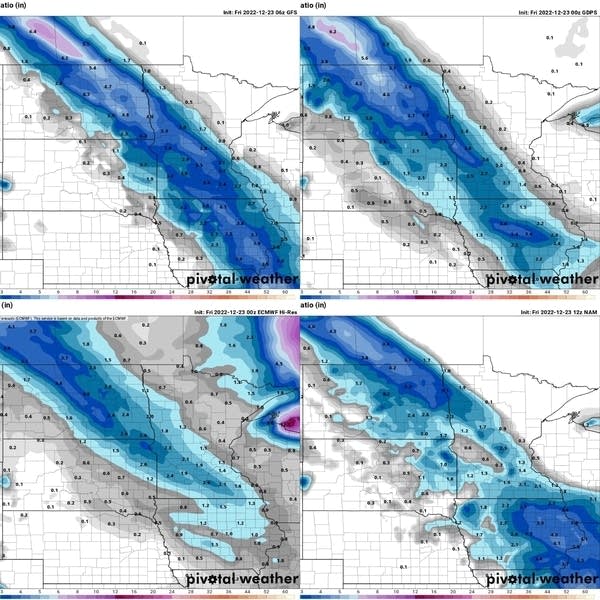 After the weekend, the Siberian/arctic air departs and things warm up pretty quickly. We should see highs above 30 degrees Wednesday afternoon in southern Minnesota.
The 6 to 10 day outlook from the Climate Predication Center calls for above normal temperatures!