Femme giants and more rise at the Rochester Art Center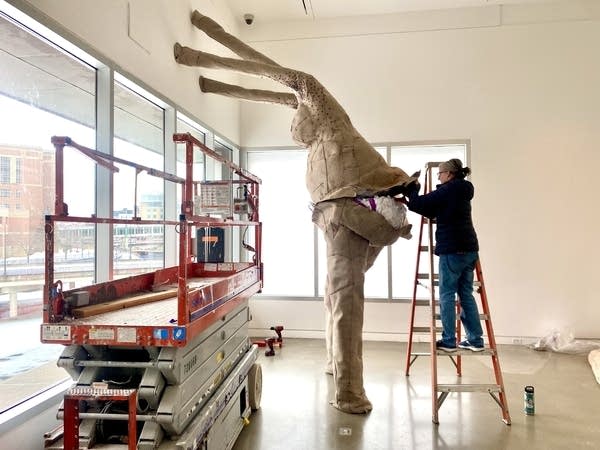 A week before her show opening, artist Nicole Havekost still needs to stitch what she describes as "pendulous breasts" onto one of her colossal female humanoid sculptures, named "Supine." Havekost also needs to reshape the derriere of "Settle," a 13-foot figure bracing herself against one of the white walls of the Rochester Art Center. 
"For me they get to take up space in ways that, as a woman, I haven't felt like was mine to take up or, you know, mine to claim," say Havekost, standing next to the scissor lift needed to position "Settle." 
"I love that they're like these giant feminine creatures that I feel are very nurturing, but you also want to take care of them. They feel like mothers but also they've been through some stuff." 
These headless woolen creatures and several more will be on view for "Matriarchate," Havekost's solo exhibition (Jan. 11 through April 2 at the Center). 
Grow the Future of Public Media
MPR News is supported by Members. Gifts from individuals power everything you find here. Make a gift of any amount today to become a Member!
Havekost originally made these sculptures to fit the cavernous spaces of the Minneapolis Institute of Art for a 2020 exhibition, "Chthonic," as part of the Mia's Minnesota Artist Exhibition Program. Shortly after it opened, Havekost recalls, the Governor shut down public spaces because of the pandemic. The exhibition was then resurrected at Mia in 2021. 
However, for the "Matriarchate" exhibition, the artist will be creating three more of what she calls "the ladies" on site, inviting the public to come participate in stitching them together. 
In her Rochester garage studio, Havekost constructed the ladies using one-inch electrical conduit pipe and two by fours for the skeleton. For their skin, or casing, she uses pieces of brownish industrial wool felt that are stitched together in a Frankenstein fashion, and then stuffs them with paper from damaged rolls given to her by a friend who works at a print shop. 
Havekost does special detailing on the "private bits," embroidering the felt with clothing hardware like clasps and closure to give the appearance of hair and nipples. She decided against giving the ladies heads, as she says that it made them look like Muppets. 
"I realized that I needed them to be a little feral and a little human at the same time," she says. "Even though they don't have the heads and hands and feet, like it doesn't feel like they're missing anything. Like they still feel like they could go about their day and do the things that they need to do." 
Havekost says the exhibition next heads to South Bend Museum of Art in May.  
In addition to "Matriarchate," there are several more exhibitions currently on view at the Rochester Art Center.  
One is artist Chris Delisle's "Proto Language," which runs through Feb. 19. Delisle, who is also the Center's gallery shop curator, is inspired by human patterns and rituals, from ancient history to the present, and the "progressive decay of civilizations."  
This manifests in assemblage sculptures. These include: an army of concrete cast rabbits; Delisle's own baby blanket; a black "mirror" sculpture signifying his adolescent daughter's relationship with social media; and a golden rococo explosion of a sarcophagus, directly inspired by the coffin his grandfather handmade for himself five years before he passed away. 
"He built his own coffin for his death and that always stuck with me pretty hard," says Delisle, who describes him as a product of the depression. "To him, it was just like 'It's just a chore I got to do so nobody else has to take care of it for me, you know, and I don't want you to buy a $5,000 casket when I can just make one for 100 bucks.'" 
Running like a ribbon throughout the entire multi-story Center is the "Walk With Us" exhibition, a juried international exhibition including 16 artists that closes March 19.  
The Center's executive director, Pam Hugdahl, says the exhibition features discoveries made and materials gathered in the walking and wandering practices of the artists.  
In one room, Hugdahl points to photographs and video and audio recordings. These were made by the L.A.-based artist Nicholas Bauch, who received a Master of Fine Arts degree in visual arts from the University of Minnesota. The photos were taken on walks where the public typically wouldn't go, like warehouse districts and private company campuses. Bauch has described it as "walking corporate America." 
"There's a very voyeuristic sense about it," Hugdahl says .