Watch out, Minneapolis: The tow truck cometh
Minneapolis has handed out more than 2,000 tickets in the last three days and towed more than 200 vehicles off of the even sides of non-snow emergency streets, as they pick up enforcement of a winter parking ban instituted last week. 
"What we wanted to do was to give people a grace period and also educate them, without starting right away, issuing citations and tagging people for it," said Ahmed Adow, director of traffic control for the city, in an interview with MPR News. "We did three days where we issued warning citations."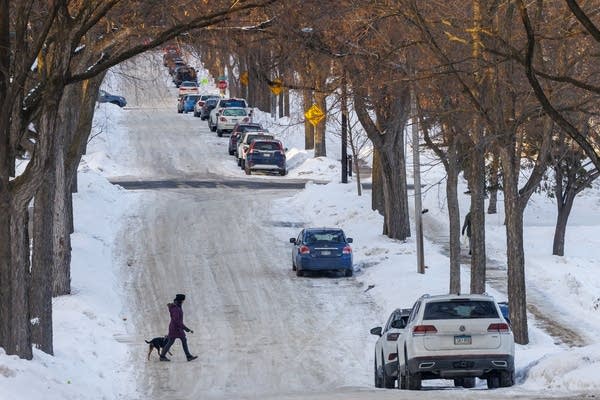 Adow conceded some people may have concluded that the city had been bluffing. 
The warning period is now over. The tow trucks are rolling. 
Grow the Future of Public Media
MPR News is supported by Members. Gifts from individuals power everything you find here. Make a gift of any amount today to become a Member!
More than 1,000 cars were tagged on Tuesday alone, and there were another 1,000 tickets Monday and Wednesday together, Adow said. About 240 vehicles have been hauled to the impound lot as of the close of business Tuesday. 
"It didn't have to be this way,:" says Dillon Fried, on-street parking manager for Minneapolis public works. "We don't want to ticket cars. What we want is compliance; we want the access for emergency vehicles; we want traffic to be able to flow." 
But Adow conceded compliance is still "spotty." 
"We focused on education over that first weekend of the restriction by issuing the warning citations," Fried said Wednesday, "But at this point, we feel like everyone should have gotten the memo by now." 
Fried said many of the arterial streets and snow emergency routes are in good shape, but with near-record amounts of snow, bitter cold and, well, some indifference to the urgency of clearing the way after major snowfalls, some streets remain too narrow to get fire trucks, ambulances school buses through safely. 
"How clean the streets get depends on how people cooperate with the parking and get out of the way," Fried said. 
Adow said the enforcement may seem spare compared to snow emergencies, but traffic staff typically drop all other tasks to work on snow emergencies and can't keep that up long term. They're taking on the winter parking ban piecemeal. So just because your car is where you left it on the even side of a non-snow emergency street before, doesn't mean it's going to stay there now. 
"We're definitely out there issuing actual citations and towing vehicles to make sure that we get adequate compliance," Fried said. 
Wondering where to park? Check out this handy guide. You can also call 311 in Minneapolis.