Seasoned Love: Theatre 55 offers a production of 'Rent' with an older cast
When the Tony Award-winning rock musical "Rent" is produced, usually a gaggle of 20- to 30-somethings clad in retro 1990s garb take the stage.  
However, at Theatre 55, there isn't a member of the cast under 55 — and the oldest is about to turn 75.  
Actor Rik Kutcher plays HIV-positive homeless activist Tom Collins, and while the 60-year-old doesn't look like most people's idea of a young revolutionary, his life story mirrors his characters.  
"In 1986, I tested positive for HIV," Kutcher says. "At that time, it was a very, very scary time, a lot of stigma."  
Grow the Future of Public Media
MPR News is supported by Members. Gifts from individuals power everything you find here. Make a gift of any amount today to become a Member!
Kutcher also mentions that drug addiction and periods of homelessness appeared in his life: 
"Personally, like, there's a lot of meaning for a lot of the stuff that's going on in this show." 
Written and composed by Jonathan Larson, "Rent" is a loose adaptation of the opera "La Boheme," set in 1990s New York during the AIDS epidemic. The musical centers on a group of bohemian artists and tackles social issues like housing inequality and discrimination.  
"The issues that are involved are still real issues for those in older age brackets," according to cast member Jeff Goodson, who portrays Mark, the filmmaker. "The thing about homelessness, the thing about not having money, the thing about not knowing where your next meal is gonna come from, all of that is still very real, even at a more advanced age." 
The choice to cast those from the elder community is a central principle of Theatre 55. Their goal is to get more older folks to participate in the arts.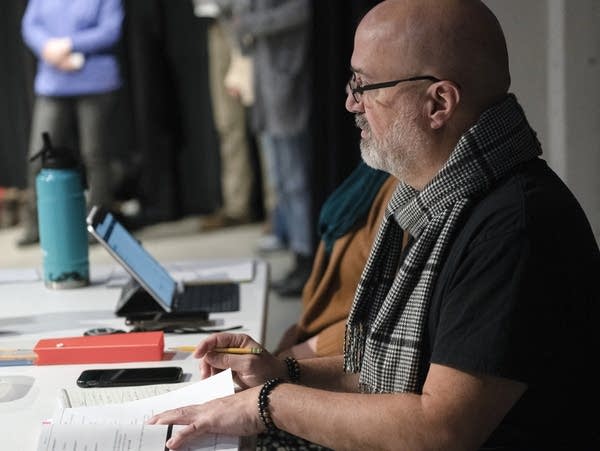 Founder Richard Hitchler, who is also directing the show, says that he started the company after realizing that there weren't many older folks performing in theater, despite making up a big percentage of theater audiences.  
"I saw a statistic where only 15 percent of people who are over the age of 65 were participants in the arts," Hitchler says. "I thought, that is a population that is not being served." 
Since all the cast were all adults during the 1990s, when the show takes place, they have memories they can pull from. Goodson says that pulling on those experiences has helped him in preparing for his role.  
"I started out as an adult with roommates. So, I get that whole relationship thing with roommates," Goodson says. "Where are you going to live? And who pays what? And what is it that you want to do with your life?" 
The show also gives the cast the chance to perform roles they might not have otherwise played. Lisa Ramos portrays night club dancer Mimi, and while she has a background in classical singing, she took a hiatus to raise a family.  
"Here I am back, and I got to say, this is really fun to be able to do something that I would never have done this kind of a role before." Ramos says with a laugh. 
Like Ramos, Rik Kutcher had a career as a performer. He eventually transitioned into nonprofit work. He says that he auditioned for the touring production of "Rent" back in the 1990s and didn't book the show. Though he says, looking back, he might not have had the life experience to play Tom Collins or the perspective he does now.  
"I love that I can bring this life experience into the role of Tom. I don't know that at 25, I could have done Tom as well as I could [now]," Kutcher says.  
Theater 55's production of "Rent" opens Feb. 3 at the Gremlin Theater in Minneapolis and runs through Feb. 11.