Burnsville music class includes songs familiar to Somali students
A group of fifth grade students files into Becca Buck's music classroom in the basement of Gideon Pond Elementary. 
After a short warm–up, Buck introduces the song she wants her students to learn: "Huwaya Huwa" — a piece that some of the kids in the room have known for a long time. 
It's a Somali lullaby that Buck introduced to her classroom after realizing her curriculum was almost entirely centered on English and European music. 
7 of 7
1 of 7
2 of 7
"A lot of it is folk music that has been in the United States. And of course, there's value for that in the music classroom. But I also wanted to make sure that all of my students felt represented and could see themselves in the curriculum," Buck said. "Here at Gideon Pond, we have about 50 percent, Somali American students, and yet I had no repertoire that reflected them inside the music classroom." 
Grow the Future of Public Media
MPR News is supported by Members. Gifts from individuals power everything you find here. Make a gift of any amount today to become a Member!
Buck, who is white, started asking her students and their families to share songs with her. And she found that students were eager to do so.
"It was just kind of a snowball effect, where I was getting students constantly coming up to me, when I was doing door duty or breakfast duty, saying, 'Miss Buck, I have a song to share,'" Buck said. 
She paired up with her colleague Qorsho Hassan, a Somali American educator who was named Minnesota's Teacher of the Year in 2020 to collect more songs. Buck then analyzed the music, extracted rhythmic patterns and noted the historical and cultural stories that families and students shared with her. They've compiled the information into a book called "The Rhythm of Somalia" that's set for release later this year.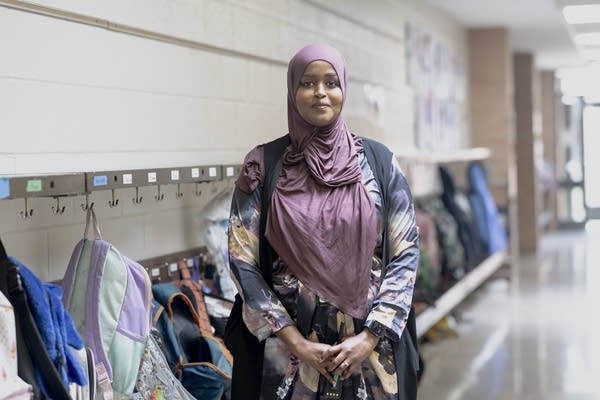 Gideon Pond principal, Salma Hussein says the collaboration between Buck and her colleagues and students is exactly the sort of work she sees as important at their school.
"I'm really big on affirming students for who they are," Hussein said. "I have seen how students, when they reach high school and have not had the opportunities to be affirmed in the ways that Miss Buck is able to do in her classroom, I have seen and witnessed the impact."  
Music is a popular class at Gideon Pond, according to Hussein. 
"She really creates a fun experience for students to have joy in who they are, to show up authentically and to learn about each other in a positive way," Hussein said.  
Students are not just learning to sing the Somali lullaby that Buck is introducing. She's teaching them some words in Somali, introducing some aspects of Somali culture and history and showing them different versions of the song. Buck said her students light up when they hear their music in their language in the classroom and when they get a chance to talk about their experiences with the song. 
Fifth grade student Hanan Abdisalaam said the lullaby is something her mom used to sing to her when she was little. Hearing it in class makes her feel sleepy. Music classes, she adds, are her favorite lessons to attend. 
"It's actually really fun. The people are nice, everyone's your friend here. They include people," Hanan said. "If you come to this class, you're welcome. Like everyone's going to welcome you, like you're gonna make friends in seconds."
Buck is finished with the work she's done on the book set to be released this year. She hopes it will make the material she's learned from her students, their families and her colleagues available to more teachers. But she hasn't stopped gathering music material from the community to bring into the classroom. She's still getting songs from students and voice notes from families. 
"I just think it's such a beautiful way of getting to know different humans in different cultures and I firmly believe that it helps to teach my students empathy," Buck said.
The teacher said she'll know she's done her job when her students become curious to know more about the cultures that have created the music she plays for them.
"I want them to dig deeper rather than just hear music at a surface level."