Funeral, procession honors slain St. Croix County sheriff's deputy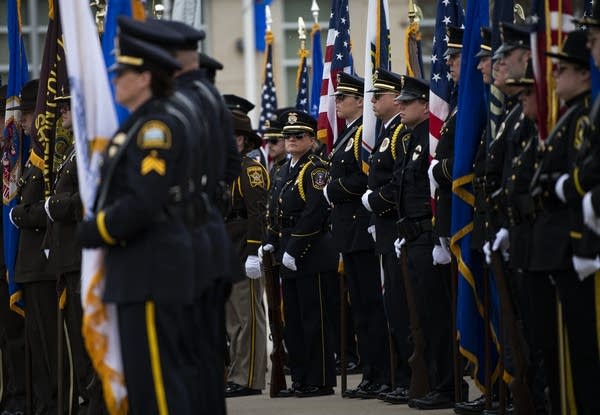 Updated: 3:36 p.m.
Funeral services Friday in Hudson, Wis., honored a St. Croix County sheriff's deputy fatally shot in the line of duty last weekend.
Colleagues and family remember Deputy Kaitie Leising as a good cop who did her job with passion and lived life with joy.
"When people talk about Kaitie, terms like infectious smile, words like confident or loving always come up. (I'm) here to tell you they're all true," said Sgt. Aaron Boldt, who often worked with Leising.
Leising was shot and killed on Saturday, May 6, after responding to a call of a drunk driver in a ditch near Glenwood City, Wis. The man suspected of killing her fled the scene and was later found dead from a gunshot wound.
Grow the Future of Public Media
MPR News is Member supported public media. Show your support today, donate, and ensure access to local news and in-depth conversations for everyone.
Visitation was from 9 a.m. until noon at Hudson High School, followed by the livestreamed funeral service.
After the service, there were law enforcement honors outside the school.
A law enforcement procession left the school and traveled south through the city of Hudson and then heading east on Stage Line Road and County Road N. It'll end at Highway 63 south of Baldwin, Wis.
She had worked for the St. Croix County Sheriff's office for about a year. Prior to that Leising served as a sheriff's deputy in Pennington County, S.D.
Cliff Esper says he knew Leising and her wife Courtney from that time. Esper came to Hudson for her funeral all the way from Rapid City.
"[She was a] great person, full of love. A sad day," he said.
Leising leaves behind her wife and their 3-month-old son.
Sgt. Boldt read a statement from Leising's wife Courtney:
"Kate was my lifelong partner and best friend. She stood by my side was always up for a new adventure. She enjoyed spending time with our dogs, throwing the ball for Ranger and cuddling with Miller. Then there's our sweet baby boy, Syler. I am completely heartbroken that he will grow up without Kaitie by his side, but thankful he'll have the greatest guardian angel looking over him."
Leising was the fourth law enforcement officer killed in the line of duty in Minnesota and western Wisconsin in a month.
La Crosse County Sheriff's Office Sergeant Dan Baudek took part in the procession that followed the funeral.
Dressed in formal ceremonial attire, Baudek called his participation a "sad honor."
"It's humbling, but yet incredible to see all the community support and to see on all the overpasses and on the side of the road to see just the support from the community. And people drive honestly hundreds of miles to support law enforcement," he said. "So it's really nice to see but it's honestly very sad just because I mean we're here and just a horrible occasion and it's just been happening way too much in Wisconsin lately and Minnesota."
Baudek has been working in law enforcement for 27 years. He said his wife wants him to leave the profession as soon as possible. He worries that it's going to become even more difficult to recruit younger people into law enforcement given all of the violence.
He says he and his colleagues are more on edge than ever in light of high-profile violence against officers of the law.
"My head has been on a bigger swivel. I've been paying more attention at the gas pumps. I've been [paying] more attention of just because you know, because of the ambush-style shootings and just the lack of the respect towards law enforcement. So there has been more of just my situational awareness when I'm having down time."