Therapy at school? In these Minneapolis high schools, students get care on their own terms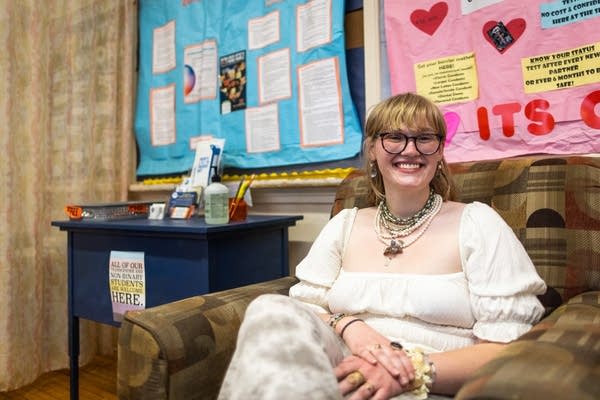 Updated: June 8, 4 p.m.
At all nine of Minneapolis' big public high schools, students can have weekly talk therapy appointments, get an IUD or any other form of birth control, test for STIs, get a physical, immunized and more — all within the walls of their school.
The district has given its high school students the option to get health care right at school since the late 1970s. But with the increase in mental health concerns and decrease in stigma for seeking treatment, "school-based clinics," as they're most often called, are more relevant than ever.
"I wanted to use the clinic because I could take control over my own health and have autonomy over what I'm doing to my body," said Elise Legler, a senior at Roosevelt High School. "It's also just a really easy resource to go to." 
Legler is one of around 3,000 Minneapolis students who use the clinic inside their school. In an average year, the clinics serve anywhere from 40 to 70 percent of the student body, according to annual reports.
Grow the Future of Public Media
MPR News is supported by Members. Gifts from individuals power everything you find here. Make a gift of any amount today to become a Member!
"It's like a one-stop shop for everything," she said.
Situated among classrooms and the student-run thrift store, Roosevelt's clinic is on the school's first floor, branded with a welcoming sign.
Step inside and you see a front desk to check in or make appointments, a waiting room with couches and walls filled with handmade educational posters, two therapy offices and a hallway that leads to several exam rooms, just like you'd see at any doctor's office. 
Students can stop by anytime during school hours, including before or after classes or during the lunch hour. 
"If I need to schedule an appointment, I pop in on my way to class," said Legler. "And during class, if you have an appointment, you just pop out, go to the clinic and then you're done."
Eight of Minneapolis' school-based clinics are operated by the City of Minneapolis Health Department, which staffs each clinic with a full-time medical provider (usually a nurse practitioner or physician's assistant), one or two full-time mental health therapists and a full-time health educator. A nutritionist rotates between schools throughout the week. 
North High School's clinic has historically been run by health provider NorthPoint, but works in tandem with the other school-based clinics. 
"We like to say in Minnesota we're the first state with a school-based clinic," said Barbara Kyle, who's been the City of Minneapolis's school-based clinic manager for 14 years. "Texas likes to say they were, but we really do believe St. Paul was the first in the U.S., probably around 1970."
Minneapolis followed soon after, launching its school clinics in the mid 1970s, Kyle said.
Minneapolis is a model for creating school-based clinics
Initially, Kyle said, MDs and RNs staffed the clinics part time, once per week. Then the clinics switched to staffing full-time physician's assistants or nurse practitioners, enabling them to be open Monday through Friday with longer hours.
"Our mental health has really evolved in the last decade as well," Kyle said. "It was more social work before, and now we're providing more therapeutic mental health, being able to do diagnostic and ongoing treatment and care." 
Clinic staff collaborate with teachers on an evidence-based curriculum for the high schools' health classes.
Kyle is also the co-chair of the Minnesota School-Based Health Alliance, an organization that supports the development of clinics around the state. She said the state's long history with school-based clinics means frequent inquiries from districts around the country about how the clinics do what they do.
Most of Minnesota's 29 school-based clinics are in the metro area, but Kyle said several more are currently getting off the ground in greater Minnesota areas like Duluth and Fairmont.
In Minneapolis, the clinics were developed to provide low or no-cost health services to students, regardless of insurance, right where kids already are. The idea is to make health care more easily accessible for teenagers without the need to miss school or pull a parent away from work. 
"We're trying to reduce barriers to learning," Kyle said. "If you're anxious or stressed or worried about getting pregnant — those are things that really impact somebody's ability to learn."
According to the national School-Based Health Alliance, students who get health care at school are more likely to learn and thrive there. Its studies show higher attendance and reduced tardiness after mental health counseling at school.
There were more than 2,500 school-based clinics in the country as of the 2016-2017 school year (the most recent survey) serving 10,629 schools and over 6.3 million students.
Therapist: More students are seeking help
Nadia Sullivan-Marshall is one of Roosevelt's full-time mental health therapists. She spends her days in individual talk therapy sessions with students, the majority of whom are Black girls and women, like her. Most students see her weekly.
"It makes sense to bring mental health care to the environment the student is actually in," she said. "Mental health happens in our environments."
Students often find the therapy services by way of school social worker referral, but more recently, Sullivan-Marshall said, students are signing up themselves after hearing positive things from friends.
Before the COVID-19 pandemic, it was more parents pushing their children to seek therapy and getting resistance.
"But since COVID, everyone's talking about it. Students are having discussions online about what they're facing," Sullivan-Marshall said. "They really encourage each other and then seek out their own treatment." 
And the mental and emotional health needs are heightened, too. Students are still struggling with social anxiety and making friends after years of isolation and uncertainty. 
Sullivan-Marshall said she also sees students dealing with substance abuse or coping with trauma, sometimes from witnessing violence at home or in the community.
"Suicidal ideation is increasing, especially with BIPOC and LGBT students," she said. The Trevor Project also found this in its 2023 national survey on mental health of LGBTQ+ youth. 
A normal caseload for her is around 20 students. There's a waitlist, but the clinic and school social workers also help students with referrals outside the building if needed.
In most cases, mental health care requires parental or guardian consent in Minnesota. Many other states allow minors to consent on their own, which Kyle hopes becomes the case for Minnesota as well.
California and Maryland, for instance, allow children as young as 12 to consent to certain types of mental health care on their own.
"It's definitely a challenge, because we do want their care to be confidential, but we also have to consult with parents regularly," Sullivan-Marshall said. "We try not to share any specific details — just general themes." 
Minnesota law lets minors receive some health care on their own
The autonomy and privacy of getting your health care at school is a big draw for many students, according to Roosevelt senior Legler and Roosevelt's clinic staff.
"I know students that use [the clinic] because they're not really comfortable sharing things with their parents, like especially sexual health related things," Legler said. 
Unlike mental health care, sexual health services like pregnancy tests, STI testing/treatment and access to contraceptives doesn't require students to get parental permission, due to a minor consent law from 1972 that allows Minnesotans under 18 to consent to some types of health care on their own. 
"It's completely confidential," said Legler. 
Legler is one of 15 students from across Minneapolis high schools on the district's Teen Health Empowerment Council. They meet every other week to discuss health topics and how to best educate their peers on things like eating disorders and drug use and collaborate with the school's clinic.
"It's super homey in here, and you have adults around you that are supportive," Legler said of her school's clinic. "You're able to get much more than just a Band-Aid."
While schools will soon close for the summer, the clinics will not. Edison and South are open for walk-ins all summer long.
Correction (June 7, 2023): This story has been updated to reflect Barbara Kyle's new title with the Minnesota School-Based Health Alliance.
This story is part of In Focus, an MPR News initiative exploring solutions to issues impacting Minnesotans.