Rising interest rates challenge Minnesota home buyers, sellers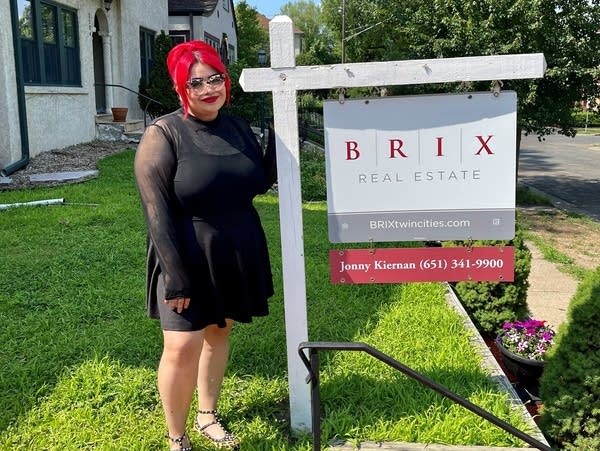 Kristin Stitt and her husband want to become homeowners, and they know making that work within their budget will be challenging.
"We're hoping for something like under $300,000, but we haven't really been able to find anything that's not a major fixer upper in that price range," Stitt said, adding that a few weeks into the house hunt, she and her husband have been discouraged. 
"Because the stuff that looks like it's in our price range online, you go see it and you're like, oh, there's big cracks in the foundation and the basement, or these big problems that are like more than just a little fixing up," she said.
The Stitts rent in south Minneapolis. They were quickly outbid on their first offer to buy a house. 
Grow the Future of Public Media
MPR News is supported by Members. Gifts from individuals power everything you find here. Make a gift of any amount today to become a Member!
Higher interest rates have made buying a home more expensive. The interest rate on an average 30-year-mortgage currently stands at nearly seven percent, according to federal government statistics. It has not been below three percent since the fall of 2021.
The Federal Reserve has been raising interest rates since March 2022 in an effort to combat high inflation. 
"It really did change a calculation on a payment substantially for a buyer," said Emily Green, president of Minnesota Realtors. Green said higher interest rates are a big concern for many house hunters.
"If you were qualified for a $300,000 house you had that payment factored in, and if the interest rates made a percentage jump, that's a very different payment," Green said.  "So, people had to rethink who were actively looking — they had to reassess."
Year-over-year home sales in Minnesota are down more than 17 percent, according to the latest Minnesota Realtors statistics. The numbers point to fewer homes for sale right now. And those that are for sale are not getting snatched up as quickly as they were a year ago. An industry statistic called "days on the market" is up more than 20 percent from a year ago.
Still, Green and others say it remains a seller's market. More people are looking to buy property than sell, but the higher interest rates have slowed down what had been a real estate feeding frenzy for the past several years.
It is worth noting that even though rates are much higher than they had been for some time, at seven percent they are closer to average rates over the past several decades.
Andrew Babula, who directs the real estate program at the University of St. Thomas, said the return to more normal interest rates following a several-year run of historic lows is not just causing reluctance among prospective buyers.
"What's also happening is that supply is declining," Babula said. "So, people who are already in homes and have low mortgage payments don't want to move. So as a result, not only do you have demand slowing down, but you also have supply slowing down as well."
That has helped decrease and stabilize prices, Babula said.
Michelle Scrivner and her family just put their south Minneapolis home on the market and have already had several showings. They plan to move to Chicago and trade home ownership to become renters.  
"I feel like from people that weren't in the market, they're just like, 'oh no, now it was a horrible time,'" Scrivner said.  "And when I spoke to two different realtors because I wanted different opinions and both of them were like, 'you know what, the market is still pretty great. People are still looking.'"
Scrivner said the first day her home went on the market, five interested home shoppers booked showings, leaving her feeling optimistic she can sell for the price she wants.
Babula said realtors encouraging people to buy despite higher interest rates are correct in telling customers who really want a house not to let interest rates keep them out of the market. 
Home prices continue to increase with demand outpacing supply. And he said if interest rates go back down, those who buy now can simply refinance down the road.
"You marry the house," Babula said, "but you date the mortgage."