Minnesota program empowers Native American students in museum fields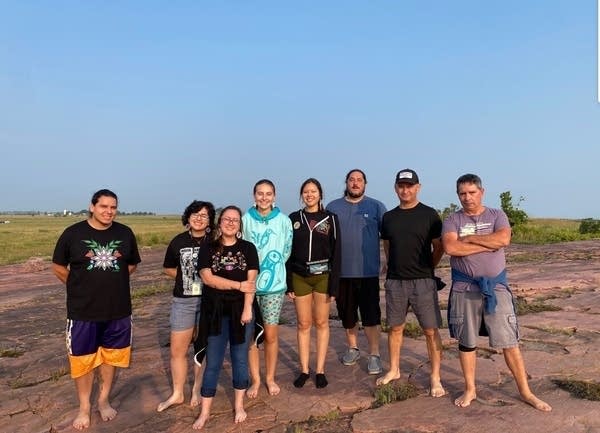 Updated: Aug. 23, 12:30 p.m. | Posted: Aug. 18, 3:15 p.m.
The six students in the 2023 Native American Undergraduate Museum Fellowships program (NAUMF) with the Minnesota Historical Society have completed their 10-week paid program, giving capstone presentations mid-August.
"So, it's kind of like the perfect program," says fellow Gavin Zemple. "I see that there's a lot of Native people doing a lot of cool things, a lot of powerful work within the historic, tribal and museum fields, and I would like to be a part of that now."
Zemple is from the Lower Sioux Indian Community in southwestern Minnesota. This fall, he will be a senior at the University of Minnesota Morris where he's majoring in psychology and Native American studies.
The Minnesota Historical Society, through its Native American Initiatives department, started the national program in 2011. With this year's cohort, there are now 98 alumni, many who have gone onto careers in Tribal historic preservation, language revitalization and national museums. 
Grow the Future of Public Media
MPR News is supported by Members. Gifts from individuals power everything you find here. Make a gift of any amount today to become a Member!
Director of Native American Initiatives Amber Annis says the 10-week program, which includes seminars and internships, is the only one of its kind in the U.S. that serves Native undergraduate students. 
Program specialist Regan Kluver says NAUMF has hosted fellows from 53 different tribal representations, ranging from coast to coast and Canada.
"Historically, museums and large institutions haven't been welcoming to Indigenous folk," Kluven says. "But there's a lot of people that have paved the way even before I got here, and it's now a really good time and a really good space for them to come do this work in a good way, and be the person that speaks for our relatives."
Fellows study topics including conservation, exhibitions and the Native American Graves Protection and Repatriation Act. The program invites several speakers, which this year included professor Amy Lonetree of the Ho-Chunk Nation who authored "Decolonizing Museums," and Minnesota artist Cole Redhorse Jacobsen, a member of the Prairie Island Indian Community.
Interns choose their area of interest, which can range from museum studies to archaeology to technology. Kluver says one fellow digitized Native newspapers from the 80s and 90s.
"Those have never been digitized," Kluver says. "They haven't been seen by folks since their original print date. So, just transforming access to those newspapers for non-Native and Native people to research, or just to enjoy, is so incredible."
For his internship, Zemple helped create databases for each tribe in Minnesota, including his own, using the historical society's records. Zemple says he found photos of family members from the 1800s. Kluver says the digitized newspapers and tribal database should be available to the public in the coming months.
This year, Kluver also took the fellows on field trips to spots including Pipestone National Monument, the Jeffers Petroglyphs in Comfrey, Minn., the Hoċokata Ti [ho-cho-kah-tah-tee] cultural center of the Shakopee Mdewakanton Sioux Community, the Mille Lacs Indian Museum, and Owamni restaurant in Minneapolis. 
The visit to Pipestone was Zemple's favorite, he says, because it's the site of some of his ancestors. The national monument is where Indigenous people have quarried the red stone for thousands of years, using it to make pipes for prayer and ceremony — a tradition that continues today.
"My great grandparents founded the Pipestone Dakota community and had been warriors in that community for a long time," Zemple says. "So, I actually met some relatives who were working at the Pipestone national site." 
He adds: "And just to see where my grandparents also went to boarding school, where they lived after, and where they quarried pipestone. So [it was] very powerful and emotional, more than I can say."
Zemple says that the five other fellows even helped him find his grandparent's graves, which took an afternoon of searching two different cemeteries. 
"I'll never forget that kindness," he says.
As Zemple returns to school this fall, the program has prompted him to think of his future in the field of history after he gets his undergraduate degree, which he says is significant as a first-generation high school graduate and first-generation college student.
"It's really solidified me in going that direction, and also pursuing my masters, and my doctorate," he says. "It's very important, because there are a lot of barriers that keep Indigenous people often from getting to those positions to be able to make differences in the historic field, and in museums, and the way they're represented and their people are represented in public spaces."
Correction (Aug. 23, 2023): A photo caption has been updated to correctly refer to a tribal nation.