Capitol area facelift looms with remodeling, demolition in store
Big change is brewing in the Minnesota State Capitol neighborhood.
Plans are advancing to tear down a century-old building once used in Model-T vehicle assembly, to drastically overhaul another structure almost as old that serves as a legislative hub and to consider demolition of a third office tower that's never drawn architectural affection.
For a complex of government buildings where constancy is part of the charm, it's a dramatic chain of construction events.
"A lot of movement is coming soon and over the next few years," said Wayne Waslaski, an assistant commissioner at the Department of Administration who oversees state-owned properties.
Grow the Future of Public Media
MPR News is supported by Members. Gifts from individuals power everything you find here. Make a gift of any amount today to become a Member!
In 2017, crews finished a $310 million renovation of the Capitol itself. The extensive rehabilitation stretched over four years. At times, the project forced lawmakers to juggle their routines, hold satellite sessions in nearby buildings and work around corridors ringed in plywood.
Similar disruptions are ahead.
A nearly $500 million upgrade of the State Office Building, which is the headquarters of the secretary of state's office and home base to 134 House lawmakers, gets underway in December. It involves the addition of a multi-story wing and an inside-and-out reconditioning of the original building that dates to 1932.
Republicans have criticized the project as excessive in cost and scope.
"This is just out of line with what Minnesotans want to see — to double the size of an office building," said Rep. Isaac Schultz, R-Elmdale Township. "The public absolutely needs to have strong access to their Capitol and to the lawmaking process, the legislative process. But this goes far beyond the need."
DFLers defend it as necessary to preserve a historic building while adding enhanced technology, modern security features and improved accessibility for people with disabilities.
"We know that there are huge needs that have to be met. The last renovation that was done to the building was in the 80s," said House Majority Leader Jamie Long, DFL-Minneapolis. "And they did it on the cheap. And it shows."
The building has had problems with airflow, burst pipes that have flooded workspace and mold. In describing how the price-tag got so high, Waslaski said a comprehensive replacement of all mechanical, electrical, plumbing and roofing systems adds up. The new wing, he said, will include 10 legislative hearing rooms more conducive to public participation.
"And then this is intended to be a building that obviously fits on the Capitol campus and has a long life," he said. "So you're looking at a building that's going to be here for hopefully 70, 80, 90, 100 years."
Authorization for a remodel came in 2022 through a roundabout process that spurred questions over transparency and accountability. But now that the ball is rolling, Waslaski said it would be problematic to scale back.
"We're going to be under contract with construction, you;re going to be building to a specific design," he said. "Turning directions from that is very unlikely to save any money. It's likely just going to cost you more money to change directions down the road."
Schultz said while there is need for some renovations he had hoped they'd be more limited.
"Despite every best effort from legislative Republicans, this is moving forward," he said. "And there is no way legally to stop this from happening."
While some tenants will be relocated soon, House members and their staff will stay put for the 2024 session. Committee hearings can occur during the early-stage construction that will concentrate on the new wing to the north; work in the existing building is due to begin in June. 
But the tunnel connecting that building to the state Capitol will be shut down ahead of the upcoming session, requiring people to head outside when moving between the buildings.
Late next spring, lawmakers will be shifted across the Capitol Mall to the Centennial Office Building for the duration of construction expected to wrap up late in 2026.
Rather than having private office space, legislators could be set up in an open floor plan with other areas set aside for constituent meetings. Top House DFLers toured the space this week.
"It's certainly not going to be a glamorous couple of years," Long said, adding, "You can make a pretty good reality show out of us being housed in cubicles for two years. But I think we'll make the best of it."
It could be the last hurrah for the Centennial Building, named for its completion in 1958, the year Minnesota celebrated its 100th year of statehood. The plain-exterior, boxy building south of the Capitol is showing its own signs of wear.
The Department of Administration is seeking money next session to evaluate whether Centennial should be torn down.
"It has served the state well since it opened in 1958, but the building is now in poor condition and beyond its useful life," the agency wrote in a request for bonding dollars. "Maintenance and repair requirements are steadily increasing, its energy and carbon footprints are significantly larger than modern facilities and its functionality for today's workforce is sub-optimal."
The proposal suggests demolition would happen as soon as July 2027.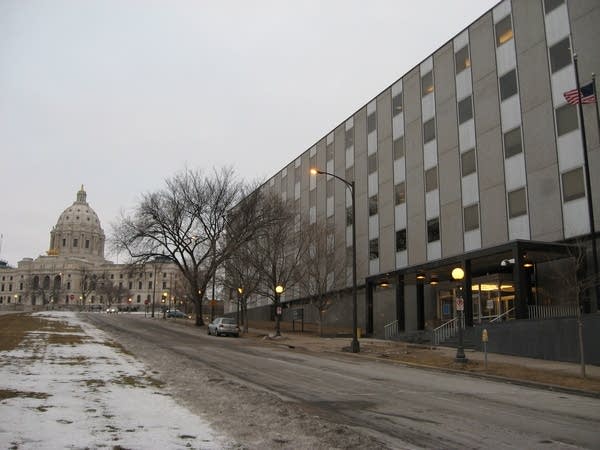 Another building — the state-owned Ford Building a block from the Capitol on its north end — will come down before that. A request for bids was posted in late August, and the Administration Department expects the building to be razed within a few months.
The Legislature approved more than $4.5 million to demolish the currently vacant building and clear the way for possible redevelopment of the prime site. The Ford Building, named for the motor company that occupied the space at its opening in 1914, has been in state hands since the 1950s but hasn't had a steady use for much of this century.
A 2040 Comprehensive Plan published two years ago by the Capitol Area Architectural and Planning Board declared openness to potential demolition of the Ford Building but only after an analysis of what would go in its place. The bill containing funding for the demolition bypassed the analysis, saying "no additional study shall be required prior to a building permit being issued for the work authorized in this appropriation or to proceed with such work."
Last session, lawmakers also directed the planning board to revisit the 2040 plan to layer on a design framework for the Capitol Mall, its buildings and the roads in and out of the area. 
According to the board, it is focused on integrating and adding green space, keeping the Capitol area aligned with surrounding neighborhoods and using strategies that "are climate resilient, fiscally responsible, realistically implementable and operationally sustainable."
The new design framework must be approved by March 1.