'We're all clear': Ellison says latest moves should end questions over police in schools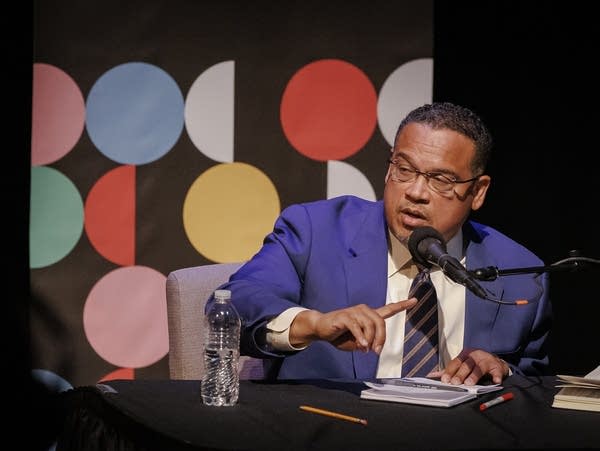 Updated 12:10 p.m.
Minnesota Attorney General Keith Ellison on Thursday said he believes his latest legal memo together with a Wednesday night meeting that included Gov. Tim Walz, local leaders and law enforcement will resolve the controversy around how police can operate in Minnesota schools.
Some 40 law enforcement agencies have pulled or plan to pull their school resource officers out of schools, citing uncertainty about recent changes in state law they believe would legally limit officers or staff in how they can physically restrain students when needed.
On Wednesday, Ellison in a written opinion reiterated the changes passed by lawmakers last spring "do not limit the types of reasonable force that may be used by public officers to carry out their lawful duties."
"I think now we're all clear that a school resource officer or a contracted police officer may use reasonable force to prevent bodily injury or death or affect a lawful arrest or to stop property damage," Ellison told MPR News Thursday morning. "They can do their jobs as they've been used to doing them for so many years."
Grow the Future of Public Media
MPR News is supported by Members. Gifts from individuals power everything you find here. Make a gift of any amount today to become a Member!
The legislative changes do not prevent police from using prone restraints or acting to restrain a student before other serious threats, he said.
In the Wednesday night meeting, state and local officials and law enforcement discussed how to get officers back in schools so that officers felt "comfortable in their duties and that students can be safe," Ellison told MPR News' Morning Edition.
"If a student is misbehaving in a way that does not and will not harm that student or anyone else, professionals in schools still have many tools at their disposal, including other kinds of physical contact," he said.
Republican lawmakers and some law enforcement groups have been calling for a special session to address the issue. Walz said earlier this week that he's open to a special session if necessary, and if lawmakers can agree on what needs to be done.
Following the release Wednesday of Ellison's latest opinion, Senate Minority Leader Mark Johnson, R-East Grand Forks, said "another opinion just demonstrates the need for legislative action to fix this law. Students, parents, educators, school staff, and student resource officers all deserve a crystal-clear law that everyone can understand without needing further clarification."
Ellison told MPR News he expected school safety would be a priority in the upcoming legislative session. "Sometimes in this confusion, something good can happen. And I think there's a newfound appreciation and respect for what SROs do," he said.