Lakota artist Dyani White Hawk: A 2023 MacArthur 'genius' fellow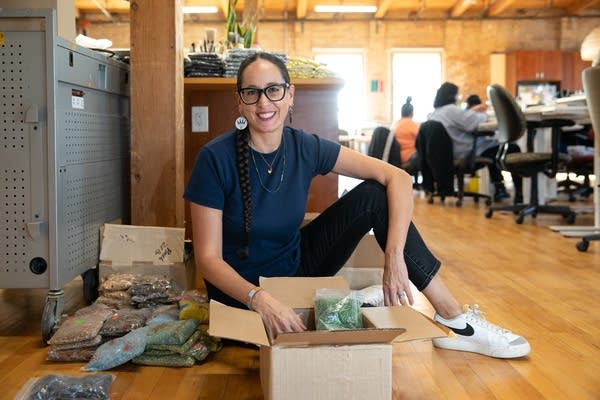 Minneapolis artist Dyani White Hawk was recently awarded a MacArthur Fellowship, sometimes referred to as the "genius grant."
White Hawk grew up in Madison, Wis., and now lives in Minneapolis. She is known internationally for her bold, colorful beadwork — a practice she learned from her community as a teen — and abstract painting.
Her art draws on her Lakota heritage and challenges many tropes and myths championed by Western art history.
MPR News senior arts reporter Alex V. Cipolle recently sat down with White Hawk in her busy studio in the Casket Arts building in northeast Minneapolis. It was filled with her team of friends and family as they prepared for a November exhibition in Los Angeles. White Hawk will also have her first career survey at the Walker Art Center in 2025.
Grow the Future of Public Media
MPR News is supported by Members. Gifts from individuals power everything you find here. Make a gift of any amount today to become a Member!
This interview has been edited for length and clarity. 
How does it feel to be labeled a genius?
White Hawk: [Laughs] That part of it is strange. The foundation itself asserts that that's not the label that they use, because I think they see that as a somewhat narrow definition of the value or worth of what intelligence looks like in different people. But it's like this colloquial thing that people have taken on, and so we've had a lot of good jokes with my family, friends and loved ones about that label.
That particular word itself is not something that I'm hanging on to too tightly; I'm more grateful for the apparent values that drive the work of the MacArthur Foundation — that's what I see as reflected by the cohort of peoples that are in the 2023 group. It's a phenomenal group of people doing really important, really passionate, values-based work. 
The process for choosing MacArthur fellows is anonymous. Were you surprised? How did you find out?
Yes. 100 percent surprised. The way that the foundation works is they work really hard to make sure that the folks that are under consideration don't know. So yeah, I was definitely surprised.
I was in Buffalo, N.Y., with my husband and our two daughters. We were traveling. My oldest daughter was going to try out — she plays lacrosse. We went to Starbucks and I got a phone call and I thought it was spam. So I was rude [laughs]. She told me she was from the MacArthur Foundation and I apologized.
I went out onto the patio because they asked if I could speak somewhere, privately. My family was watching me from the window, and then I started crying. And I could tell they were concerned, so my husband came outside and just very silently and carefully placed a coffee next to me and then silently went back inside.
They tell you, you're only allowed to tell one person and you're sworn to secrecy for the next four weeks until they make the announcement. I had to break that rule because I was with my husband and my two daughters. We all hugged and celebrated and cried some happy tears.
So when the awards were announced, what was it like?
There was just this tremendous outpouring of celebration, and congratulations in response. I was so humbled and grateful for all that, because it means the world to me, that people feel good about it.
I'm really making the work for others — I'm making it for myself, without a doubt, because it feeds me in a way that I need. As an artist, if you're gifted with this thing — we all have a gift — and when you're using that gift, you are your best self. When you are your best self, then you can be your best family member, you can be your best partner, you can be your best mother, you can be your best daughter, whatever that is.
I 100 percent do the work because I have a drive and a need to, but what I want the work to do when it leaves is for the people; it's for community. So, seeing people respond so positively to the announcement made me feel so good, because it was just like, okay, the work is doing what it's supposed to do.
You describe your art as drawing on your Lakota and urban Native heritage, as well as modern art, mostly the field of abstract paintings. You often reference abstract painters like Mark Rothko and Marsden Hartley. What stories are embedded in your work?
First and foremost, honoring the legacy of Native art, of Indigenous art on this continent. I speak specifically from my own history, though. So I speak from the history of Lakota art forms. So I'm reflecting on the tremendous legacy and impact of Lakota women on our national artistic history.
So my studio practice is really grounded in painting and beadwork. Aesthetically and stylistically speaking to the history of beadwork and porcupine quill work and Lakota art forms. And also to the history of abstract easel painting.
Through that, I'm also able to speak to hierarchies within the field of art and art history that have devalued the history of my ancestors, that have devalued the worth of their artistic contributions that have positioned the quote-unquote invention of abstraction within the hands of European and European American men. Which is simply not true. Abstraction is a human practice, and abstraction was being practiced here, by my ancestors and by other Indigenous women, and other Indigenous artists, well before these lands were colonized.
We've been taught a hierarchy that places one group of people at the top and others on a ladder going downward. It's unfortunate, and I think it creates a lot of loss in what we could be celebrating, how we could be growing stronger together and creating healthier, more thriving artistic spaces and communities.
A lot of my work is meant to create opportunities for conversations to allow us to really critically think about how we've told our stories so far, and how we want to choose to tell them going forward. It's my hope that we collectively choose to tell our stories with more honesty, and really dig into the complexities of those histories. 
Do you see a shift starting to happen in the art world? I'm thinking about you winning this award. And about how the U.S. State Department just chose artist Jeffrey Gibson, who is of Choctaw and Cherokee heritage, to be the first Indigenous artist to represent the U.S. at the Venice Biennale. As well as all the renowned Native artists across the Twin Cities and the state.
We're definitely seeing a shift. I will say, though, that that shift is in its infancy within my lifetime of practicing, within my lifetime of education. The fact that Jeffrey Gibson is the first Native artist to represent the U.S. is a huge, hugely important step.
The fact that Indigenous artists have been in the last few Whitney biennials, those are early moves, you know. So, there is a wave of support that is happening now, but it is in its infancy. There have been patterns of support in the past that have come and gone. So my hope is and I feel like, this is different. I hope this is different.
How do we make sure that we're advocating for the support and honoring of Native arts in a way that is meaningful, substantial and sustainable? It can't just be a trend, it can't just be like: This is what's hot right now. Or everybody's telling us that we need to include these people, so we're going to do it for a minute and then we've done our work. I do believe though, especially with the younger generation, that they're the folks that are going to be continuing to advocate for that value system.
After winning this award, you expressed a lot of gratitude to the tribal colleges you've attended, both Haskells Indian Nations University in Lawrence, Kan., and the Institute of American Indian Arts in Santa Fe, N.M. Tell me more about that.
Those places are so transformative and influential. The schools are taught from an Indigenous perspective. So they're teaching U.S. history and art history, from an Indigenous perspective. Because of that, we're learning the full history of tribal-federal government relations, policies and legislation and the way that the U.S. government has addressed, treated and responded to Indigenous communities over the history of this continent since colonization. We're also learning art history centered from an Indigenous art history. So we're learning about art history of Native people across the continent, not from a Western art perspective. 
You grew up around Madison, Wis., and went to school in Kansas and New Mexico. You now live in Shakopee, Minn., and have a studio in northeast Minneapolis. Why have you based your art practice here?
My mom has lived here for over 20 years. So this has been a home base for that long. We decided we were going to move here full-time because there is thriving arts community. Hats off to Minnesota for legislation to support art, you know, right in our laws. It's something that's unique to this place and reflected in the wealth of our artistic community here considering we're not on the coasts.
And there is a strong Native community here. There's a large Native population here. So the fact that you can be within community, both in the arts and culturally, and then it's a seven-and-a-half hour drive to the [Rosebud] reservation.
Geographically, it's Dakota homelands, and we're Lakota, but even within the community that we come from on the Rosebud Reservation, there are connections to Dakota folks from this area. Geographically our peoples moved around back then anyway. So we're on extended homelands for sure. I feel at home here, 100 percent, and have for a long time.
In recent years, you've brought a team into your studio to help complete larger, more dynamic works. For example, the beaded "Wopila|Lineage" piece for the 2022 Whitney Biennial, which is eight feet by 14 feet. About 20 people helped create the piece. Tell me about this studio practice.
It's evolved over time. For many years, it was just me and my studio and me building my practice.
So I really thought about that for a long time, because there's a lot of really negative history in the art world of what a studio looks like, how it operates, and how it treats the people that work there. That is not something that I'm interested in participating in whatsoever. I thought a lot about: If I was going to do that, if I was going to bring people into my practice with me, what do I want that to look like? How do I want that to operate?
And then I realized that we already have models within our community for collaborative work. If you go to a powwow and you see somebody's full dance regalia, chances are multiple family members, or multiple people or friends, helped create a singular outfit, right? So many hands helped create one particular ensemble of beauty.
What I have decided is that within my studio, I want my value system as a Lakota woman, my personal value system, my cultural value system, to guide the choices in how the studio operates just the same as it guides my choices on what I make and why. In my studio now, we are an entirely BIPOC team, and all but one person that works here is Native. A lot of them are my family. 
It's community, and that's something that's really important to me, because there isn't a whole lot of opportunity to work in an artist studio. And there's not a whole lot of opportunity to do something that's culturally rooted and get paid for it. 
So with the MacArthur award comes an $800,000 grant to be distributed over the next five years. How is that going to impact your practice?
I don't know yet. It's really early to understand that. But what it means is, it's a gift of stability for the next five years, which is a really beautiful gift.
Hopefully, it's a gift of freedom to dream a little bigger. When you have stability, you are more open to dreaming; you don't have to work to hustle to figure out how you're going to pay the bills, or how you're going to pay the people. Then your mind, your heart is allowed to open up and be like, Okay, what can we do? What's possible, as opposed to what's necessary?