Republicans and DFLers endorse U.S. Senate candidates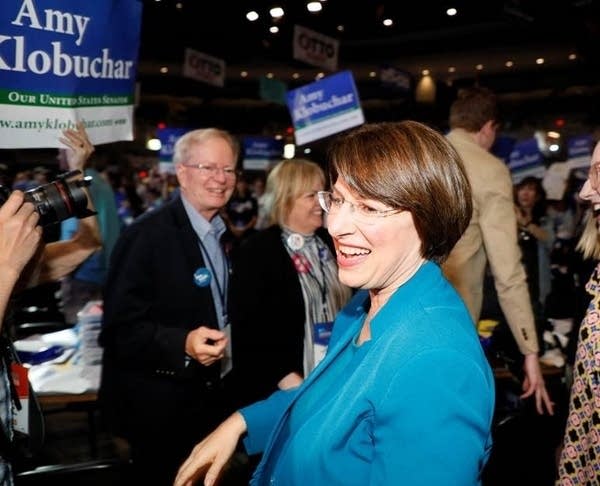 Republicans backed two state legislators to run for the United States Senate, while Democrats threw their support behind incumbents as they defend their seats this fall. 
At their respective party conventions on Friday, Democrats in Rochester endorsed U.S. Sen. Amy Klobuchar, who is running for a third term, and U.S. Sen. Tina Smith, who was appointed to the seat in January after the unexpected resignation of Al Franken. Klobuchar is seeking another term but is also considered a potential presidential candidate in 2020.
"Right now, it's pretty much a non-stop shoutfest on TV, but instead of fighting about what's left and what's right, what we really ought to be talking about is the difference between what's right and what's wrong," said Klobuchar, who had no challengers and was endorsed by loud cheers from DFL activists. "That's what I was taught growing up in Minnesota." 
In Duluth, Republicans picked Rep. Jim Newberger, a three-term legislator from Becker and former paramedic, to take on Klobuchar, and state Sen. Karin Housley, R-St. Mary's Point, to run against Smith.
"The 12 year reign of ultra-liberal Amy Klobuchar must come to an end," Newberger said to convention delegates. Newberger has his work cut out for him in challenging Klobuchar, who won her last race with more than 65 percent of the vote. But in his speech, he channeled President Donald Trump, who nearly won Minnesota in the 2016 election. "President Trump needs our help, and I look forward to helping him drain the swamp."
Endorsed candidates still must compete in an August 14 primary to be the party's nominee this fall, and that's already a foregone conclusion in some of the races. Smith, the former lieutenant governor who was appointed by Gov. Mark Dayton to the seat, handily won the endorsement over three challengers on the first ballot, but at least two candidates plan to run against her in a primary. 
"I am not afraid to stand up to Donald Trump when he and his administration hurt our country," Smith told the crowd, citing issues she's worked on in Washington including net neutrality and the farm bill. "This is what Minnesotans expect from their senator, someone who believes in her values strongly enough to stand up and fight for them." 
Her primary challengers include Richard Painter, a former ethics lawyer in the George W. Bush administration who recently left the Republican Party to run in the DFL primary, and Nick Leonard, a Minneapolis attorney. 
Painter, a University of Minnesota professor, joined the field after he gained a national profile criticizing the president and his administration. 
"There is nothing to smile about until we get Donald Trump and his Congress and [Mike] Pence out of office," Painter said, adding that his top priority as a senator would be investigating wrongdoing by the administration and pushing back on corporate and dark money in politics. "The system is corrupt and represents the monied interests rather than the people."
Leonard is running to Smith's left and is endorsed by Our Revolution, an offshoot group of Bernie Sanders' presidential campaign. He also pushed to take corporate money out of politics. "If we want to see some real change we need to get big money out of politics, finally," he said.
The second Senate race was an unexpected addition to the ballot this fall: Franken resigned in December amid multiple allegations of unwanted touching and growing pressure from his colleagues in the Senate. It's the first time since 1978 that both Senate seats were on the ballot at the same time, and Smith's seat is expected to be highly targeted by national groups as they try to angle for control in Congress.
Housley, a two-term state senator and realtor by trade, easily won the GOP endorsement to challenge Smith. In an introductory video, Housley described herself as "a daughter of this great state." She contrasted her can-do attitude with "failed of the Dayton-Smith administration." She bounded on stage to a rock version of the Mary Tyler Moore theme song, kissing one of her grandchildren on the cheek before delivering her endorsement speech.
"Work hard, play fair and do the right thing," Housley said. "This motto has guided me my entire life and career."
Delegates in Rochester also endorsed incumbent DFL Secretary of State Steve Simon by acclamation. He's seeking a second term and focused his speech on a major issue during his time in office: election security. He was dismayed the Legislature wrapped authorization for federal election security funds in a large omnibus bill that the governor vetoed. 
But he also encouraged delegates to turn out this fall to elect Democrats and also keep Minnesota in the number one spot for voter turnout. "When they demonize, we organize, when they go low, we go the to polls," he said. "The only way to change is to vote."
Both parties tested out new electronic voting systems Friday night. The technology has been used successfully in some Minnesota Congressional District party meetings and also the state Central Committee, but the rollout fell flat at the Republican state convention. Test votes did not work, and backup paper ballots were not available resulting in long delays in getting to the convention's two U.S. Senate endorsements. Just before 7:30 in the evening, Republican Party chair Jennifer Carnahan addressed the delegates on the issue.
"I just wanted to apologize to all of you for the challenges and unforeseen malfunctions we've had with the electronic balloting," Carnahan told delegates who applauded party staffers for their efforts to address the problem.
Carnahan said staffers would work throughout the night in hopes of finding a remedy so electronic balloting would be available for the governor's race endorsement on Saturday.
Reporters Tim Pugmire, Brian Bakst and Mark Zdechlik contributed reporting to this post