Conversations aim for criminal justice reform, Black healing
Coming up Monday at 11 a.m.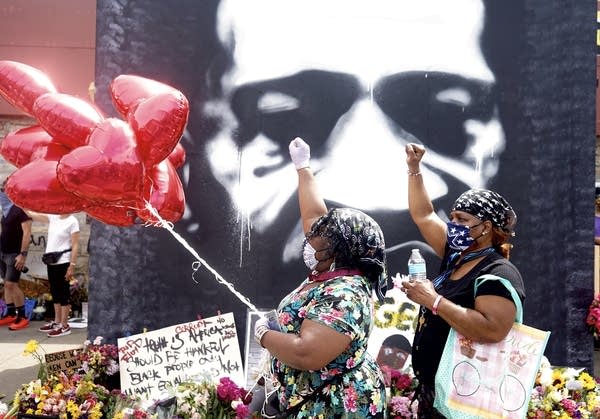 George Floyd's killing last year sparked a renewed push to reform Minnesota's criminal justice system.
Joi Lewis and Brittany Lewis are leading an effort called "Time of Reckoning," a series of community engagement sessions that will culminate in a policy roundtable in June on criminal justice reform. 
The effort, backed by a group of Minnesota Black community leaders, aims to center Black voices and conduct the sessions in a way that's also healing. 
As part of a series of conversations MPR News is hosting this month on how to improve Minnesota's criminal justice system, host Angela Davis talks with Joi Lewis and Brittany Lewis about what they've learned so far and why they're hopeful change will come.
And at noon Wednesday, Feb. 24, Davis will host a free, virtual event that will explore one aspect of the criminal justice system — the experience of reentry for people who were formerly incarcerated. The conversation is part of MPR News' In Focus series of virtual forums. Learn more and register here.
Guests:
Joi Lewis is a coach, consultant, community healer and the author of the book "Healing: The Act of Radical Self-Care." 

Brittany Lewis is the founder and CEO of Research in Action and a senior research associate at the University of Minnesota's Center for Urban and Regional Affairs.
Correction (Feb. 15, 2021): The audio above incorrectly mentions both women holding PhDs. Both hold doctorates, but Joi Lewis holds a doctorate of education.
Subscribe to the MPR News with Angela Davis podcast on: Apple Podcasts, Google Podcasts, Spotify or RSS.
Gain a Better Understanding of Today
MPR News is not just a listener supported source of information, it's a resource where listeners are supported. We take you beyond the headlines to the world we share in Minnesota. Become a sustainer today to fuel MPR News all year long.