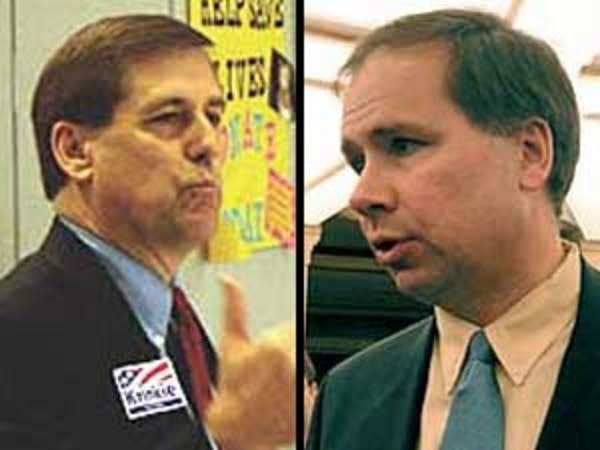 The debate over a new stadium for the University of Minnesota is just one example of the efforts by Phil Krinkie and Jim Knoblach to one-up each other. The two played dueling fiscal hawks Thursday night with a series of unsuccessful proposals, all seemingly designed to get the attention of Republican delegates.
"Let's get truthful. Let's get honest," said Krinkie. "If we want the people in the state of Minnesota to be able to hunt and fish on this land, let's do it right now."
"I think, members, if we're going to buy the land, we should actually truly buy the land," Knoblach said. "I would hope that all of you who voted to buy the land about an hour ago would actually vote for an amendment to actually buy it."
"Even if you want to see a University of Minnesota stadium built, you think it's a great idea, I don't think it should cost the state 9.4 million dollars a year," said Krinkie.
I was going to support Knoblach for the 6th District, but I think I will take up a collection to get you the hell out of here to help your campaign.
"This just says that when we're done paying for the land, we own it free and clear, just like you would normally do when you buy just about any other land," Knoblach said, "and I hope the author would accept this as a friendly amendment."
Knoblach of St. Cloud and Krinkie of Lino Lakes are involved in a bare-knuckles brawl for the Republican endorsement in Minnesota's 6th Congressional District. Businessman Jay Esmay and State Sen. Michele Bachmann of Stillwater are also running.
All four are abiding by the endorsement, so they're working hard to stand out as the most socially and fiscally conservative candidate in the district.
Krinkie and Knoblach both deny that their political aspirations have anything to do with the recent onslaught of amendments on the floor. But several members of the House think otherwise.
DFLer Loren Solberg joked about the number of trees being killed just to print up the amendments proposed by the two.
"I want to thank the contest for the 6th Congressional District. The Blandin Paper company loves you," Solberg said.
But others, like Rep. Ron Erhardt, R-Edina, became frustrated that Krinkie and Knoblach were slowing down the legislative process. Erhardt His irritation showed after Krinkie offered yet another amendment during Thursday night's debate.
"I was going to support Knoblach for the 6th District, but I think I will take up a collection to get you the hell out of here to help your campaign," said Erhardt.
Joking aside, Krinkie and Knoblach are more than just two lawmakers running for higher office. They control the two most powerful committees in the Minnesota House.
Krinkie chairs the Taxes Committee, and Knoblach chairs the Ways and Means committee. Those two committees control the purse strings of the House, and any bill with money involved has to go through one of them.
Both have tried to change bills in committee. Krinkie added an unrelated transportation amendment to an environment measure in his committee. Knoblach tried to nix a land swap in the Gopher stadium deal.
Republican House Speaker Steve Sviggum acknowledged congressional politics are coming into play, but said he's watching things closely so they don't get out of hand.
"I think at this point it's still controlled," said Sviggum. "But I also know that Chairman Krinkie and Chairman Knoblach, both wonderful people, serve in two positions which are basically the bottleneck, the neck for everything that comes to the House floor. While today we can handle it, two or three weeks from now it could cause some problems."
Sviggum says he's talked with both Krinkie and Knoblach to make sure they do what's best for the state, not their campaigns. He said he'll step in if it gets to a point when the House can no longer get its work done.
But others say Krinkie and Knoblach aren't doing anything they haven't done in the past. Rep. Dennis Ozment, R-Rosemount, says it's just that more people are paying attention this year because of the campaign.
"To me, I think they've been very consistent. In my viewpoint, they have been consistently wrong. That's just the way it works," said Ozment.
It's likely that Krinkie and Knoblach will continue to try to stand out as they court delegates leading up to the endorsing convention. As one lawmaker put it last night, he'll breathe easier after the May 6 convention is over.
Gallery
1 of 1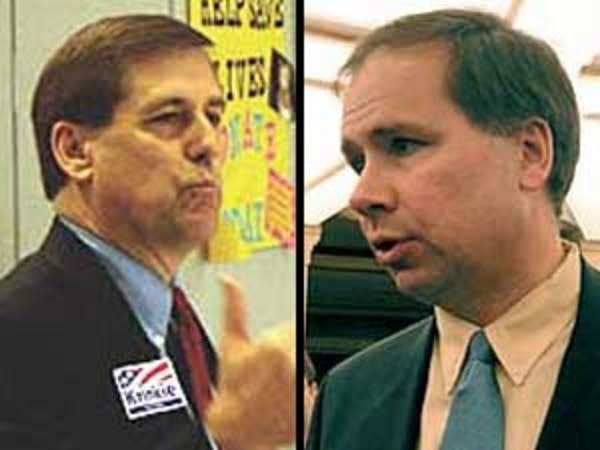 Your support matters.
You make MPR News possible. Individual donations are behind the clarity in coverage from our reporters across the state, stories that connect us, and conversations that provide perspectives. Help ensure MPR remains a resource that brings Minnesotans together.