Klobuchar wins DFL Senate endorsement
Amy Klobuchar had no serious endorsement challenge. She was at the convention to formally acccept the party backing not fight for it.
"I am here today to ask for your support. The Republicans have made this Senate seat their number one priority, they will fight with every fiber of their being and that means spendng millions on slash and burn attack ads to keep themselves in power. But I have confidence that their big money smears will be no match for our big ideas," she said.
It took one ballot for endorsement. Convention rules do not allow endorsement by acclaimation if more one candidate is placed in nomination.
Klobuchar talked about her experience, not only as Hennepin County's chief prosecutor, but as a mom. Rhetorically asking delegates throughout her speech, "are you ready for change?" Klobuchar pledged to fight corruption and corporate greed if she's elected to the Senate.
All along, Klobuchar has said her focus has been on November's general election, dedicating a portion of her remakrs before cponvention delegates to appeal to Republicans and moderates as well as Democrats.
"Minnesotans want a new direction in Washington," she said. "We are tired of this perfect storm of incompetence, cronyism of corporate greed. the current leadership in Washington will continue to fight for those who fight against change."
Before you keep reading ...
MPR News is made by Members. Gifts from individuals fuel the programs that you and your neighbors rely on. Donate today to power news, analysis, and community conversations for all.
Klobuchar did not mention Congressman Mark Kennedy -- the GOP endorsed candidate -- in her speech. She spoke only briefly about the situation in Iraq saying "it's time to change the course."
Delegate Charley Underwood of south Minneapolis was one of two other candidates placed in nomination for the party endorsement. During his time before the delegates, Underwood called for an end to U.S. involvement in Iraq.
"I would give the challenge to the very obvious front runner of this campaign, Amy Klobuchar to unite behind the committment of peace first. I would ask her to declare from her own mouth in front of you as delegates to the state convention that she won't vote for this war any more," he said.
While Klobuchar says she has opposed the war from the onset and wants at least half of the troops withdrawn by the end of the year, many peace activists are critical of her stance on Iraq.
Some of them organized a campaign to convince fellow convention delegates -- among them Klobuchar supporters -- to vote "no endorsement" on the first ballot. They say they were not trying to block the endorsement, but instead wanted to demonstrate their opposition to the war in Iraq.
Delegate Jeremiah Myer of Waseca went along with the protest, even though he fully supports Kloubchar. Myer is hoping Klobuchar will respond to the peace activists' pressure.
"I believe that if any Democratic candidate sees the depth of feeling in the activists in the party. I do believe that they will shift to the left and to a peace-first agenda," Myer said.
Other delegates who voted "no endorsement" said they planned to leave Rochester supporting Ford Bell. Bell skipped the convention and is challeneging Klobuchar in the September primary. He calls himself the "anti-war" candidate and says he wants all U.S. troops out of Iraq by the end of this year.
On Saturday delegates turn their attention to the task of endorsing a candidate to run against Republican Gov. Tim Pawlenty. The front-runners in that battle are Attorney General Mike Hatch along with state senators Becky Lourey and Steve Kelley.
The DFL hasn't won a governor's race since the late Rudy Perpich won his last term in 1986.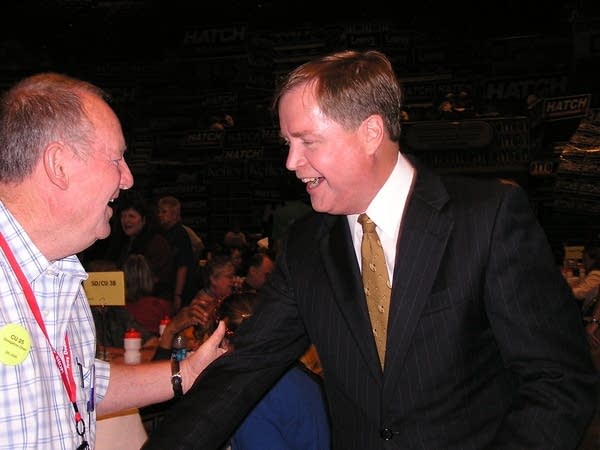 On Friday, Mike Hatch evoked memories of Perpich as he worked the room with a campaign photographer in tow, capturing the smiling attorney general with his arm around delegates. They were promised a copy before leaving town. Perpich was known for having an aide on hand to snap pictures with people he met.
Mostly, Hatch put on a soft sell.
"I'm a bit fatalistic about it. If they want me they can have me," said Hatch, whose two previous runs for governor ended in primary losses.
But as he approached 18-year-old Ashley Hunstad of St. Paul Park, the two-term attorney general cut right to the chase. "What do I need to do to get your support?" Hatch asked.
She grilled him on education, prompting him to pull out the speech he plans to deliver Saturday to prove he would make higher education a priority if elected.
When Hatch moved on, Hunstad confided that she was leaning toward Kelley, the chairman of the Senate Education Committee. But she wasn't ready to commit.
"It's just really powerful when they talk to you," Hunstad, a soon-to-be college freshman at the University of Minnesota campus in Duluth. "It's moving."
Another college student, Princeton University junior Charles Carlson of Owatonna, likened his contacts with candidates and their campaign staff to a job interview. He was on the lookout for personability, intelligence and political experience.
He said he was inclined to back Lourey, a state senator from Kerrick. But he admitted his dream ticket would have both Hatch and Lourey on it. "A team of Hatch and Lourey would stand a very good chance against Pawlenty," he said.
Both candidates, however, have rejected speculation of an alliance.
The undecideds weren't the only targets. Lourey said she was looking beyond other candidate's buttons as she angled to be delegates' second choice.
"I'm talking to every single delegate - those who are already partnering with me, those who are close to partnering with me and those who just don't know yet," she said.
Saturday's voting is due to begin before lunch and expected to last until dinner time or later.
Candidates must get 10 percent support on the first ballot to move on, a bar that climbs 5 percentage points each ballot. By the sixth ballot, only two candidates will remain.
Gallery
1 of 1