Light rail gets the green light for central corridor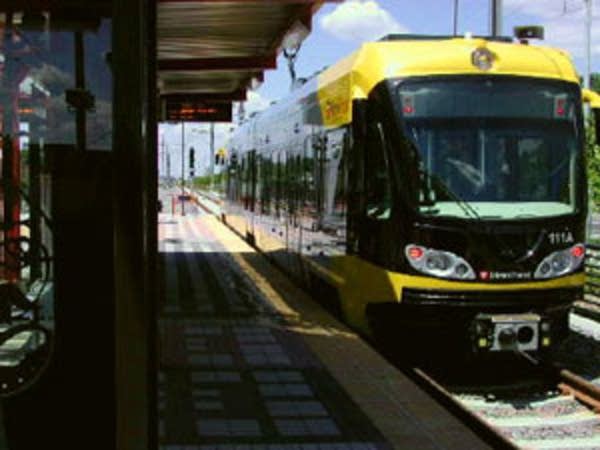 The council's vote is a key initial endorsement for an 11-mile light rail transit line along University Ave., a major commercial route that runs between Minneapolis and St. Paul.
Project estimates show a ridership of 38,000 people by 2020. Council Chair Peter Bell says he's pleased with the council's vote.
"I think it does move the transit agenda forward, and I think that agenda, at the end of the day, is dealing with the ever-escalating congestion that residents of the seven-county metro area are confronted with on a day-in and day-out basis," said Bell.
The project's price tag is up to $930 million after recent revisions in cost estimates.
Bell says he's concerned by that. He calls the cost "enough to choke a horse." And he says he'll be taking a "sharp pencil" to control project expenses during the first phase of preliminary engineering. Bell says he already has some ideas about where to trim.
One idea is to shorten the line in downtown St. Paul, but that would prevent it from reaching its current endpoint, the Union Depot. Another is limiting the landscaping along University Ave., and a third option would eliminate a tunnel that would go under the University of Minnesota's Minneapolis campus.
MPR News is Reader Funded
Before you keep reading, take a moment to donate to MPR News. Your financial support ensures that factual and trusted news and context remain accessible to all.
Bell says dropping all three options could shave $275 million off the total cost.
"It's important to understand though, I don't want to pre-judge what will be decided in preliminary engineering. That's really what that process is for -- to look at those three things and many others," said Bell.
The council's vote comes after years of study and public input over whether to choose light rail or bus rapid transit.
Light rail would cost three times more than a bus rapid transit line. That's the main reason why council member Annette Meeks was one of two "no"votes against light rail.
"I don't believe that a council that is paring back bus service, raising fees in two of the last years to ride that bus and train, should be looking at a capital expenditure like this that clearly is, I think, desirable, but maybe not affordable, versus bus rapid transit which seems to be very affordable and very portable," said Meeks.
Despite the council's overwhelming vote in favor of light rail, there are multiple hurdles to clear before the projected construction date of 2010.
For instance, the project will need to survive at least three rounds of review by the Federal Transit Administration. The plan relies on the FTA supplying half the funding for the project. But the project's rising cost could jeopardize its eligibility for those federal matching dollars. The remaining half of the money would come from the state, Hennepin and Ramsey counties, and the railroad authorities in those two counties.
State voters could also play a role in the project's fate. The November 2006 ballot will ask Minnesotans to approve a constitutional amendment designating the state's motor vehicle sales tax to be spent only on transportation. The measure would raise tens of millions of dollars annually, with 40 percent dedicated to transit.
Council Chair Peter Bell says even if voters approve the measure, it's unclear how much of an impact the money would have on the Central Corridor line.
Politically, the council's vote is good news for St. Paul Mayor Chris Coleman. He has called bringing light rail to the city his No. 1 priority.
Coleman's spokesman, Bob Hume, says the Met Council's approval brings with it the hope of economic development in a key thoroughfare in St. Paul.
"Light rail's going to be an opportunity for us to develop a permanent infrastructure, with transit-oriented development around it, that's really going to change the face of the city," said Hume.
The Metropolitan Council also approved the establishment of a community advisory committee to give the public a say throughout the development process.
The Federal Transit Administration is expected to approve or deny the project's preliminary engineering phase by fall of this year. The estimated cost for this first phase is $40 million.
Gallery
1 of 1