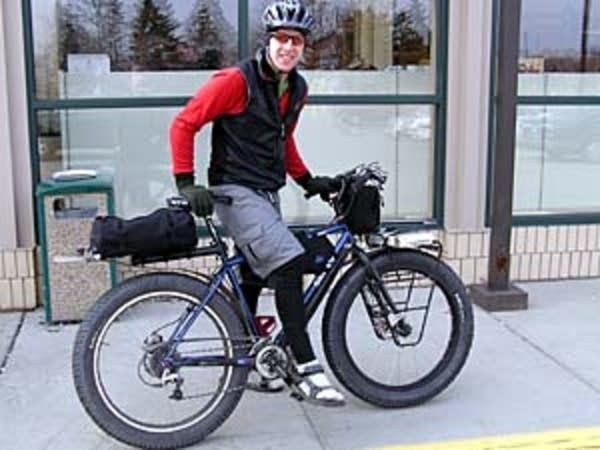 Even in the face of rising gas prices, most Twin Cities commuters are willing to shell out whatever it takes to keep driving their cars, says analyst Akshay Rao.
"So if you're a smart gas station owner," he says, "you're going to keep edging your prices upwards until it starts affecting the sales revenue that you're experiencing."
Rao, a marketing professor at the University of Minnesota's Carlson School of Management, says prices always go up during the summer travel season. Yet, he doesn't expect gas to get much cheaper any time soon.
"Over the long haul, if not this year, certainly over the next five or 10 years, there's no doubt in my mind that this trend will continue," says Rao, "and people will start looking more carefully at alternative forms of energy and transportation."
In the Twin Cities, a number of people appear to be leaving their cars in the garage or the park-and-ride lots, and taking the bus to work.
Metro Transit's Bob Gibbons says overall transit ridership has increased 7 percent over last year. And the express buses running between downtown and the suburbs are seeing a 16 percent increase over last year.
"We look at those because they are the type of bus trips where people might not drive all the way to downtown," he says, "But instead would rather park their cars at a nearby park-and-ride lot, and then let us do the driving for the rest of the trip because of the gas price, primarily."
Anecdotally, more commuters are also hopping on their bicycles to get to work. Steve Clark is hearing all about it.
"Everybody is telling me -- and I've seen it with my own eyes -- that there's been a huge, huge, increase in the number of people out there bicycling," Clark says.
Clark works for Transit for Livable Communities, a St. Paul organization promoting alternatives to automobiles.
"It's a great time to be doing this kind of work," Clark says. "Between global warming and gas prices and the increased awareness of these issues, people are really receptive to these issues."
One of the people who has already made a switch is Scott Parker of Northfield. He works in St. Paul, 40 miles away. He's started telecommuting two days a week. Since April, Parker has been driving part way to work, then cycling the last 30 miles. It takes him 90 minutes each direction.
Parker figures bike commuting is saving him $40 to $50 a week, and providing other health benefits -- including losing 40 pounds.
"I come to work a lot less stressed out, because I'm not fighting the traffic and the commutes like other people do," Parker says. "Plus, the really nice thing is when you do pedal past a gas station and you see that it's $3 a gallon, you know that you are saving some cash, too."
Bicycle shop business is also good these days.
So says Mike Roering, general manager for Freewheel Bike shop in Minneapolis. He says people are dusting off their old Schwinns and bringing them in for a tuneup. He says customers complain gas prices are too high and they want to start biking to work.
"People want to know a lot about which route should they take to work, what kind of accessories should they have when they're commuting," Roering says. "We've just seen a large increase in those types of questions in the shop."
A 2000 Metropolitan Council study on travel behavior in the Metropolitan Area found just 1.5 percent of commuters living in the seven-county metro area rode bikes to work.
The study also found 47 percent of people drive alone to work. As the gas price crunch continues, transit experts expect those numbers to change.