In Eagan, modern sculpture finds a home among the trees
Anthony Caponi nimbly navigates an electric golf cart through a dense forest in the Caponi Art Park. Along the hilly path, one metal or stone sculpture after another reveals itself, standing unobtrusively next to a tree or on the edge of the underbrush. Caponi designed the park as a place to get lost. He wants visitors to encounter art just as they encounter nature, with no signs or maps to tell them where to go or what to see.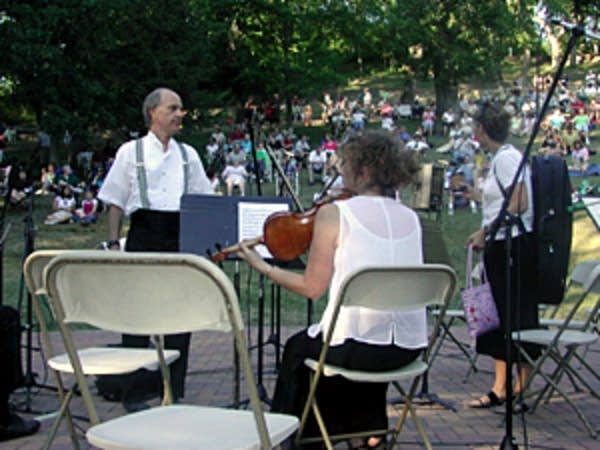 "I believe that's what's missing in most exhibits is the sense of discovery," Caponi says.
The Caponi Art Park reopened to the public last weekend to, among other things, the music of the Minnesota Sinfonia, which performed in the park's refurbished amphitheater. The Theater in the Woods, as it's called, seats up to a thousand on a grassy hillside surrounding a 50-foot open air stage.
Caponi used his trusty Bobcat to scrape and sculpt the land into a natural bowl. In fact, everything in the park--from the sculptures to the art walls dug into the earth, to the cascading slopes--has been molded by Caponi for more than two decades. His inspiration is the natural contours of the landscape.
"I don't impose...maybe I do, but I seek agreement with the thing I interact with," Caponi says.
Sometimes the agreement Caponi achieves between art and nature is so complete they become nearly indistinguishable and easily overlooked. From a distance, a retaining wall close to the park's entrance looks like a ridge in the ground. Up close you see a depiction of the aftermath of the volcano eruption in ancient Pompeii, in subtle relief.
Caponi is a compact, robust Italian-American with a shock of silver white hair and eyebrows as thick as the shrubs he's cleared out of the park. For more than 40 years, he worked as a sculptor and art professor at Macalester College, including time as department chair. His sculptures can be found in public places and churches across Minnesota.
Caponi believes he was put on the planet to work. One of the tenets of his philosophy is that people need to experience things before they analyze them.
"They say 'Why?' before they say 'Wow, how beautiful,' and respond to it," Caponi says.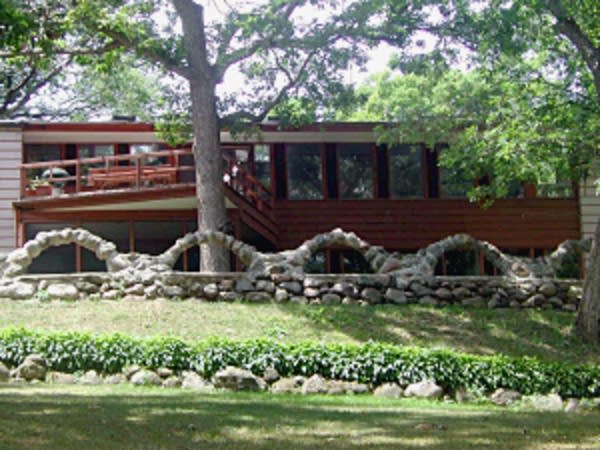 One piece that demands response is the stone wall Caponi constructed around the back of his house, which sits on the sculpture garden grounds. With its gentle arches it suggests the classic lines of a Roman aqueduct.
A lot of people stand in awe of Caponi's energy and endeavors. Diane Wells met Caponi when she asked him to conduct a sculpture workshop for her students. Wells is a high school English teacher in Burnsville who's become Caponi's good friend. To put his accomplishments in perspective, Wells says it's important to remember that Caponi had a full-time job as head of Macalester's art department.
"And at the same time...simultaneously--listen, I'm a teacher; I know what it takes to do something besides teach with passion--he was carving out this art park. I mean it's amazing, Wells says."
Caponi believes that people often under-perform as human beings, underestimating their capacity to do things that seem beyond their reach. There are too many specialists, he says. He constantly talks about how he designed and built his own house and studio, engineered roads and paths in the park and moved tons and tons of dirt to prove what people are capable of.
"You're so gifted as a human being. Don't forget that. Don't just choose a little part of you, just to be successful in one thing. You're a lot more than that," Carponi says.
Since it opened in 1987, the Caponi Art Park has relied on the vision, will and finances of one man, but not for much longer. Caponi has sold 30 acres of the park to the city of Eagan, which will leave it alone. He's turned over the other 30 to a private non-profit. The community, he says, needs to step up its support.
Eagan City Administrator Tom Hedges says Caponi has given an incredible gift to the region by building an art park when he was sitting on a real estate gold mine.
"To think that someone would do that within your city and not sell to developers and just build more homes is remarkable," says Hedges.
Caponi acquired the 60 acres that include the park not too long after he moved to Eagan in 1950, and he's become familiar with every square foot.
In a wooded section of the art park, we climb a steep grade and then stop near a stand of trees that forms a canopy over the path. Caponi points out that he's lived long enough to see these trees reach maturity.
"These things were only this tall when I planted them. And that's why I say plant things, plant ideas. They'll get big," Caponi says.
Now that the amphitheater is complete, Caponi plans to spend less time overseeing the art park and dive back into his sculpture, writing and teaching. He says he wants his ideas about art, creativity and living to take root in places beyond Eagan.
Gallery
1 of 1
Your support matters.
You make MPR News possible. Individual donations are behind the clarity in coverage from our reporters across the state, stories that connect us, and conversations that provide perspectives. Help ensure MPR remains a resource that brings Minnesotans together.