Tribal refinery plan draws national attention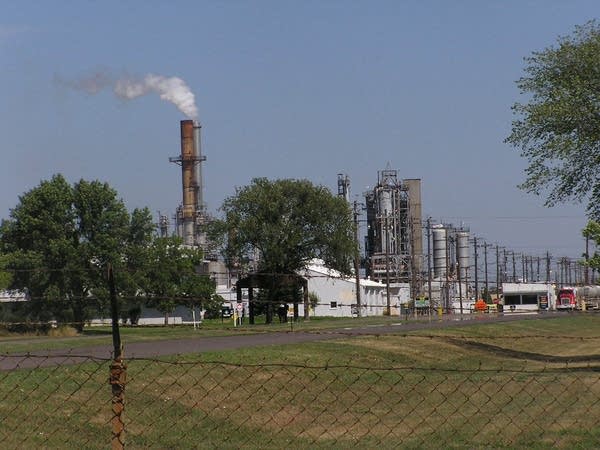 The Fort Berthold Indian reservation straddles Lake Sacagawea in western North Dakota. Its residents once farmed the rich bottomland along the Missouri river.
After dams were built on the Missouri River, the farmland flooded and tribal members were moved to the dry dusty plains nearby.
A tribal casino provides some jobs and income, but not enough to dispel the widespread poverty on the reservation.
Tribal Chairman Tex Hall sees a solution in the nation's growing demand for energy.
Whether you're for this or against this, we can evaluate and minimize all the potential hazardous effects to the environment, to mother earth.
"My tribe and myself do not want to continue to live in high unemployment and poverty," says Hall. "We want to have the resources to be able to make sure our members have the resources to have jobs, adequate dollars for education, health care, housing and so on."
Hall says tribal lands have oil and gas deposits. There are thousands of acres to grow crops for ethanol production.
Before you keep reading ...
MPR News is made by Members. Gifts from individuals fuel the programs that you and your neighbors rely on. Donate today to power news, analysis, and community conversations for all.
But the first big tribal energy venture is an oil refinery. It's small by industry standards, too small to be competitive, say critics. It would refine 15,000 barrels a day of Canadian oil piped in to the refinery. But that's only a tiny fraction of the daily production of a major refinery. By comparison, major oil refiners refine more than 150,000 barrels a day. Still, Tex Hall says the project is a big investment for a small tribe.
"It'll be over $200 million, well over $200 million. But the bottom line is those are the costs, but the revenue are tremendous. Over $100 million in annual revenue from this refinery. Obviously this could pay for itself in a few short years," says Hall.
Tribal plans call for a high tech plant which tribal officials say will minimize pollution and potential environmental damage.
But an assessment by the Environmental Protection Agency says there's likely to be some pollution of groundwater if the refinery is built. Some local residents also worry about air pollution from the refinery. Tribal officials say the plant will be cleaner than required by federal regualations. The EPA is taking public comment on the project until mid-September.
Tribal Chairman Tex Hall expects to have permits for the refinery this fall and start construction next spring.
The project needs approval from three federal agencies; the EPA, the Bureau of Indian Affairs and the U.S. Army Corp of Engineers.
Denny Larson, head of the Refinery Reform Campaign, a national refinery industry watchdog group, says the project is too small to be successful and will reduce air quality in the area. Larson questions the real motives behind the Fort Berthold project. "Many experts have looked at it and guessed that perhaps what's happening here is an attempt to get a permit for a tiny refinery that will have smaller impact and therefore be more difficult to challenge. And then, rapidly expand the refinery by getting their foot in the door with a permit for a small one," says Larson.
There are still many unanswered environmental questions, according to Larson who is holding meetings this week on the reservation at the request of a group of tribal members who oppose the refinery. Many tribal members who oppose the project say they don't want to publicly oppose the project for fear of retribution.
Tribal officials say they welcome any discussion that educates tribal members about the project. Tribal Chairman Tex Hall is convinced the small refinery can be an economic and environmental success. In fact, he says tribes across the country are watching the project closely. If the North Dakota refinery is given a permit, other tribes in oil rich states will likely pursue their own refineries.
The Fort Berthold project has already received federal aid, and will benefit from tax incentives in the recently passed energy bill.
But some in the oil industry are also skeptical of the project. North Dakota Petroleum Council President Ron Ness says he'd be thrilled to see a new refinery come on line in North Dakota, but he's doubtful the proposed tribal operation is economically viable.
"That refinery would be miniature in scale of what we're seeing in the rest of industry. The economics for that refinery other than maybe on a reservation operated by the tribes are likely not going to happen anywhere else," says Ness.
It's possible the tribal refinery could be successful, says Ness, if it can win federal contracts to provide fuel to military bases and other government agencies under a program that gives preference for federal contracts to tribal governments.
Ness says there's no other way a small refinery can be successful in a highly competitive industry.
Tribal Chairman Tex Hall has no time for skeptics, insisting he's 95 percent certain there will be a refinery built on the Fort Berthold reservation in two or three years. He expects it to be the first of many tribal ventures into the energy business.
Gallery
1 of 1