The new Guthrie offers a restaurant with plenty of local flavor
Entering Lenny Russo's kitchen at the Guthrie Theatre you're surrounded by locally produced products; boxes of garlic, artisan cheeses from local farms and trays of Minnesota free-range chickens.
"The rabbits are from Menominee, Wisc.!" Russo exclaims.
The rabbit is paired with Minnesota grown mushrooms and is served with a reduction sauce made from game stock and locally grown heirloom tomatoes.
The dish is called Hunter Style Wisconsin Rabbit and it's classic Lenny Russo--taking locally produced ingredients and combining them in a way to excite the palate.
He learned to cook growing up in an Italian family in New Jersey. He started making dinner for his family when he was ten years old.
"I remember the first two dishes I learned how to make were chicken cacciatori and mussels in red sauce," Russo said.
Before you keep reading ...
MPR News is made by Members. Gifts from individuals fuel the programs that you and your neighbors rely on. Donate today to power news, analysis, and community conversations for all.
As a child Russo became aware of the importance of using good ingredients. He calls this approach to cooking a philosophy more than a style.
"At Heartland in St. Paul, my restaurant, we change the menu every day and we allow the farm to dictate the menu to us rather than dictating the menu to the farm. That intuitively makes a lot more sense."
When things are hand-raised and they're raised in small quantities and you don't over-tax the land you're basically taking what the land will give you.
Russo says this intimate relationship among farmer, chef and diner has worked well at a small restaurant like Heartland. The two new Guthrie restaurants are owned by Bon Appetit Management Company. It's a large food service provider who's clients include the Getty Museum in California and the Minnesota History Center. Russo admits it's much more of a challenge to impart his philosophy on a larger scale at Cue and Level Five.
"Because you have about 50 cooks. And like on a Saturday between both restaurants and with a matinee and with theatre in the evening we feed about 800 or 850 people a la carte. It's not the kind of thing where we can fly by the seat of our pants," Russo said.
The large volume of diners means Russo is now demanding more ingredients and products. That's putting pressure on his local suppliers.
"But I think the payoff is really great for the farmers because there's a huge largess for them that they can't get at a little place like Heartland that has 50 seats. We do ten times the volume here than we do at Heartland," Russo said.
One of the suppliers keeping up with Russo's demands is Tim Fischer of Fischer Farm Natural Pork in Waseca, Minn. The farm is raising a smaller hog with especially tender pork for Russo's use. Tim Fischer is a fifth-generation farmer and says in the past most of his pork was sold to a meat packer--such as Hormel.
He says the new demand from Russo's restaurants has increased his production and profits by about 50 percent in the past year. Fischer sells about 800 to 900 pounds of hog to Russo each week. And by hog he means the entire animal--Russo uses the whole hog in his kitchen.
"To me it's going to someone who really and truly appreciates what I'm trying to do out here. Otherwise when you sell to a packer your just another number. Which is fine, I mean that's their business," Fischer said.
"But for all the hard work that I put into it it's very gratifying and satisfying to me to see that smile on the chef's face that he appreciates the good quality of pork that they're getting," Fischer adds.
Russo and his cooks are using the Rack of Fischer Farm pork with stone fruit catsup and roasted organic summer vegetables. Russo says in a few weeks the dish will be tweaked to utilize fall vegetables like pumpkin and squash. He says the delicate meat from Fischer's pork will remain the same.
"When things are hand-raised and they're raised in small quantities and you don't over-tax the land you're basically taking what the land will give you," Russo said.
Russo admits some of the diners that come to Cue and Level Five are aware of his philosophy of cooking. But says it's not really important to him.
"I don't really care why they come. I mean if they come here because they really want to have great food that's great. If they support why we're here and that's why they come that's even better. But just by showing up they're supporting what we do. I really don't care what their motivation is. I just want them to come."
Russo says he's not alone in his desire to use local foods. He can just look out his window and see the new SPOON RIVER restaurant across the street. It shares his philosophy of using seasonal, local ingredients. Russo says he's just one part of a core group of Twin Cities chefs dedicated to using locally produced food, keeping money in regional farm economies and challenging the stereo types of midwestern food.
Gallery
3 of 3
1 of 3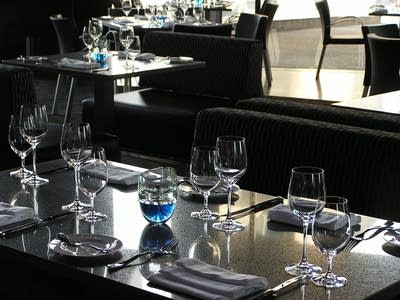 2 of 3