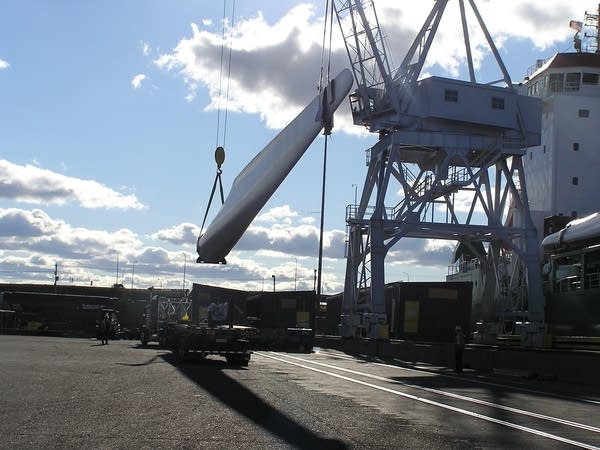 At the Duluth Port terminal, the BBC India is tied up to the dock. Two giant cranes gently lower a silvery propeller onto a waiting truck.
The blade is half as long as a football field. The extended bed of the eighteen-wheeler isn't long enough to hold the entire length. A padded steel structure cradles the narrow end above the ground.
There are 66 blades on the ship, three blades each for twenty-two towers.
Andrew Holdrup is the port captain for the shipping company
"The three blades will bolt into a hub, and then the hub attaches to a nacelle -- the generator package, that's the actual turbine -- and the nacelle sits on top of the tower," he explains.
Holdrup was in Duluth a year and a half ago, when the port handled its first ever shipment of windmills. He says the demand for windmills is huge in the U.S.
"We have four ships, all they do is run from Denmark to Houston with Siemens windmills," he says. "We discharge them in Houston, the ship sails back empty, to go pick up the next lot. And then you multiply that by all the other ports, and all the other windmill manufacturers, and it's a huge business."
It's great business for Duluth's port. Unloading the windmills requires iron workers, to cut the steel where the pieces have been welded to the ship, and crane operators, and longshoremen. And truckers are staying in town waiting to pick up their loads.
They'll haul the windmills to wind farms being built in Mower County in Minnesota and Oliver County in North Dakota.
The port has also handled equipment for wind farms in Manitoba.
The boom in wind was primed in the early 1990s, when Congress set up a production tax credit for wind power. It allows a 1.9 cent-per-kilowatt-hour tax credit over 10 years, for electricity produced by wind.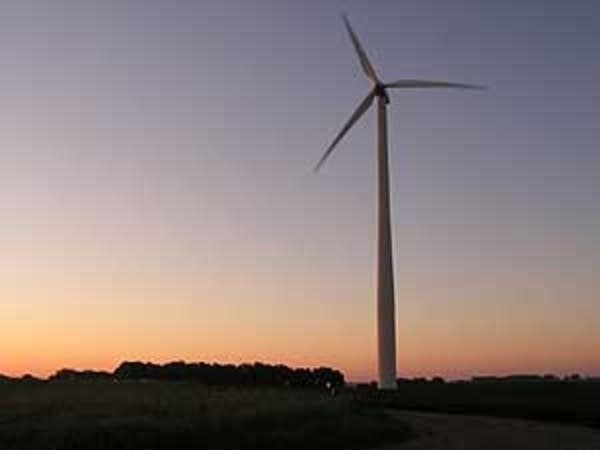 But the tax credit only runs for two years at a time. Ron Johnson is in charge of marketing for the Duluth Port Authority. He says that on-again, off-again approach has made it hard for businesses involved in wind energy to plan and grow.
"It's kind of start-up again, stop, start-up again, stop," he says. "and if you're trucking company with these specialized trailers, you don't want to go out and buy 50 more of them if there's a chance your whole fleet's going to sit until Congress decides what to do."
Johnson says there's a lot of support in Congress for the tax credits, and he expects them to be renewed.
Steve Stengel works for FPL Energy, the company building the wind farms where these windmills are headed.
"It is part of the business, we understand that. And it does cause kind of starts and stops, if you will," he says.
But Stengel says it's possible to work around the periodic breaks in the tax credit because it takes a long time to plan a wind project anyway.
"Permitting issues, land lease issues, transmission issues. We have to plan as if the tax credit is going to be there," he says.
In fact, wind is growing dramatically, in spite of the iffy nature of federal support. Several states now require utilities to invest in renewable energy or offer incentives for wind power development. And as the cost of fossil fuels goes up, the relative cost of wind goes down.
It all adds up to a lot of demand, and, recently, tight supplies.
The American Wind Energy Association's Susan Sloan says orders are already in place for 2008 and beyond.
"Because of this boom and bust cycle, but also because of this new acceptance of wind, we are seeing a tighter supply, and we need to have the manufacturing capabilities catch up," she says.
And that's what's happening.
It took two weeks for the Siemens windmills to sail from Denmark to Duluth. Now the company is building a factory in Fort Madison, Iowa. Siemens says it will employ 250 people and start producing in the first half of 2007.
And in Pipestone, Suzlon, a company based in India, is about to start producing three blades a day and the nose cones to go with them. The company plans to manufacture the electronic controls, and eventually employ up to 300 people. Suzlon says it has orders for the next two to three years.
Gallery
5 of 5
1 of 5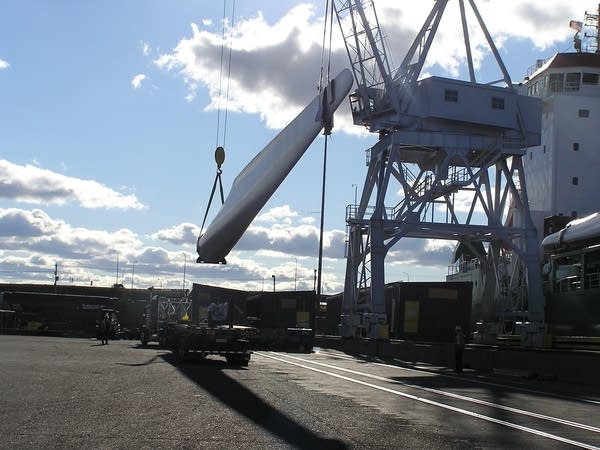 2 of 5
Your support matters.
You make MPR News possible. Individual donations are behind the clarity in coverage from our reporters across the state, stories that connect us, and conversations that provide perspectives. Help ensure MPR remains a resource that brings Minnesotans together.