Ramsey County Sheriff's race features two veteran campaigners
The Ramsey County Sheriff's office is primarily responsible for running the county jail. Other responsibilities include moving inmates to and from the county courthouse, enforcing court orders, protecting judges, and patrolling the county's lakes and rivers. The sheriff is also responsible for policing seven cities within the county which don't have a standing police force.
Incumbent Bob Fletcher was first elected sheriff in 1995. Now finishing out his third term, Fletcher says the county is safer than ever, and voters should re-elect him for another four years.
"The long and the short of it is, we've been able to keep pace and actually reduce crime over the past 10 years," Fletcher says. "The trends are all positive in Ramsey County in terms of reduction in crime and our ability to get the job done."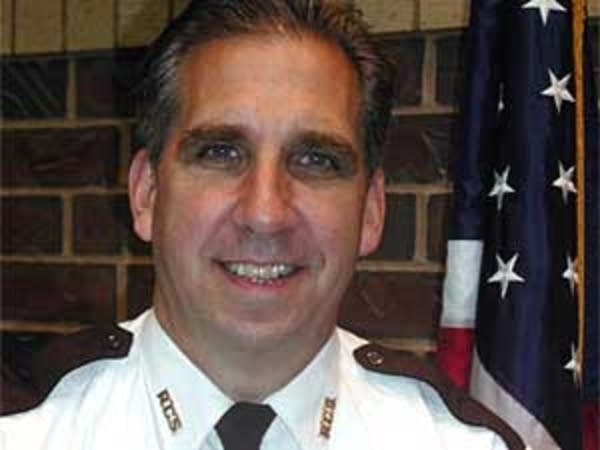 Fletcher spent 18 years as an officer in the St. Paul Police Department. In the early 1980s he also held a seat on the St. Paul City Council. In 1988 he ran for mayor of St. Paul and lost. Later he lost a bid for a state Senate seat.
Grow the Future of Public Media
MPR News is supported by Members. Gifts from individuals power everything you find here. Make a gift of any amount today to become a Member!
Fletcher says he is a creative leader who hires the best and brightest to run a successful agency. He prides himself on having a strong relationship with the members of his force.
But Fletcher has two lawsuits against him by employees who say Fletcher retaliated against them when one of them ran against him for sheriff in 2002. Those cases could go to trial later this year. Fletcher calls the suits politically motivated.
Fletcher says his passion is to use his office to advocate for children. He says suppressing gangs and keeping kids off drugs are key areas of interest for him.
His tough-on-drugs stance hit home this past summer. Fletcher had his own agency arrest his teenage son for possession of heroin and cocaine. Fletcher says the ordeal has not hurt his chances for re-election.
Fletcher's career and that of his opponent, Bill Finney, have been intertwined for years. Fletcher was one of Finney's lieutenants on the St. Paul police force. Later, they each ended up investigating the other.
"Because what I've found is that many more people have dealt with family crises of persons suffering from addiction, from a variety of chemicals or alcohol," Fletcher says. "And so, even though it's uncomfortable at times when your family life is on the front page, the good news is that the public has good judgement when it comes to what's appropriate and what's not, and what's fair to be considered down the road."
Fletcher's challenger, former St. Paul Police Chief Bill Finney, has had his own family troubles splashed in the media.
One of his adult sons, a sergeant in the St. Paul Police Department, was involved in a fight at a local bar. No charges were filed.
In 1997, another of his adult sons was investigated for alleged sexual assault. Again, no charges were filed. Like Fletcher, Finney says media scrutiny is part of the job.
"The title's public official," Finney says. "And when you're a public official, you're wide open."
Finney spent more than 30 years as a police officer in St. Paul. He made history in 1992 when he was appointed the state's first African American police chief.
During his tenure, Finney was credited for his public relations skills and his ability to bring community concerns to inform policing. He also increased the number of women and minorities on the force.
Finney retired as chief in 2004. Though many expected he would run for mayor last year against Randy Kelly, he did not. He says he's coming out of retirement to run for Ramsey County sheriff because, as he puts it, being a public servant is in his blood.
"I love being a public servant," Finney says. "It may sound odd, but I don't see myself as a politician, I see myself as a public servant leader. Now, I have to use political means in order to get in that position to do that for the public again. But, I like direct public service. I like doing things that I know directly affect the people that I care about in this county."
Finney's career and that of his opponent, Bob Fletcher, have been intertwined for years. Fletcher was one of Finney's lieutenants on the St. Paul police force.
In 1998, while Fletcher was sheriff, his office was charged with starting an investigation involving then-Chief Finney's purchase of a couple of gold-plated guns from a manufacturer who was courting the department for a city contract. The investigation did not show misconduct or hurt Finney's career. Soon after, he was re-appointed by then-Mayor Norm Coleman for a second term.
Finney's office has also investigated Fletcher. At a political debate in 2003, Fletcher confiscated cards with questions from the audience. One of the questioners asked about Fletcher's personal relationship to candidate Kris Reiter, who was running for a St. Paul City Council seat. Reiter lost the election and Fletcher was cleared.
Reiter and Fletcher had talked about suing the League of Women Voters for slander and defamation. So far, no lawsuit has not been filed. Fletcher and Reiter are now married.
Recently, Fletcher's office re-opened an investigation from 1981, involving the shooting death of a woman who was dating a long-time friend of Finney's. Fletcher says his investigators have no evidence Finney influenced the case.
Still, Fletcher has brought the matter into the campaign, questioning Finney about the case during a debate. Finney dismisses the sheriff's questions about the case, pointing out it has been investigated at least twice, with no connection to Finney ever found.
Both Finney and Fletcher say they have no animosity towards the other, but there is obvious friction between them when they're in public together. This race for a relatively low profile local office has the potential to be among the most nasty in this election year.
Gallery
4 of 4
1 of 4
2 of 4