Poll shows tight 6th District race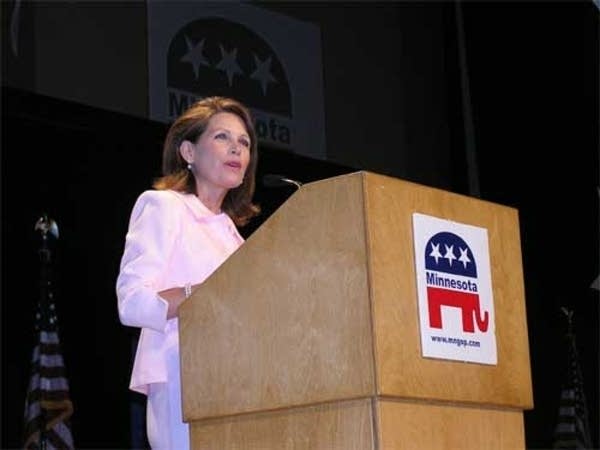 There haven't been many polls in this year's 6th District Congressional race. But the latest survey indicates Republican Michele Bachmann's lead has shrunk and the two major-party candidates are now in a statistical dead heat.
Last month, a SurveyUSA poll showed voter support for Bachmann at 50 percent, 9 percentage points ahead of Democrat Patty Wetterling. Independence Party candidate John Binkowski had 5 percent. A new Reuters/Zogby poll shows Bachmann at 46 percent, compared to 43 percent for Wetterling. The difference is within the poll's margin of error of plus or minus 4.5 percentage points. Poll results for Binkowski were not reported.
Bachmann, a state senator from Stillwater, says she is not disappointed with the poll.
"We don't take this for granted in any measure," she said. "But the marvelous news is that every single poll that's come out has us ahead. And so, we're thankful for that. We're just going to keep working hard."
It's a similarly positive view from the Wetterling campaign. Manager Corey Day says he expected a tight race all the way to the finish.
"They've been running an extremely negative campaign against Patty for the last few weeks. And this poll shows that those things aren't breaking through. Voters are still looking at Patty and really believe she can go to Washington and represent middle-class families," Day said.
The telephone survey was conducted September 25 through October 2. So, the results offer only a partial measurement of any impact from the Capitol Hill sex scandal. Former Republican Congressman Mark Foley of Florida resigned Friday after sexual messages between him and teenage male pages surfaced.
Patty Wetterling, who became a child safety advocate after the abduction of her son Jacob 17 years ago, jumped forcefully this week on the emerging issue.
"Any member of Congress who knew about this and covered up should be asked to resign. They participated in the victimization of this child and put other children at risk," she said.
Wetterling carried the point further this week in a new TV ad, the first in the nation to refer directly to the scandal.
"It shocks the conscience. Congressional leaders have admitted covering up the predatory behavior of a congressman who used the Internet to molest children. For over a year, they knowingly ignored the welfare of children to protect their own power," the ad says.
Michele Bachmann described the contact between Foley and the pages as "an obscene breach of trust." Bachmann also wants a thorough investigation and says House leaders should face consequences if there was any cover-up. But she doesn't want a rush to judgement.
"The unfortunate thing is that it seems like Patty Wetterling is saying, 'A bad thing happened so let's shoot everybody.' We can't do that. We can't take everyone out because a horrible occurrence happened to an individual," Bachmann said.
Before the Foley scandal, the frontrunners' campaigns were sparring over taxes and the accuracy of TV ads. Bachmann accused Wetterling of distorting her position on a national sales tax and asked her to pull a TV ad.
"Politician Michele Bachmann claims she's for lower taxes. But she supports a new national sales tax that would cost us more, 23 percent more at the pump, 23 percent more for groceries and clothing and 23 percent when you buy a new car or even a new home," the ad said.
"I've worked overtime to cut people's taxes," Bachmann said on Wednesday. "I've never advocated for a tax increase, much less a 23-cent tax increase on sales tax. I certainly don't advocate that now."
The race's only advocate for the national sales tax is John Binkowski. The IP candidate is also critical of the Wetterling ad for misrepresenting the impact of the proposal.
"When they talk about prices going up on everything by 23 percent, that's at best disingenuous and at worst an out-and-out lie," Binkowski said.
Wetterling's spokesman, Corey Day, says the campaign stands by the ad. Day claims the real untruths are contained in a Republican ad that targets Wetterling on taxes.
"Patty Wetterling just doesn't get it. Lowering taxes helps families and creates jobs. Yet Patty Wetterling opposes making our tax relief permanent. That means higher taxes on working families. It means reducing child tax credits, and it means bringing back the marriage penalty and bringing back the death tax on family businesses and farms," the ad said.
That ad is from the National Republican Congressional Committee, not Bachmann. The NRCC is buying ads in close races throughout the country. And some of the committee's money has been linked to Mark Foley and his political action committee.
Minnesota DFL Party Chairman Brian Melendez is calling for the NRCC to return that money. If not, he says it will be a campaign issue.
"We're going to point out the irony and, more to the point, the hypocrisy of attacking a child safety advocate using money raised from a sexual predator. Yes, we'll point that out," he said.
Patty Wetterling will push her child-protection theme again this weekend, when she delivers the national Democratic response to President Bush's weekly radio address. The three 6th District Congressional candidates are scheduled to debate for a third time this Saturday in St. Cloud.
Gallery
1 of 1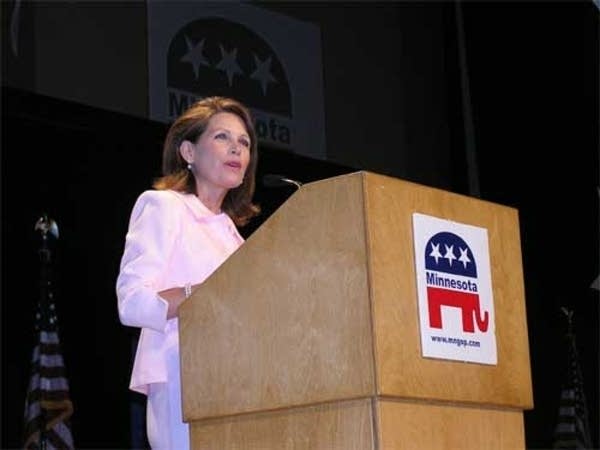 Your support matters.
You make MPR News possible. Individual donations are behind the clarity in coverage from our reporters across the state, stories that connect us, and conversations that provide perspectives. Help ensure MPR remains a resource that brings Minnesotans together.