Humphrey runs; assassinations shock the nation
The next shocking event came four days later on April 4, when Martin Luther King Jr. was shot and killed outside a Memphis motel.
KING ASSASSINATION BRINGS RACE TO THE FORE
The King assassination pushed presidential politics to the sidelines. Eugene McCarthy, who was campaigning in California, cancelled his schedule and returned to Washington. Robert Kennedy made an impromptu appeal for calm before an appearance in Indianapolis.
"What we need in the United States is not division. What we need in the United States is not hatred," Kennedy said that night. "What we need in the United States is not violence and lawlessness, but is love and wisdom and compassion toward one another, and a feeling of justice toward those who still suffer within our country, whether they be white or whether they be black."
Despite Kennedy's plea, rioting broke out in cities throughout the country. Race and urban violence had caught up to the presidential campaign.
"We must begin immediately, and on a massive scale, to attack the causes of unrest and of dissent and of riots," McCarthy said, "and to proceed to bring within reach of all Americans all of those things which make up what we call the good life."
MPR News is Reader Funded
Before you keep reading, take a moment to donate to MPR News. Your financial support ensures that factual and trusted news and context remain accessible to all.
HUMPHREY DECIDES TO RUN
A new campaign ad for McCarthy played up his influence on the national political scene.
"His manner is very quiet for a politician, but don't be misled. This quiet man toppled a president," the ad said.
President Johnson was no longer a candidate, but his influence remained. The man Johnson selected over McCarthy as his running mate in 1964, Hubert Humphrey, was now Johnson's hand-picked replacement in the run for the White House.
"And so my friends and fellow Americans, facing and knowing the hard realities of the office, yet also knowing the potential for good which lies within it, I shall seek the nomination of the Democratic Party," Vice President Humphrey announced in late April.
His decision drew a cool response from his old friend and colleague from Minnesota.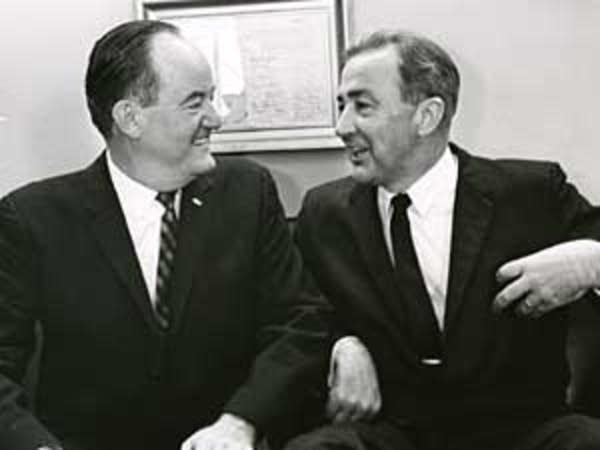 "I'm not re-assessing my plans or policies in any way after the announcement, that came as no surprise," McCarthy said, "and simply means that after the primaries are over that we'll have an additional entry, as we all expected we would have, in the run for the convention."
McCarthy ignored Humphrey. He focused instead on Kennedy and the remaining primaries. But the tone of the campaign had changed. The contest was no longer about Vietnam. It was about personalities.
COMPETITION WITH RFK BRINGS OUT THE WORST IN MCCARTHY
"The interpretation of the general polls have been showing that Senator Kennedy has been running much better than I among the less intelligent and less educated people in America," McCarthy noted in one speech.
"McCarthy would say something like that, I think, because he was so bitter against Kennedy for having entered the campaign. There was an element of snobbery there. He looked down on people who supported the Kennedys," said McCarthy biographer Dominic Sandbrook. "He wasn't prepared to reach out to blue-collar Democrats in the way that other Democratic candidates were. He appealed to university professors and intellectuals and what not, and he was proud of that."
McCarthy was known for his sharp wit. But the humor often came at someone's expense. Jeremy Larner, a campaign speechwriter, talked about McCarthy's negative side during a 1969 oral history interview.
"He didn't express respect, ever, for anyone in the entire course of the time I knew him. No matter who you mentioned, he would have some one-line putdown of that person," Larner said.
"He had a great sardonic sense of humor, but the kind of sense of humor which is not usually associated with politicians," added author Mark Kurlansky. "I remember when George Romney kind of ruined himself politically by reversing himself on the Vietnam war, saying he had been brainwashed. And McCarthy said, 'I would have thought a light rinse would have done it.'"
McCarthy suffered consecutive primary losses to Kennedy in Indiana and Nebraska. By the time the campaign reached Oregon, McCarthy was desperate for a win.
NEEDED A WIN IN OREGON
Campaign strategist Thomas McCoy saw McCarthy rise to the challenge in Oregon, which he described in an oral history interview.
"The senator was certainly in his best campaigning form. And I think that every stop on the Oregon campaign whetted his appetite a little more and gave him more confidence," McCoy said.
"When we started this campaign some six months ago, it was generally said that all the people who were for me were either unable to vote, or that they were beatniks or they were way out or that they were dropouts. They were kind of looked upon as being outside the American political tradition," McCarthy said in Oregon. "It was believed they could not be effective at all in American politics. But in the course of these five months we have demonstrated something different, to the point where the McCarthy movement is the most valuable political movement in America."
McCarthy won the Oregon primary.
"We'll have a short inauguration address, and we'll take down the fence around the White House and have picnic on the lawn," he said in celebrating the victory.
Once again, McCarthy imagined he could actually be elected president. But the race was far from over. McCarthy and Kennedy squared off the next week in the winner-take-all California primary.
"There was snow on the ground in New Hampshire and ice on the lakes in Wisconsin. It was 20 below zero there one day. And now that I'm in California, I'm beginning to feel that those candidates who wouldn't run in those cold weather states ought not to be received very favorably now that spring is here," McCarthy said to his California supporters.
California's racial diversity presented a challenge McCarthy hadn't faced in earlier primaries. He was under increasing pressure to spend more time with minority communities, where Kennedy was particularly strong. The McCarthy campaign tried to address the issue through advertising, some of which were produced in Spanish.
McCarthy lost to Kennedy in the California primary by a 4.5 percent margin.
RFK IS ASSASSINATED
Kennedy delivered his victory speech at the Ambassador Hotel in Los Angeles.
"My thanks to all of you. Now it's on to Chicago and let's win there," Kennedy said to his supporters. A few moments later, he was shot.
A visibly shaken McCarthy talked to reporters early that morning in a hotel hallway.
"As you all know, no words can really fully convey the feeling that I have towards the Kennedy family in this time of their particular tragedy, or the feeling that one must have for the nation in the face of this tragedy, this new tragedy," McCarthy said.
"It's not enough, in my judgment, to say this is the act of one deranged man, if that is the case," McCarthy continued. "The nation, I think bears too great a burden of guilt -- of really a kind of neglect -- which has allowed the disposition of violence to grow here in our own land, and part of a reflection of violence which we have visited upon the rest of the world, or at least a part of the world. All of us must keep vigil with the nation in prayer and hope that Senator Kennedy will recover."
Robert Kennedy died the next day. For a second time, an assassination brought the 1968 presidential campaign to a halt.
Gallery
4 of 4
1 of 4
2 of 4