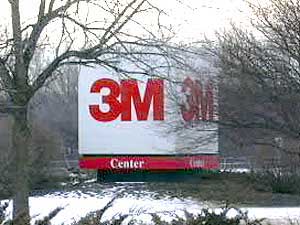 (AP) - 3M Co. plans to eliminate around 400 headquarters jobs as part of a larger restructuring at the manufacturing company.
The company will outsource many of its administrative services and eliminate other positions, amounting to about 4 percent of the work force at its headquarters campus in Maplewood, a St. Paul suburb.
The 400 jobs are in addition to the 82 that will be eliminated in 3M's previously announced plan to reduce its land holdings on St. Paul's East Side, which include a tape-making plant.
Affected employees may apply for other jobs, Jacqueline Berry, a 3M spokeswoman, said Monday. If they don't find jobs with 3M, they will be given severance pay and outplacement help.
3M now has about 10,500 employees at its Maplewood campus, close to 15,000 statewide, about 33,000 nationwide and around 69,000 worldwide.
(Copyright 2006 by The Associated Press. All Rights Reserved.)