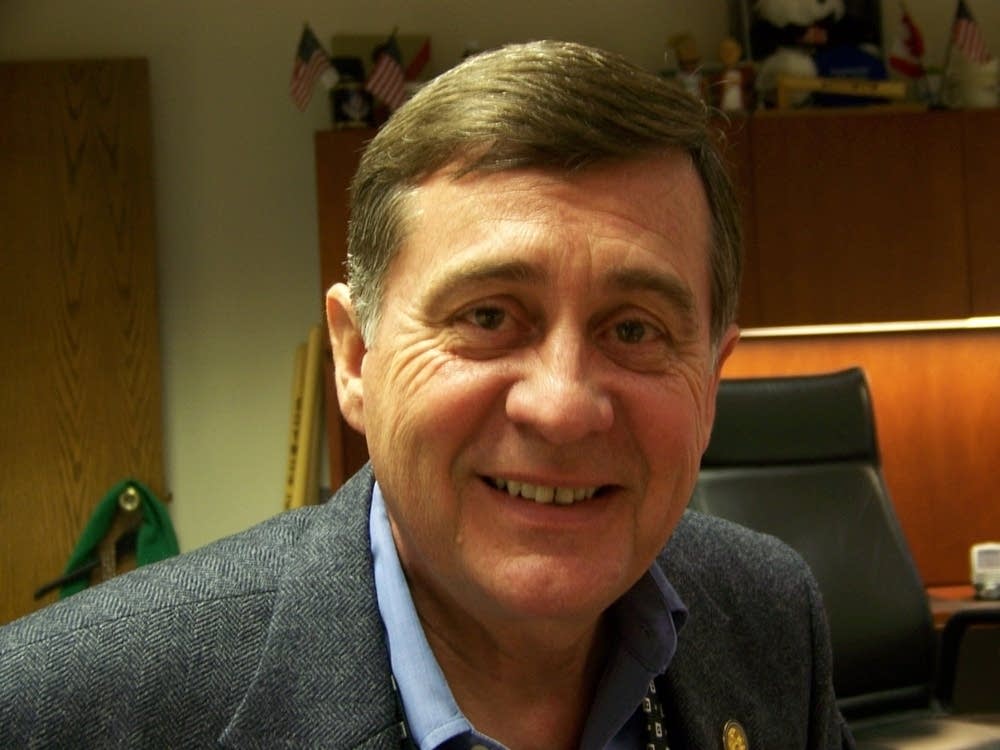 Throughout his tenure 1st District Rep. Gil Gutknecht did a radio show, "Conversations with the Congressman."
In his last broadcast on Rochester's KROC, Gutknecht described signing Newt Gingrich's Contract with America. It was the cornerstone of the so-called Republican revolution. It promised a balanced budget, welfare reform and government transparency.
"And as we came out onto the steps to make this big formal signing in front of the press and everything, all of a sudden the clouds started to part, and the sun came out, and it was almost like an omen," he said.
Back in his office, Gutknecht says he leaves Congress with same goals and beliefs. But he says Republicans lost touch with that contract.
"One of the weakness of the Republican Congress, and frankly of this administration over the last five or six years is they're not effective communicators," he says. "Newt Gingrich said this 15 years ago. He said, 'If you can't communicate, you can't govern.'"
Gutknecht wants to start his own, national radio show. He wants to talk about international relations and the conservative agenda.
In his years in office he sat on the Committee for Government Reform, Agriculture and Science. He also briefly served on the House Budget Committee. Despite his seniority as a house member, Gutknecht doesn't have any bills to his name. Instead, he lists Republican accomplishments as points of pride.
"So I'm proud of the fact that for the first time in 40 years we really did balance the budget. We really did pay down over half a trillion dollars in publicly held debt. I'm also proud that we dramatically reformed the welfare system."
Gutknecht also voted for deficit spending following 2001. He largely voted the party line except on a few key issues.
He voted against No Child Left Behind, against the Medicaid Prescription Drug Bill, and led a vote to import prescription drugs from Canada.
Tim Penny served as the first Congressional district representative from 1982 until he retired in 1994. He is now a senior fellow at the University of Minnesota's Humphrey Institute. Penny says Gutknecht was a back-bench legislator, a follower as opposed to a leader.
"And lots of legislators survive quite nicely playing that role and retain a lot of popularity in their district playing that role," Penny says "But it seems to me that after 12 years you ought to aspire to a greater role than that."
Penny says Gutknecht's base of support wasn't as strong as some thought. Penny says Gutknecht didn't push through concessions for farmers or work on Mayo's behalf in health care or its fight against the DM&E railroad loan.
Penny says the district has a reputation for being more conservative than it actually is. He says Gutknecht never won by more than 60 percent of the vote, and his opponents were virtual-unknowns.
"Against those kinds of opponents typically a well-entrenched incumbent will win by a two-to-one margin or 70 percent or more," Penny says.
Minnesota's out-going speaker of the House, Republican Steve Sviggum, sees a much more effective lawmaker on a national level. He worked with Gutknecht in the state Legislature.
"You take the oath of office to the United States of America, to the Constitution of the United States of America," Sviggum says, "Not necessarily just to the 1st District."
He says Gutknecht lost his seat because of anti-Republican sentiment. He says Gutknecht shouldn't be criticized for not having bills to his name.
"I think Gil, knowing him quite well, would not need his name attached to every piece of legislation. But I can absolutely tell you he would be very, very, vital in the passing of a bill."
Gutknecht's successor, Tim Walz, is taking a more vocal approach to the job already.
He just called for a government oversight hearing on the contentious federal loan to DM&E railroad. That's something Gutknecht, despite sitting on the Committee on Government Reform, never did.