Minneapolis school board votes to close six schools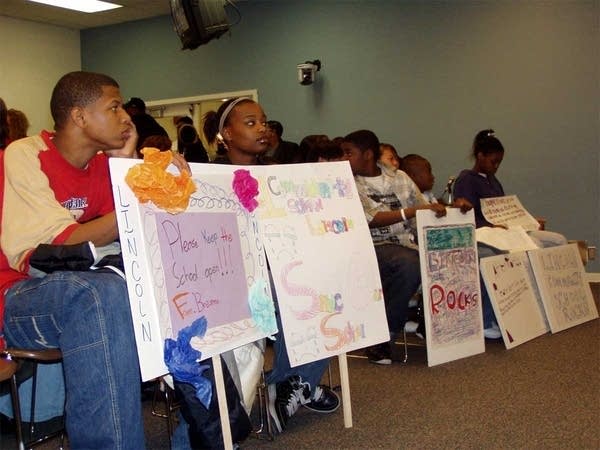 By a 6-1 vote, the Minneapolis school board voted to close five north side schools -- W. Harry Davis Academy, Jordan Park, Lincoln, North Star and Shingle Creek -- and Tuttle school on the city's east side.
A standing-room only crowd crammed into the board meeting room for the vote, some holding signs that read "We love Tuttle," and "Lincoln Rocks." Before the vote, dozens of parents and students made a last-ditch attempt to save their schools.
Danisha Goins, an eighth grader at Lincoln, said her school is like a family. She told board members that she helped campaign for them.
"I am behind you," she said, "and you're gonna close my school? Why? Lincoln is the heart of the north side community."
Grow the Future of Public Media
MPR News is supported by Members. Gifts from individuals power everything you find here. Make a gift of any amount today to become a Member!
District leaders cite two reasons for the north side closings -- enrollment and the achievement gap.
Since 2000, schools in north Minneapolis have lost half of their students to charter, private and nearby suburban schools. And the academic gap between white students and students of color on the north side is wider than in the rest of the city.
District leaders plan to improve the academic offerings at the remaining north side schools.
But parents and students at the meeting seemed skeptical that the school closings will have any positive benefits. They scoffed at many of the comments made by board members and district staff.
Carol Townsend, whose grandchildren attend Lincoln, said students will be forced to travel across the north side to attend other schools.
"You talk about relationships, these kids can't get any relationships, bouncing from one school to another school to another school," Townsend said. "We have got a community! Did you hear - this young man has 125 kids after school. Where do you think they would be if that school was gone? Where do you think, somebody said juvie?"
The pleas by Lincoln parents and students persuaded one school board member, Lydia Lee, to propose removing Lincoln from the list. But Lee's attempt failed.
"What are we going to do? Make a decision based on which group brings the loudest crowd here?
Board member Tom Madden said if the board starts taking schools off the closure list, the debate over school closings will drag on for a couple of years.
"And what are we going to do? Make a decision based on which group brings the loudest crowd here?" Madden asked. "Because I've got to tell you, we won't be closing any schools. I'm not excited about closing schools, but we have a district that is set up for 50,000 kids, and within four years, we're going to be at 29,500 kids."
"We are not going to be able to offer any sort of programming to any kids at any of our schools, because we don't have the guts to cut our district down to the size that it's at," Madden said.
Three years ago, the debate over the last round of school closings lasted a year. This time, the board announced the recommended list of these six schools three weeks ago, and held one public hearing earlier this week. That tight timeframe angered many parents, who complain that the board made up its mind before hearing from the affected schools.
The only board member who voted against the school closings, Chris Stewart, tried to delay the vote. He questioned whether the urgency had something to do with the demographics of the north side.
"It is a lot easier to push something through in a part of town where you have schools with 98 percent poverty, and you don't expect the parents to complain too loud," Stewart said. "That's just a fact of life, that's a truism about this district. It's just the truth. I mean, we should just say that, that those parents don't have the mayor on speed-dial."
Minneapolis Mayor R.T. Rybak was the only person who came before the board in support of the school closing plan. He said it would ensure that all students in the city get an equal education.
"The plan before us today says that instead of having a number of schools that do not have enough resources in each of them, we're going to concentrate those resources, and give every school the high-quality experience that north Minneapolis deserves," he said.
District leaders say the north side closings are only the start. This summer, the board will take up the matter of further closings in other parts of the city.
Gallery
1 of 2
2 of 2