Composers competition has ears on the prize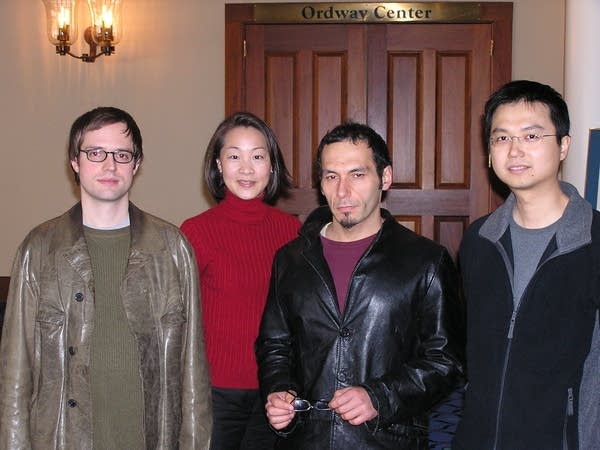 By most standards, the piece 33-year-old German composer Carl Christian Bettendorf entered in the competition is not easy listening.
"Often in contemporary music, people say, 'How should I listen to your music? I'm not prepared. I'm not a specialist,'" Bettendorf says.
Scott Yoo is a specialist. He's a violinist and a frequent guest conductor with the St. Paul Chamber Orchestra. He has to be prepared to listen this weekend, because he's a juror in the competition.
"When I listen to new music I'm always waiting to be amazed," Yoo says. "And when I hear something that I've never heard before that moves me then I get very excited about that. It doesn't happen often, but when it does it's really something very exciting. It's like discovering a new color.
Yoo heard something fresh and unique in Bettendorf's composition--a revision of a chamber work he wrote six years ago called "Palimpsest." Yoo says the work stood out for its flowing, narrative structure.
"There's sort of an opening motive that's played by the bass clarinet and it's very violent in the beginning," Yoo says. "It's accompanied by piano and percussion and it's almost like three people arguing with each other. The harmonies are very interesting; I haven't heard some of those harmonies before and I tip my hat to him. He did a very nice job."
Before you keep reading ...
MPR News is made by Members. Gifts from individuals fuel the programs that you and your neighbors rely on. Donate today to power news, analysis, and community conversations for all.
Another finalist in the competition is Dorothy Chang. She's assistant professor of music at the University of British Columbia in Vancouver and composer-in-residence with the Albany Symphony Orchestra in New York. She submitted a work called Chamber Variations. It's a rhythmic, pulsing piece commissioned by the Albany Symphony.
Composer Fred Lerdahl of Columbia University, who leads the St. Paul Chamber Orchestra's Emerging Composers Competition jury, especially admires Chang's writing in the work's lyrical, introspective conclusion
"I like the finale best," he says. "It's very elusive. It implies more than it does. It has meaning beyond what the notes do. It seems to create a whole atmosphere which is very subtle."
In his music, competition finalist Carl Christian Bettendorf aims for a coherent structure that listeners can follow, but he doesn't expect them to analyze it.
"You can listen to it just like you listen to any music," he says. "It's because it will work on a subconscious level. You will get it, I think, if you're just open to listening to it. It will do something to you and then hopefully you'll like it."
Even if listeners do like a new piece, the sad reality for composers like Bettendorf is that it probably won't be heard again. Conductor Scott says most new compositions that manage to get performed at all are played once and then forgotten.
"In my career in the past 10 years I've premiered about 60 pieces and of those 60 I think two or three of them are pieces that have a chance of lasting in the repertoire," Yoo says. "Some people ask me if it was worth it to go through the trouble of premiering and learning all those 60 pieces. I think the point is that you may yield one or two really fine pieces of music that will last, but that's better than zero."
The St. Paul Chamber Orchestra plans on holding its Emerging Composing Competition every two or three years. Scott Yoo says it will take a couple more cycles for the event to get established. He expects the competition will attract up to 250 submissions and an even broader range of music next time.
Gallery
1 of 2
2 of 2