(AP) Fire officials kept a nervous eye on the wind Friday, fearful of a shift that could push a fast-moving wildfire back toward homes and businesses near the Gunflint Trail. Almost a week after it began, the fire in Minnesota's parched north woods had grown to nearly 47 square miles, with another 39 burning in Canada. At least 270 people had checked in at an evacuation center outside the Boundary Waters Canoe Area, and eight more were evacuated from the Canadian side of the border.
Firefighters hoped that Friday's cooler weather and higher humidity would work in their favor, but a real chance of rain was days away. Because of uncertain fire conditions, residents were told they couldn't go back home just yet.
"This is a very large fire, it's a very serious situation. And we all know how dry it is out there. So, we've got a lot of work ahead of us, unfortunately, but I think we're going to be able to get through it," said Cook County Sheriff Mark Falk.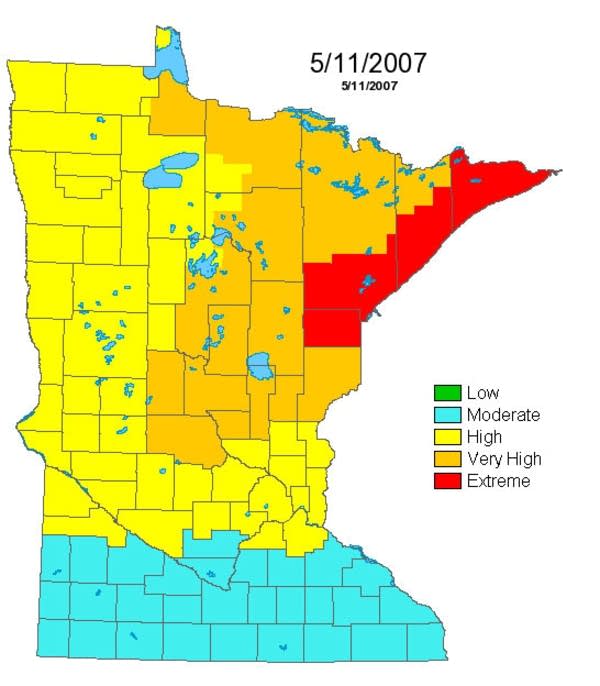 Thursday's gusting winds pushed the fire east into Canada, then back toward the southeast, where flames jumped Gunflint Lake and the Gunflint Trail. The path of the fire looked like a giant finger on a map, reaching out over the lake. On Friday, the wind was expected to shift again and come from the east, which had the potential to push the entire finger of the fire back to the west, said Bill Paxton, a fire information officer.
Paxton said the primary focus of firefighters would be to keep structures to the west of the blaze safe. However, the fire was still unpredictable Friday, said Mark Van Every, a spokesman at the fire, as he pointed to a map that outlined areas that had been burned.
"You can tell how fast (the fire) is changing because it's drawn in magic marker," said Van Every. "We don't know where exactly this fire is moving or how fast."
The fire had closed about half of the 57-mile long Gunflint Trail, a key route from Grand Marais into the wilderness that is dotted with resorts and lake homes.
The fire burned through a campground Friday, but there were no immediate reports of additional structures lost. More than 45 structures were known to be destroyed since the fire began at remote Ham Lake on Saturday, and about 200 homes remained at risk.
No people had been reported hurt.
The cost of fighting the fire was at $1.9 million and rising.
Some 600 firefighters from across the country were on the scene Friday, with more on the way. They were supported by about a dozen helicopters and fixed-wing aircraft and several bulldozers.
The cost of fighting the fire was at $1.9 million and rising.
Fire officials had no estimate for when the blaze would be under control. It's burning through an area in prolonged drought, and the weather service has said the fire danger in northern Minnesota would remain "very high to extreme" until significant rain falls.
Fire officials met with residents Friday, and reported that many of the entry points to the Boundary Waters along the Gunflint were closed. The wilderness area is a popular destination for canoeists and anglers, and the state's walleye fish opener is this weekend.
Residents at the public meeting said they appreciated the public meetings and were happy to get as much information as possible. But they said they're also simply glad to see each other and know their neighbors are OK.
"The great thing about Grand Marais, this whole area, is how everybody sticks together," said Les Edinger, 70, a year-round resident of the southern edge of Gunflint Lake. "The reason we like living here is because everybody helps everybody."
Some residents said they felt they needed to be among their friends and neighbors.
"This is a very strong community. And I think it's proven with all the people that are here, that in tough times, we all bond together," Falk said.
Falk choked up at Friday's briefing as he singled out former sheriff Dave Wirt. After a 1999 windstorm leveled millions of trees in and around the Boundary Waters, heightening the fire danger, Wirt was instrumental in writing emergency response and evacuation plans, Falk said.
"He developed a plan and now we're executing it," Falk said, his voice wavering. "And I just want to thank you, Dave." The crowd of evacuees applauded.